NEWPORT – A proposed wind and solar farm in Carteret County faces mounting opposition and a new state permit process for which clear guidelines are still being created.
The county commissioners have schedule a public hearing 6 p.m. Thursday at the Carteret County Civic Center in nearby Morehead City. The purpose of the hearing is to get public comments on a proposed moratorium on county permits for wind turbines and other tall structures while the county considers changing its rules.
Torch Renewable Energy, a subsidiary of Torch Energy Advisors Incorporated in Houston, Tex., wants to build an 80-megawatt wind and solar facility east of Newport's corporate limits on more than 7,000 acres owned by Weyerhaeuser Co. and a private property owner.
The proposed facility, known as Mill Pond Wind Farm, would include 40 wind turbines nearly 500 feet tall and a 50- to 75-acre solar panel farm. Torch representatives did not respond to a request for comment.
Before land may be cleared to make space for the towering turbines and field of solar panels, Torch's plan must undergo a permitting process that is a work in progress by the state agency recently charged with handling all land-based wind and solar projects.
The N.C. General Assembly in May created the Division of Energy, Minerals and Land Resources within the Department of Environment and Natural Resources. The division is responsible for the permitting and, as it stands, the proposed Torch facility will be the first renewable energy company to apply for a state permit.
"Some of our mission is evolving, including our roles in these regulatory matters," said Seth Effron, DENR's energy program communications director. "Right now my understanding is that there has been some communication between the folks developing the project and the department, but I think this is still a very early stage."
Torch filed an application on Oct. 25 with the N.C. Utilities Commission. Power-generating facilities must receive the commission's approval to operate and supply alternative energy sources to electric companies, which are required by state law to generate a portion of their power from alternative energy sources.
In 2007, the N.C. General Assembly adopted a law requiring that 12.5 percent of the energy produced in the state be generated from renewable energy resources by 2025. To further encourage more reliance on alternative energy, both the state and federal government offer tax credits to renewable energy facilities.
Such incentives are likely months away for Torch, which must first obtain approval from the state Utilities Commission before the company can apply for a state siting permit. The company also has to obtain approval through a number of other agencies, including the state Division of Coastal Management for a Coastal Area Management Act permit, the Federal Aviation Administration, state Division of Water Resources and Army Corps of Engineers 404 permit.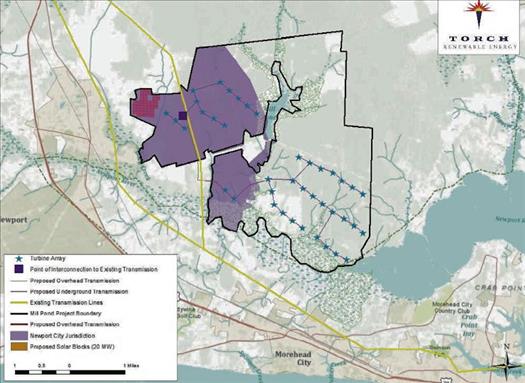 Torch must also comply with and receive local permits from the Newport and Carteret County. Both the town and county local governing boards have or are in the process of amending rules pertaining to structure height restrictions and setbacks.
Newport's town board in November amended its ordinance to require wind energy facilities seeking to build turbines taller than 70 feet to obtain a conditional-use permit. The permit review process calls for a company to submit a noise and shadow flicker report detailing where and when flicker and glint will have the greatest projected impact.
Torch plans to erect 17 turbines in Newport's zoning jurisdiction, said the town's Chief Building Inspector and Town Planner Bob Chambers.
"Torch is trying to fast track this as best they can and they said that at that scoping meeting," Chambers said, referring to a Nov. 5 meeting in Wilmington where representatives with various state agencies, including DENR, Torch and local officials, met to discuss the project.
Chambers said town officials are concerned about what impact wind turbines may have on property values, but that the town has not taken an official stance for or against the proposed facility.
"We're taking a neutral position," he said. "We're just interested in if and when wind turbines are a reality."
Torch intends to begin operating the facility no later than Dec. 31, 2015, according to its application with the utilities commission. The anticipated service life of the project is 30 years.
As word of the project spread this past fall it was met immediately with opposition from locals concerned about potential health, environmental and economic impacts, as well as possible negative effects it could have on military aircraft operations in the area.
Local government leaders are urging residents to write to the Utilities Commission by its Dec. 23 deadline for public comment.
Several residents have already submitted letters expressing their concerns to the commission. A letter from Audubon North Carolina states that Torch did not adequately address possible impacts wind turbines may have on birds in the area. Nearly 6,000 of the more than 7,000 acres of the proposed farm site is close to the Croatan National Forest, an area significant to species including the red-cockaded woodpecker, Bachman's sparrow and the prairie warbler.
Allies for Cherry Point's Tomorrow, or ACT, a group of civic and business leaders formed in the 1990s to advocate for Marine Corps Air Station Cherry Point in Havelock during the Base Realignment and Closure process, has drafted a letter to send to the commission objecting the proposed facility as well.
Under House Bill 484, which made DENR the permitting agency for wind energy facilities, military personnel will be allowed to provide input regarding any potential impacts the facility may have on air station operations.
Cherry Point officials have not commented on the proposed facility, but numerous retirees have discussed potential impacts concerning radar interference.

Robin Comer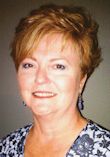 Elaine Crittenton
"This is one of the biggest issues I think our community has faced in a long, long time," Carteret County Commissioner Elaine Crittenton said during a Dec. 13 special called meeting of the commissioners. "This is too important to not take seriously. I'm still researching. I want to know what the public health impact is."
Crittenton, director of Infection Prevention, Employee Health and Wellness at Carteret General Hospital in Morehead City, said she is extremely concerned about the possible harmful effects low frequency sounds from spinning turbines may have on the inner ear. She said she also concerned about safety.
"These turbines do catch fire," she said. "We have a pine forest there."
Her home is three quarters of a mile from where a turbine will stand.
Commissioner Robin Comer said he worries about impact on tourism and the military.
"Carteret County's asset is its horizon," he said. "Carteret County's asset is its views. I just don't know that anybody wants to come down here and look at [a wind farm] from a… condo."
State Rep. Pat McElraft, R-Carteret, was a primary sponsor of Bill 484. She said she has spoken with Torch representatives, who said they will consider an all-solar facility if the state does not grant them permission to build windmills.
"They have assured me that they will not work against Cherry Point," she said.
Other wind energy projects are being proposed in eastern North Carolina. In May, the utilities commission renewed a certificate to Atlantic Wind to build a 20,000-acre, 150-wind turbine farm in Pasquotank and Perquimans counties.  That project remains on hold.
Invenergy proposed to build more than 100 turbines in Camden and Currituck counties more than a year ago, but has yet to apply for a state permit. And, in Beaufort County, a project to build 49 turbines is on indefinite hold while studies are conducted on migrating swans and geese.
Migratory bird patterns are of particular concern to Rosemary D'Andrea, whose Morehead City home sits on the banks of the Newport River.
She carried pictures she recently took of bald eagles swooping down over the river near the site of the proposed Torch facility. She has also spotted tundra swans landing in the river.
"That's primarily my concern," she said. "I'd much rather see the solar go in there. This is an eagle habitat. The ecological impact is tremendous."
She lives in a neighborhood of about 40 homes. Property values will plummet, she said, if the wind turbines are built on the other side of the river, which spans about a mile wide where she lives.
A recent study by the University of Rhode Island, though, found that wind turbine construction and operation doesn't appear to have a negative effect on the property values of nearby homes.
"Because there have been complaints, we will schedule a public hearing," said Sam Watson, general counsel and director of the utilities commission's legal division. "We haven't yet issued that order."
The hearing may be held sometime next month in Carteret County.
The wind and solar farm is one of more than 10 Torch is planning in seven states, according to its web site. The company has 90,000 acres of land under lease in those states.