This is part a monthly series about the food of the N.C. coast. Our Coast's Food is about the culinary traditions and history of N.C. coast. The series covers the history of the region's food, profiles the people who grow it and cook it, offers cooking tips — how hot should the oil be to fry fish? — and passes along some of our favorite recipes. Send along any ideas for stories you would like us to do or regional recipes you'd like to share. If there's a story behind the recipe, we'd love to hear it.
If you asked her about her early days as a seafood education specialist for North Carolina Sea Grant, Joyce Taylor probably would have told the crab story.
Shortly after accepting the position in 1973, Taylor was tasked with teaching a blue crab cooking class in western North Carolina. She transported a bunch of the pinchers in the trunk of her car. They had to be alive, of course. Taylor was a stickler for using fresh seafood long before today's "eat local" mantras.
As she made the long drive across the state, Taylor heard the crabs scurrying in their container, causing her to wonder how many would dance across the demonstration room floor at her destination.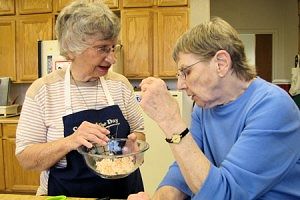 Martha Giles, left, consults with Joyce Taylor in this 2012 photo. Taylor educated people throughout the state on safe ways to handle, prepare and store nutritious seafood. Photo: NCSU
No toes were bitten, and the lesson ended up one of many that launched Taylor's reputation as North Carolina's "Guru of Seafood."
Taylor died this year, but the seafood bible she wrote with the help of coastal N.C. cooks endures.
Mariner's Menu: 30 Years of Fresh Seafood Ideas compiles not only dozens of recipes developed and carefully tested by Taylor and the team but details about North Carolina's seafood history, the health benefits of fish and shellfish, aquaculture, seafood safety and how to handle, clean and store seafood — as well as kitchen tips and cooking tidbits like how to clarify butter.
Although Sea Grant did not publish the book until 2003, its content began in the early 1970s when the agency enlisted the seafood cooking wisdom of Carteret Extension Homemakers, an offshoot of Cooperative Extension programs that partner with county, state and federal governments to help people gain access to research generated by public universities. The idea was to share seafood research with fishers and seafood processors and help them market the catch.
In Morehead City kitchens, Taylor directed the mostly women, who had a lifetime of knowledge about the North Carolina's traditional seafood cookery. Sea Grant asked Taylor and them to document those recipes but also to develop and test new ideas and techniques.
Besides creating gourmet dishes such as Soft Crabs Amandine or Flounder Filets with Black Butter Sauce, the ladies conducted various seafood experiments. No matter the recipe, Taylor made sure the seafood's flavor was apparent. Hence, many recipes in Mariner's Menu are no-fuss dishes with few ingredients.
The women also found ways to use bits of meat and bone leftover from filleting fish. They created fresh flaked fish, an alternative to canned products. They tested ways to freeze seafood to retain texture and flavor. Sometimes, the group worked on formulas for commercial food operations.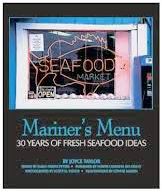 Their efforts were documented in various publications, including a quarterly newsletter titled "Mariner's Menu," edited by Taylor and distributed to 3,300 subscribers between 1990 and 1996.
Surprisingly, Taylor was an Asheville native who grew up in the Blue Ridge Mountains. Born in 1932, she didn't reach the coast until the mid-1950s, when she came to Carteret County to work as a public school teacher.
Her first assignment with Sea Grant was taste-testing croakers and gray trout. Throughout her seafood career, she promoted other lesser-known species taken off the state's coast. Many recipes are recorded in Mariner's Menu.
"People have not been comfortable cooking seafood," Taylor said in the book, distributed by the University of North Carolina Press. But after reviewing a simple recipe or watching Taylor prepare seafood at one of the many classes she conducted, landlubbers gained confidence with fish and shellfish cookery, no matter if it was familiar grilled grouper or unusual catfish stir-fry.
Like Taylor herself, "Mariner's Menu" makes preparing seafood seem a breeze. Taylor said her knack for showing cooks the way came from her years as a teacher.
"I don't think learning should be tedious," she said. "I have a good time."
Some Recipes
Taylor thought fresh, unpasteurized blue crab meat tasted best. Unpasteurized crab meat consists of fresh, cooked, picked and packaged crab. Highly perishable, it must be used within a couple days. Pasteurized meat is cooked and sealed in cans that may be kept refrigerated for several months.
Hot Crab Dip
1 pound backfin crabmeat

8 ounces cream cheese

1 tablespoon milk

2 tablespoons grated onion

1 tablespoon fresh lemon juice

1 teaspoon horseradish

¼ teaspoon freshly ground white pepper

Paprika
Remove any shell or cartilage from crabmeat.
Mix cream cheese, milk, onion, lemon juice, horseradish and white pepper in a medium bowl. Gently fold in crab meat. Place mixture in an 8-inch pie dish. Sprinkle with paprika. Bake at 350 degrees for 15-20 minutes or until bubbly. Serve with assorted crackers.
A "Mariner's Menu" chapter is devoted to showing readers how to clean seafood. Drawings demonstrate techniques, including how to dress soft-shell crabs
Soft Crabs Amandine
6 soft-shell crabs, cleaned

Salt

Pepper

Flour

3 tablespoons vegetable oil

4 tablespoons butter

¼ cup almond slivers

2 tablespoons fresh lemon juice
Sprinkle crabs with salt and pepper. Dredge in flour and shake off excess. Heat oil in a large skillet over medium heat. Add 3 tablespoons of butter. When butter sizzles, place crabs top-shell-side down in skillet. Sauté until crisp and golden, about 4 to 5 minutes. Turn crabs over and repeat cooking time. Remove crabs to warm platter.
Heat the remaining 1 tablespoon of butter in the same skillet. Add almonds and sauté until golden brown. Stir in lemon juice. Pour over crabs. Serves 3.
Catfish Stir-fry
3 tablespoons soy sauce

1 tablespoon dry sherry

1 teaspoon minced fresh ginger

¼ cup minced green onion, including tops

2 teaspoons cornstarch

4 tablespoons vegetable oil

Salt

Freshly ground black pepper

4 medium catfish filets, cut into 1-inch chunks

1 cup thickly sliced celery

¾ pound snow peas

1 cup sliced fresh mushrooms

Cooked rice (optional)
Combine soy sauce, sherry, ginger, onion and cornstarch. Set aside.
Heat 2 tablespoons vegetable oil in a large skillet. Lightly salt and pepper fish. Add to pan and stir fry until almost done, about 2 to 3 minutes. Remove fish with slotted spoon.
Add remaining 2 tablespoons oil and heat. Add celery and snow peas and cook vegetables 2 to 3 minutes. Add mushrooms and cook until tender, about 2 minutes.
Stir in sauce mixture and cook until thickened, about 2 to 3 minutes. Add fish to pan and cook until done, about 2 minutes. Serve over rice if desired.
Serves 8 to 10.
Source: All recipes from Mariner's Menu: 30 Years of Fresh Seafood Ideas