The following is a summary of bills passed by the N.C. General Assembly this year that affect conservation and natural resources on the coast. The summary was prepared by Amalia Manolagas, Jack Lyman and Kelly Anderson, research fellows at the N.C. Coastal Resources Law, Planning and Policy Center. It appeared in the fall edition of Legal Tides, the center's newsletter. The numbers that follow the bill titles are the bill numbers. This is the first of two parts.
Agriculture/Forestry
N. C. Farm Act of 2013, S638: This act, in part, directs the N.C. Department of Environment and Natural Resources (DENR) and the N.C. Department of Transportation (DOT) to petition the Wilmington District of the Army Corps of Engineers to allow for more flexibility in performing stream and wetland mitigation outside of the eight-digit hydrologic unit code when development occurs that requires mitigation. Primary sponsors: Sens. Jackson and Brock.
House Bill 614 states that forestry and agricultural operations aren't "nuisances" under state law under certain circumstances. Photo: Oregon State University
N.C. Agriculture and Forestry Act, H614: This act states that agricultural and forestry operations are not nuisances under certain circumstances. It also provides for the award of costs and expenses, including reasonable attorneys' fees to the agricultural or forestry operation when the court finds the operation was not a nuisance and the nuisance action was frivolous or malicious or to the plaintiff when the court finds the agricultural or forestry operation was a nuisance and the operation asserted an affirmative defense in the nuisance action that was frivolous and malicious. Primary sponsors: Reps. Ramsey, Presnell and Waddell.
Extend DSWC Animal Waste Inspections, H505: This act codifies and makes permanent the program for inspections, to occur at least once a year, of certain animal operations that are subject to a permit under G.S. 143-215.10C by the N.C. Division of Soil and Water Conservation. The inspections will determine whether the operation is causing a violation of water quality standards and whether the facility is in compliance with its animal waste management plan or any other condition of the permit. Primary sponsors: Reps. Waddell, Millis, Iller and McElraft.
Amend Definition of Special Purpose Project, H629: This act amends the definition of a "special purpose project" to include agricultural and forestry waste disposal facilities. It also allows county and state financing authorities to render financial assistance to waste disposal facilities that handle forestry and agricultural wastes. Primary sponsors:Reps. S. Martin, R. Brawley and Lewis.
Eliminate Unnecessary Testing/Animal Waste, S205: This act eliminates unnecessary soil-testing requirements in animal waste management plans. Primary sponsor: Sen. Walters.
Energy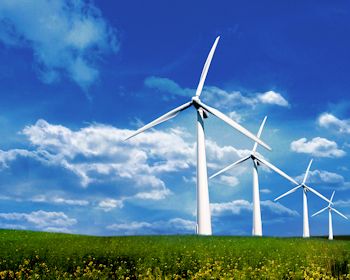 House Bill 484 sets up a permitting program for wind energy facilities. Photo: Tantum Consulting
Domestic Energy Jobs Act, S76: This act addresses the various issues associated with oil and gas exploration, including fracking and offshore development. It  also establishes an Offshore Energy Management Fund, provides for revenue allocation resulting from offshore energy production and encourages the governor to negotiate with South Carolina and Virginia to create a regional energy compact that would develop a unified regional strategy to build offshore energy resources in federal waters. This act also moves the Energy Policy Council and State Energy Office from the N.C. Department of Commerce to DENR. Primary sponsors:Sens. Newton, Rucho and Brock.
Permitting of Wind Energy Facilities, H484: This act establishes a permitting program for the siting and operation of wind energy facilities, requiring the developer of a "wind energy facility" to obtain a siting permit from DENR. The act is intended to prevent interference with military training air space and to add environmental safeguards. This statute requires early consultation with DENR and detailed disclosures of wind facility plans. Primary sponsors: Reps.  J. Bell, Dixon, McElraft and Whitmire.
Solid Waste
Amend Local Solid Waste Planning, H321: This act repeals the requirement that local governments develop and maintain a solid waste management plan, a process that previously involved public meetings, education and enforcement programs and DENR oversight. Primary sponsors: Reps. McGrady, McElraft, G. Graham and Speciale.
Adjust Landfill Permit Fee Timing, H135: This act adjusts the fee schedule for permits for sanitary landfills and transfer stations to reflect the extension of the duration of these permits, as directed by S.L. 2012-187 and as recommended by the Environmental Review Commission. Primary sponsors: Reps. Samuelson, McElraft and McGrady.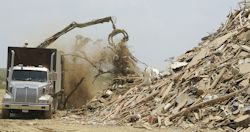 Senate Bill 24 allows landfills for demolition and construction debris to be sited within 500 feet of state gamelands. Photo: Joe Songer, The Birmingham News
Construction/Demolition Landfill Siting, S24: This act amends the gameland buffer requirement applicable to sanitary landfills for the disposal of construction and demolition debris under certain conditions. Siting requirements for construction and demolition debris landfills in counties with populations of less than 15,000 people require a setback of 500 feet from state gamelands. The setback had previously been one mile. Primary sponsor: Sen. H. Brown.
Omnibus County Legislation, S372: This act requires notice and an opportunity for comment from county boards when permits for land application of waste within that county are issued by the Environmental Management Commission (EMC); an increase in the threshold for DOT informal bid procedures and a clarification that DOT's policy concerning participation by disadvantaged minority-owned and women-owned businesses applies to contracts let using those procedures; and a study of state payments in lieu of taxes of public lands. Primary sponsor: Sen. J. Davis.
Transportation
Strategic Transportation Investments, H817: The purpose of this act is to strengthen North Carolina's economy through strategic transportation investments. The act abolished funding for the proposed Mid-Currituck Bridge and removed from statute the requirements that the N.C. Turnpike Authority study, plan, develop and undertake preliminary design work on the Mid-Currituck Bridge and the Cape Fear Skyway. It also placed ferry funding in the regional tier. As a result, North Carolina ferries now compete with other regional and divisional needs for funding support that is supplied by 60 percent of the N.C. Highway Trust Fund. Primary sponsors: Reps. W. Brawley, Torbett, Iler and Shepard
Friday: Water, wetlands and dredging