The following is a summary of bills passed by the N.C. General Assembly this year that affect conservation and natural resources on the coast. The summary was prepared by Amalia Manolagas, Jack Lyman and Kelly Anderson, research fellows at the N.C. Coastal Resources Law, Planning and Policy Center. It appeared in the fall edition of Legal Tides, the center's newsletter. This is the last of two parts.
Beaches
Coastal Policy Reform Act of 2013, S151: This act amends marine fisheries laws and the laws governing the construction of terminal groins and clarifies that cities may enforce ordinances within the state's public trust areas.
To build a terminal groin, an applicant must now show only that "structures or infrastructure are threatened by erosion." An applicant is no longer required to demonstrate that the threat is "imminent" or that "nonstructural approaches to erosion control, including relocation of the threatened structures, are "impractical." The act also compels that the monitoring and mitigation requirements of the mandated management plan for the inlet and the estuarine and ocean shorelines immediately adjacent to and under the influence of the inlet "be reasonable and not impose requirements whose costs outweigh the benefits." Thus, the inlet management plan is not required to address sea-level rise. Neither is the financial assurances compelled to fund "restoration of public, private, or public trust property if the groin has an adverse impact on the environment or property." Lastly, local municipalities are granted more flexibility to provide financial assurances. Currently, the N.C. Coastal Resources Commission may issue no more than a total of four permits for terminal groin construction.
The Coastal Policy Reform Act also requires changes regarding municipal protection of public trust areas. Cities now have the authority, based on ordinances, to regulate ocean beachfront in the state's public trust area.
The act also, in effect, reverses the holding in Town of Nags Head v. Cherry Inc. In this case, the town sought to abate a nuisance, where storms and erosion resulted in beachfront houses being without power, water or sewer. The act strikes down the N.C. Court of Appeals ruling, which held that only the State has the authority to act to protect public trust interests. Primary sponsor: Sen. Rabon.
Amend Carteret Co. Occupancy Tax, H553: This act limits Carteret County's authority to levy an additional 1 percent room occupancy and tourism development tax. The county may levy the additional 1 percent tax only when it levies a tax pursuant to G.S. 105-164.4(a)(3) (tax imposed on retailers). However, the room occupancy and tourism development tax does not apply to accommodations provided by nonprofit charitable, educational or religious organizations when furnished in furtherance of their nonprofit purpose. The act also modifies the distribution of the proceeds of the tax so that the funds are equally split between tourism promotion and beach nourishment on Bogue Banks. Primary sponsor: Rep. McElraft.
Development
Building Codes: Local Consistency/Exempt Cable, H120: This act requires approval from the N.C. Building Code Council before a local government may require building inspections in addition to those required by the building code; specifies the frequency and effective dates of code updates; and exempts cable television equipment installation from building code requirements. Primary sponsors: Sens. Hager, W. Brawley, Cotham and Arp.
Protect/Promote Locally Sourced Building Materials, H628: This act: requires net savings in association with major facility construction and renovation projects and protects use of N.C. products (N.C.-grown timber) in major facility construction and renovations projects under the sustainable energy-efficient buildings program. Primary sponsors: Reps. Presnell and Catlin.
Dredging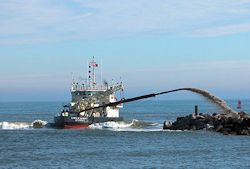 The legislature passed several bills dealing with dredging canals and inlets.
Holden Beach/Canal Dredging District Fee, H229: This act authorizes Holden Beach and Ocean Isle Beach to accumulate money in a capital reserve fund for canal dredging and maintenance for 10 years. Primary sponsor: Rep. Iler.
Sunset Beach/Canal Dredging/Maintenance Fee, S268: This act allows Sunset Beach to impose a canal dredging and maintenance fee. Primary sponsor: Sen. Rabon.
Ensure Safe Navigation Channels, H707: This act directs the N.C Department of Environment and Natural Resources (DENR) to pursue various strategies to ensure that the state's shallow draft navigation channels are safe and navigable by entering into agreements with the Army Corps of Engineers and aiding local governments receive Corps and Coastal Area Management Act permits for channel dredging and beach disposal of dredged materials. Additionally, this act creates the Oregon Inlet Land Acquisition Task Force to study and report to the N.C. General Assembly by May 1 on the state's options for obtaining the federal government's interest in the Oregon Inlet and the lands surrounding the inlet. Primary sponsors: Reps. Millis, McElraft, Warren and Tine.
Regulations/Permitting
Regulatory Reform Act of 2013, H74:The goals of this act are to improve and streamline the regulatory process in order to stimulate job creation, to eliminate unnecessary regulation, to make various other statutory changes and to amend certain environmental and natural resources laws. For example, this act amends the definition of "built-upon" area for stormwater programs to exclude some surfaces, including wooden slatted decks. It also provides for local governments to enter into development agreements for brownfields properties of less than 25 acres. The act also: requires applicants for proposed sanitary landfills to hire third parties to review permit applications and study the associated environmental impacts; adjusts buffer requirements; lowers cleaning frequency of leachate collection systems; and modifies some hauling requirements from "leak-proof" to "leak-resistant" equipment. Finally, it lists mandatory factors that DENR must consider in calculating penalties for solid waste violations. Primary sponsors: Reps. Murry, Moffitt, Samuelson and Bryan.
Transfer Environmental Permits, H279: This act authorizes DENR (or a local government with the proper permitting authority) to transfer certain environmental permits associated with property development when the original property owner is unwilling or unable to agree to the permit transfer. Transferrable permits include stormwater permits, erosion control plans, permits for sewer systems, sewer system extensions, disposal systems or land application of waste. Primary sponsors: Reps. Millis, Hager, McElraft and Moffitt.
Environmental Permitting Reform, H480: The goals of this act are to provide regulatory certainty for North Carolina by requiring the development of minimum design criteria for stormwater permits to guide DENR in permit issuance and to reform the permitting process to allow fast-track permitting for applications certified by a qualified professional to be in compliance with the minimum design criteria. The act also directs DENR to develop "Minimum Design Criteria" by Sept. 1, 2014, by consulting "a technical working group that consists of industry experts, engineers, environmental consultants, relevant faculty from the University of North Carolina and other interested stakeholders." The EMC is instructed to adopt implementation rules for the stormwater fast-track permitting system by July 1, 2016. Primary sponsors: Reps. Millis, Moffitt, Catlin and Hardister
State Government
Appropriations Act of 2013, S402: This act makes budget appropriations for current operations of state departments, institutions and agencies, and for other purposes. It also requires the N.C. Division of Marine Fisheries to involve North Carolina's commercial fishing industry in the "development of a plan to determine a source of funding necessary to support the Marine Fisheries At-Sea Observer Program," an important program related to commercial fishers' ability to maintain compliance with the federal Endangered Species Act. The act also creates a new division within DENR, the Division of Water Infrastructure, consolidating the water infrastructure roles previously carried out by the Division of Water Quality and the Division of Water Resources. It also eliminates the State Water Infrastructure Commission and creates a new Water Infrastructure Authority. This new body will be tasked with making grants for local water infrastructure projects and producing a master plan for the water infrastructure needs of the state. Primary sponsors: Sens. Brunstetter, Brown and Hunt.
Water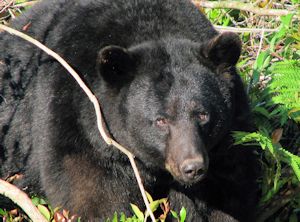 House Bill 296 requires that hunters buy a stamp before hunting for black bears. Photo: USFWS
Authority to Remove Abandoned Vessels, H294: This act allows certain Brunswick and Dare counties to remove abandoned vessels from navigable waters. Primary sponsor: Rep. Tine.
Amend Interbasin Transfer Law, S341: This act authorizes an expedited process to modify interbasin transfer certificates and to issue interbasin transfer certificates in the central coastal plain capacity use area and the coastal area counties. Primary sponsor: Sen. Rabon.
Wildlife
Ocean Isle Beach/Sea Turtle Sanctuary, S229: This act authorizes the Ocean Isle Beach to create a sea turtle sanctuary and to exchange a parcel of real property for services. Primary sponsor: Sen. Rabon.
Omnibus Wildlife Resources Commission Act, H296: This act: adjusts the fees charged for certain hunting and fishing licenses issued by the N.C. Wildlife Resources Commission (WRC) and repeals county hunting, fishing and trapping licenses and noncommercial special device licenses; establishes a black bear management stamp that must be procured before taking bear within the state and amends the law restricting the taking of black bear with bait; adjusts the age for discounted special licenses from age 65 to age 70; provides that effective Jan. 1, 2015, those hunting and fishing license fees in effect shall remain at the existing levels until the WRC establishes new fees through rule making, and authorizes the WRC to establish license fees through rule making beginning in 2015; replaces the current 6 percent wildlife service agent commission fee with a $2 transaction fee; provides that no more than 25 percent of the WRC's authorized operating budget shall be kept in reserve; and provides an annual target for utilization of the annual expendable interest of the Wildlife Endowment Fund. Primary sponsors: Reps.. Bell, Moffitt, S. Martin and Wray.