MOREHEAD CITY — N.C. Division of Coastal Management employees will be taking on more responsibilities starting next year after the cut of five positions, including the assistant director in charge of enforcement and the planning director.
Forced to trim its budget because of federal and state funding reductions, Braxton Davis, the division's director, announced in an internal email earlier this week his decision to eliminate the five positions. The plan was approved by the N.C. Department of Environment and Natural Resources, the division's parent agency. The cuts will be effective on Dec. 31.
The division has suffered "significant" federal and state funding cutbacks within the past few years and decreased funding from permit receipts, according to Davis.
"We've been skimping for a long time," Davis said. "This decision was driven by budget issues and we hate to lose these folks. Everyone will be stepping up. All of the cuts that we're talking about here mean increased duties with existing staff. We're able to continue to sustain the mission with these cuts. It is challenging, but I know the staff can step up to it."
The five positions being eliminated are:
Ted Tyndall, assistant director for permitting and enforcement
Stephen Rynas, federal consistency coordinator
John Thayer, coastal planning director
Debbie Savage, DENR IT support
Policy analyst, which is currently vacant
The cuts reduce the division's full-time staff to 51 employees.
Davis outlines in the email the employees who will be taking on the responsibilities of those whose positions are being eliminated. District managers will report directly to him, a role currently held by the assistant director.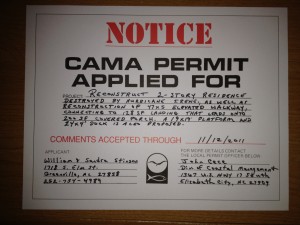 The division is responsible for enforcing the thousands of Coastal Area Management Act major and general permits it has authorized.
Since 2006, the division has issued 1,300 CAMA major permits and more than 13,000 general permits. Last year, the division issued 159 CAMA major permits and 1,819 general permits.
Local governments issue a majority of the CAMA minor permits through local permitting officers. More than 7,000 minor permits have been authorized since 2006.
"The actual enforcement responsibilities fall on our field staff," Davis said. "Nothing will change there except the oversight."
Enforcement is crucial because it helps stop and mitigate illegal development within environmentally sensitive areas identified within the state's 20 coastal counties.
As of August the division cited 24 CAMA violations, according to its web site. In 2012, 40 violations were reported. Davis said the state has about a 97 percent compliance rate.
The number of CAMA permit applications has declined in recent years because of the sluggish economy, Davis said. Permit receipts have been down about 30 percent compared to past years. About 15 CAMA major permit applications are currently pending, Davis said. In 2012, 159 major permits were issued.
The division has tightened its budget during the past several years by eliminating land-use planning grants to local governments and cell phones for field staff, reducing its transportation fleet and travel and shifting state-funded positions to those supported through federally funded grants.
Three staff positions are being funded through a federal grant the division was awarded before this year.
The division's National Oceanic and Atmospheric Administration's grant was shaved by more than $150,000 this past fiscal year alone. State appropriations are down 35 percent since 2009, while permit receipts have declined by about 30 percent.
As budget sources have been shrinking, medical insurance and retirement rates have increased.
Davis said he anticipates further federal and state funding reductions next year.
"The cuts that we're looking at next year, we've been advised by our federal partner to plan for up to a 10 percent cut," he said. "That's due to the sequester as I understand it."
He made clear that his decision was not easy and that it was not a reflection of job performance.
Stretching the existing staff to do more with less is a sign of the times, N.C. Coastal Federation Director Todd Miller said.
"Obviously they didn't have any good choices if they don't have the money to keep their existing staff," Miller said. "Trying to keep up with what's permitted to assure good monitoring has always been a challenge and it's going to be more difficult do with less people. We need to be asking ourselves, in a time of more challenges, is this a direction we need to be headed."
Davis announced the cuts shortly before the N.C. Coastal Resources Commission gathers for a two-day meeting beginning today in Atlantic Beach. This marks the fifth and final meeting this year of the 13-member commission.
Davis said it is premature to discuss details of next year's budget with the commission this week.
"I think it's just about looking at the cuts we've made through this round and covering us through this next year," he said.