Coastal Review Online will focus its attention over the next three days on wetlands, those watery places that our ancestors found so depressing that they gave them names like "dismal." We now know better about the ecological and economic value of wetlands. But despite our best intentions to preserve them, we're still losing on average about seven football fields of wetlands nationwide every hour, as today's story details. Other stories will investigate North Carolina's willingness to protect its coastal wetlands.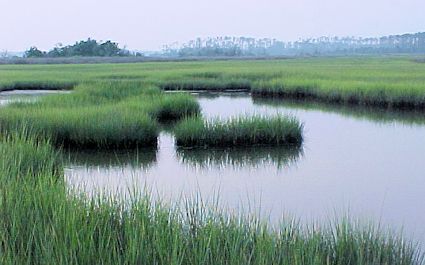 Wetlands along the East Coast are among the most vulnerable.
It's been 25 years since President George H.W. Bush proclaimed a national policy of "No net loss" of wetlands," recognizing the need to preserve the sometimes swampy coastal and inland areas that protect against storm damage, filter pollution and serve as nursery areas for aquatic life and crucial habitat for a vast array of plants and animals.
Successive presidents have continued the policy with varying degrees of emphasis, but a recent report by the U.S. Fish and Wildlife Service and the National Oceanic and Atmospheric Administration, or NOAA, makes it clear that despite concerted efforts on the federal and state levels, losses continue.
The report, "Status and Trends of Wetlands in the Coastal Watersheds of the Conterminous United States 2004 to 2009," examined wetlands losses on the Pacific, Atlantic and Gulf of Mexico coasts and along the Great Lakes. It determined that an estimated 80,000 acres of coastal wetlands are being lost on average each year, up from 60,000 acres lost a year during the previous study. It's roughly equivalent to seven football fields every hour.
The Atlantic, Gulf and Pacific coastal regions experienced net wetland losses of 111,960 acres, 257,150 acres and 5,220 acres, respectively. The watersheds of the Great Lakes region experienced a net gain in wetland area of an estimated 13,610 acres.
Seventy-one percent of the estimated wetland losses were in the coastal watersheds of the Gulf of Mexico, from Galveston, Tex., to Tampa Bay, Fla. Much of that was a result of hurricane damage.
Thomas Dahl, the Fish and Wildlife Service scientist who co-wrote the report with Marie Stedman of the National Marine Fisheries Service, said there was no way to extract data specific to North Carolina because of the methodology used. Researchers examined 2,164 random plots of 4 square miles each and compared those to the previous study period.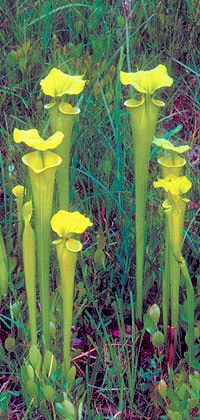 Many rare plants, like these pitcher plants, rely on wetlands. Photo: USFS
But, Dahl added, it's clear from anecdotal reports and evidence that North Carolina hasn't been immune to wetlands loss. And in a state with multi-million dollar commercial and recreational fishing industries and a booming coastal tourism industry, anything that affects water quality should be of concern, he said.
"It's difficult to overstate the value of wetlands," Dahl said in a recent interview. "In North Carolina, you have that are heavily dependent upon wetlands, but that is far from the only thing that would be impacted by wetlands loss."
The state's commercial crab and shrimp fisheries, for example, were worth a combined $33.5 million in 2012, according to the N.C. Division of Marine Fisheries.
Coastal tourism, Dahl noted, depends to a large degree on good water quality, and wetlands filter out the pollutants before they run into the rivers and sounds. They also limit flood damage from storms; the U.S. Environmental Protection Agency estimates that one acre of wetland can store up 1.5 million gallons of floodwater. And of course, wetlands limit erosion, protecting estuarine and river shorelines and the private property and tax revenue along them.
While environmentalists and conservationists tend to focus on the ecological value of wetlands – about 70 percent of the rare and endangered plants and animals in the state are wetland-dependent – Dahl said the economic value at times gets underplayed.
"Some (environmental) groups try to get the word out about the economic value, but probably more attention needs to be paid to that," he said.
It's very difficult to quantify the economic value of wetlands, but as far back as 2004, a study by the Worldwide Fund for Nature pegged it at $5,500 an acre. The report does not draw conclusions about the quality or condition of the nation's wetlands, but EPA has initiated further examination of wetlands condition.
According to the most recent figures available, about 5.7 million acres of North Carolina – close to 17 percent of the state – is still wetland. The coastal plain contains 95 percent of the state's wetlands. Estimates are that before colonization by Europeans, North Carolina had about 11 million acres of wetlands, so about half of that, at least, has been lost. Nearly one-third of the wetland losses in the state's coastal plain are believed to have occurred since the 1950s; in fact, some estimate that from the early 1950s through 1983, North Carolina lost 1.2 million acres of wetlands, more than any Southeastern state, mostly as the result of conversion to managed forests and to farming.
Those large-scale conversions seemed to have virtually stopped for the past two decades, and many attribute it in a large degree to the "Swampbuster" provision of the Food Security Act of 1985. That act denied eligibility for most all farm program benefits on all acres operated by a grower who either converted wetland or planted on a converted wetland. In addition, wetlands converted after 1985 to forestry uses and then subsequently used for agriculture, were also ineligible for benefits. However, there is some fear among environmental groups that currently rising commodity prices and rising value for farmland might be encouraging efforts to get around Swampbuster rules.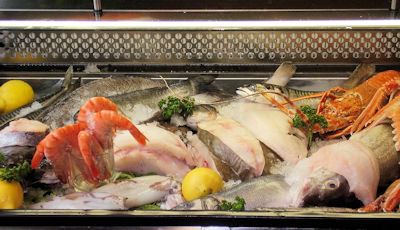 The economic value of wetlands is often overlooked. They, for instance, support North Carolina's billion dollar commercial and recreational fishing industries. Photo: Town of Southport
In an effort to make the application of Swampbuster as equitable as possible, Congress included some exemptions, including one for wetlands that owners began converting before the date of enactment of the law, Dec. 23, 1985. The idea was to allow farmers who had invested "substantial funds" in ongoing or imminent projects to complete the projects and recoup their investments. In some instances, that can provide opportunities for landowners to contend that investments made before enactment might allow agricultural uses of land that is now forested.
And Todd Miller, executive director of the N.C. Coastal Federation, said another problem is that if forested areas proposed for conversion to agriculture are not designated as wetlands – as appears likely in a Pamlico County effort the federation is fighting – farm bill benefits will still flow to agricultural concerns.
"This is where the (Swampbuster) provision is so critical," Miller said. "It has been very effective (in stopping wetlands conversion) in the past, but what we're running into now, with escalating grain prices, is people trying to put more land into production, not taking it out."
Miller called the report disturbing. "I was at a meeting recently and the EPA said most of the loss, in the eastern part of the country, is forested wetlands," he said. "And that's what we are seeing here in North Carolina, with the Pamlico County tract and with Hofmann Forest: wetlands being converted without adequate review."
The Hofmann Forest is in Onslow and Jones counties. N.C. State University is in the process of selling to an Illinois-based agricultural firm.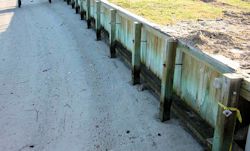 Bulkheads prevent wetlands from retreating in response to rising sea levels. Photo: NCDCM
The report states that the increase in the overall rate of wetland loss was attributed to losses of saltwater wetlands in the Gulf of Mexico due to coastal storms, in combination with freshwater wetland losses in both the Atlantic and Gulf of Mexico. Large losses of freshwater, forested wetland areas were attributed to urban and rural development and some forestry practices.
In some coastal watersheds, it states, rising ocean levels are encroaching into wetlands from the seaward side, while development from the landward side takes a further chunk out of the existing wetland area and prevents wetlands from being able to migrate inland. This dual threat squeezes wetlands into an ever smaller and more fragile coastal fringe.
Orrin Pilkey, a renowned Duke University coastal geologist, has said that for every one-foot rise in sea level, more than a third of a mile of land will be inundated. Much of that land will be wetlands, and some experts contend that as a result of climate change, that sea-level rise could be as much as 39 inches in the next century. The N.C General Assembly passed a bill last year that prohibits state agencies from planning for accelerated sea-level rise.
Pete Peterson, a coastal ecologist and biologist at the UNC Institute of Marine Sciences in Morehead City, said there are two kinds of sea-level rise, actual –caused by melting of ice — and relative — caused by subsidence of the land. Although he has no doubt actual sea-level rise is occurring, Peterson is just as concerned about relative rise along the N.C. coast, especially north of Cape Lookout. South of there, he said, the land is comprised more of rock, which doesn't compact and subside as much. But north of the famous cape, the land along the coast is definitely subsiding.
In fact, he said, studies indicate that the most dramatic relative sea-level rise in the country is occurring in the Mississippi River delta areas of Louisiana, in the Everglades along the South Florida coast and northeast North Carolina, especially in Dare and Hyde counties.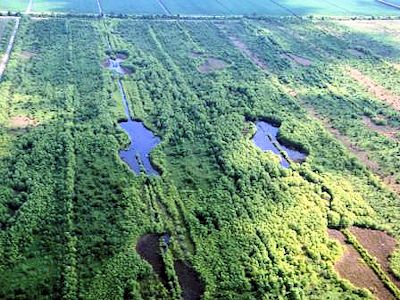 Here's a bird's eye view of some of the restored wetlands at the N.C. Coastal Federation's North River Farms. Photo: NCSU
That alone, Peterson said, virtually ensures significant future losses of wetlands in the state, regardless of things like urban development and conversion to agriculture and managed forests.
All of this, Peterson said, means it will be crucial for the state and private organizations to continue efforts to restore wetlands, as the federation is doing on a massive scale – thousands of acres – at its North River Farms project in eastern Carteret County. It also means that the state needs to continue to focus on mitigating wetlands losses by creating new ones to replace area lost to such things as road and bridge construction, Peterson said.
Peterson, an expert in coastal habitat evaluation and restoration, said it's also becoming abundantly clear that if the state and nation are ever going to reach that 25-year-old goal of "no net loss" of wetlands, other strategies must be employed. In other words, he said, there's a strong argument for "building resilience" into our shorelines to stop wetlands losses.
"We can anticipate what the changes will be and structure the shoreline to resist those processes," he said.
One way is to elevate the land. That's not easy; you run into private property rights debates. But, he added, there are beginning to be strong legal arguments that "rolling easements" are legal in light of the fact that allowing wetland destruction is a violation of the federal Clean Water Act.
But there are easier and more practical methods to preserve wetlands as sea level rises. Homes can be elevated, as has been done along the coast after hurricanes. And there is the implementation of "living shorelines," which Peterson called the best strategy possible for individual residents and business owners who want to make a difference.
Much of the problem along the estuarine shoreline, Peterson said, has been caused by construction of bulkheads, which provide some significant short-term protection for private property, but which doom wetlands as sea level rises and erosion occurs. Living shorelines – especially those known as marsh sills, which are constructed of rocks, sometimes sand bags and marsh plants – not only enhance wetlands growth and protection, but also, in some cases, protect private property in the long term as well as bulkheads do.
The bottom line, Peterson said, is that the wetlands losses cited in the report are "huge numbers considering how significant wetlands are to the country's ecology and economy."
"We've had this 'No net loss' policy since the late 1980s, reaffirmed repeatedly, and with good intentions," he said, but it's obvious that challenges remain and more work remains to be done to reach the goal.
In comments that accompanied the release of the report, U.S. Interior Department Secretary Sally Jewell said much the same thing. "Wetlands are important to our nation's heritage, economy and wildlife – especially when it comes to coastal communities," she said. "When a study shows that an area four times the size of Miami is disappearing every year, it underscores the importance of strengthening our collective efforts to improve wetlands management, to reduce losses and to ensure coastal infrastructure and resources are protected."