MANTEO — Derelicts, ghosts and orphans might sound more like Charles Dickens characters than lost or abandoned crab pots, but the terminology is an apt description of marine debris clogging northeastern N.C. waterways.
A two-year pilot project to find and remove unattended, storm-tossed or sunken wire pots, netting and fishing line from areas of the region's sounds is being launched this winter in a cooperative arrangement between the N.C. Coastal Federation, North Carolina Sea Grant, the state Marine Patrol, working watermen and community volunteers.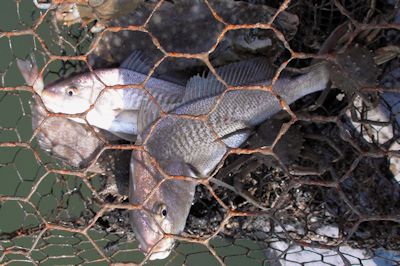 Derelict crab pots can entrap and kill fish. Photo: NOAA
The last time the waterways and shorelines around the Outer Banks were cleaned of debris that can create navigational hazards and environmental blight was in 1995, when Sea Grant helped organize a community effort that collected 22 tons of fishing gear, said Sara Mirabilio, fisheries specialist with Sea Grant's Extension Program in Manteo.
"Since then," she said, "we constantly hear people say, 'We really need that collection.'"
Local fishermen will be paid to help Marine Patrol officers find and remove gear from under the water, said Ladd Bayliss, the coastal advocate in the federation Manteo office. Two of the fishermen will be trained to use side-scan sonar to locate buried debris.
Bayliss said she was inspired by the success of the marine debris program in the Chesapeake Bay and believes that a similar effort in northeastern North Carolina could succeed on a smaller scale if stakeholders work together.
The project is planned for January and February, when by law crab pots must be out of the water. Marine Patrol officers will be out checking for orphan pots then, and they will work closely with the fishermen and volunteers who are usually not allowed to pick up found gear.
"What it boils down to is that the way the statute is written, if it's not yours, you're stealing," she said. "That's the problem that's precluding citizens from helping."
The area to be cleaned includes sections of Currituck, Pamlico and Albemarle sounds, from Alligator River to Oregon Inlet to Stumpy Point.
"That's 180,000 acres of water," Bayliss said. "So that's a good start."

Ladd Bayliss
The project is being funded with a $35,000 grant from the National Oceanic and Atmospheric Administration, an $18,000 grant from North Carolina Sea Grant and $10,000 in matching funds.
Another component of the project, Bayliss said, will be repurposing the old crab pots into oyster reefs.
Mirabilio said that there has been a lot more focus lately on the problem of "ghost fishing," when lost nets and pots continue to catch fish without anyone tending the gear.
"But the problem is it's lost and you can find it," she said. "A lot of people think this is impacting fishery recovery."
Besides lost pots, nets sometimes can get sliced from anchor lines.
"Even in the river mouths, you can have stumps wash down through the sound and tear a gill net and a gill net unfortunately does not break down the same way a metal pot does," she said. "It can gillnet a fish. It can wrap around a terrapin's leg."
Although the expectation is that the bulk of the debris will be crab pots in varying conditions, no one is quite sure what will turn up.
"We're actually hoping we'll get a better handle on what other junk is out there," she said. "We've never went about this in a scientific way."
Fishermen who collect the pots will also take notes and record GPS positions, which will be useful for comparison next year.
Sea Grant is also conducting its own volunteer cleanup project on the shoreline of Croatan Sound during the same time period, she said. Overall, more people have been expressing interest in marine stewardship activities.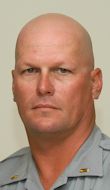 Don Twyne
"People want to get involved," she said, "and there's been a lot of people who want to pick up this lost gear out there."
Marine Patrol goes out every year between Jan. 15 to Feb. 7 to check around for abandoned cages, said Don Twyne, captain in District 1, which stretches from Ocracoke to the Virginia line and into Washington, Martin, Tyrrell, Dare and Chowan counties.  When the officers find a pot, they look for identification tags. Some of the pots may have been washed away during a storm and are in bad shape. If the pots are still set, the owner could be issued a citation. If identification is not possible, the pot is usually destroyed.
"One year, we had about 8,000 that came out of just District 1," he said.
In recent years, he said, the number of derelict pots Marine Patrol finds has decreased to between 400 to 800, largely because of stiff fines crabbers could face.
Twyne said he supports the federation project as a way to get the fishermen involved while helping them earn some money in the off-season. And it could be more effective than the air and boat patrols his agency puts to the task.
"They're going to use sonar," he said. "That's going to see things we'd never find. . . . Maybe it's a good way to cover more area and maybe a little quicker."
Crabbers typically have stands of pots, as many as 200, that they paint with different colors so they can recognize the pots and the buoys. Loss of the pots – which can cost about $50 each, rigged out – is usually related to the weather or accidental cutting of a line, although there are occasional instances of theft.
Robbie Midgett, a Stumpy Point fisherman who has crabbed March to December for about 25 years, said that most crabbers look out for each other.  "Sometimes there's a terrible blow that wasn't predicted, and guys will spend days looking for their pots," he said. "They're so expensive, most people really look hard to find them."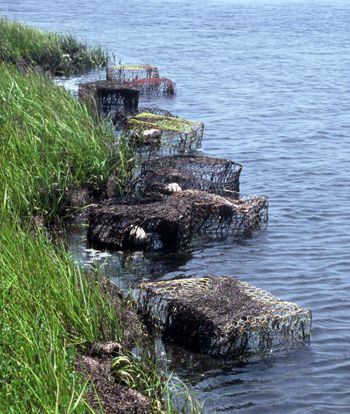 The N.C. Marine Patrol retrieves hundreds of lost crab pots each year from northeastern coastal waters. Photo: NOAA
Midgett said that crabbers will let other crabbers know if they see their pots, or they'll bring them back to the dock. He said Marine Patrol knows who is stealing or not.
There are lots of reasons that a pot would be abandoned, Midgett said, and they're not necessarily the crabber's fault.  It could be that he is sick, or his motor is broken, or there's a family crisis.  "I mean, you don't know what somebody is going through," he said.
Nets are much less of a contributor to the marine debris problem because they are so strictly regulated, he said. And if large pound nets are lost in a storm, the fishermen will usually be able to get them back.
Whatever the cause of gear ending up as marine debris, Midgett said he welcomes the effort to remove it.
"Fishermen might be able to collect more lost gear than Marine Fisheries – I bet you 100 to one," he said. "That will be interesting to see how well that works."
Midgett said he will not be able participate in the cleanup, unless the weather makes it impossible for him to fish in the ocean.
Twyne applauded the federation for launching a program that provides "real good customer service" for the local community.
"I hope it's continued," he said, "and it's actually enhanced and we can do it throughout the whole state."