WRIGHTSVILLE BEACH — Participants of Sunday's "Swim the Loop" will be lapping up support of ongoing efforts to clean waterways along the N.C. coast.
Founded by Without Limits, a Wilmington outfit that coaches runners, swimmers and cyclers, the second "Swim the Loop" challenges participants in one of two races around Harbor Island in Wrightsville Beach.
Swimmers may choose to compete in the 3.5-mile loop or a 1.2-mile sprint through Banks and Motts channels.
These are some of the very waterways the N.C. Coastal Federation has been instrumental in helping restore and keep clean.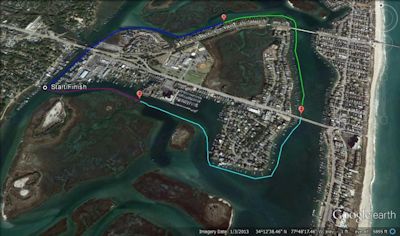 The 3.5-mile course circles Harbor Island behind Wrightsville Beach. 
Since it was founded in 1982, the federation has been involved in water preservation and water quality efforts along the N.C. coast.
The organization's habitat restoration and preservation projects include oyster reefs and wetlands. In the past three years alone, the federation has built more than 300 acres of oyster reefs.
A portion of the proceeds from the races will go to the federation.
"The Coastal Federation was my first and only group that I wanted to support since we're right on the water," said Kristen Smith, a Without Limits coach and race organizer. "We're in the water. We're on the water."
Last year 50 swimmers participated in the races and the federation received $500 in proceeds. This year, the number has been upped to 150 swimmers who will be competing in waters that have been a focus of the federation for the past four years.
"In Wrightsville Beach we've seen increasing numbers of swimming advisories and swimming closures," said Tracy Skrabal, coastal scientist and the federation's southeast regional manager. "This event really emphasizes the relationship with these waters and the swimmers who use them."
The federation has been working to reverse the trend of declining water quality in Bradley Creek, the largest watershed in Wilmington, and Hewletts Creek, the second largest.
The organization last year received a grant to help Wrightsville Beach buy and install five, 3,000-gallon cisterns to collect rain water from the town's police and fire stations.
"The water is used for landscaping to water their ball fields and put back into the ground," Skrabal said. "Over the next two years we have two grants that are going to allow us to do some bigger projects with the town of Wrightsville Beach and the city of Wilmington."
The grants total nearly $450,000.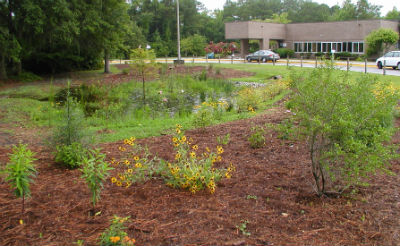 The N.C. Coastal Federation worked with Bradley Creek Elementary School to build rain gardens to control stormwater.
Education is a crucial component in restoration efforts, Skrabal said.
The federation works with students in coastal counties to plant and grow marsh grasses as well as create natural alternatives to shoreline bulkheads.
"Since the beginning of the federation our mission has been to work with citizens to improve water quality," Skrabal said. "Around here we've worked over the last several years with New Hanover, Brunswick and now Pender counties to get those communities to adopt voluntary low-impact development stormwater ordinances. That has really been a large stakeholder-involved process."
Last year, Wilmington finished its "Gray to Blue" project, a program in which the federation aided in providing tools to improve water quality in Hewletts Creek and Bradley Creek watersheds by reducing the effects of stormwater runoff.
The city has contracted with the University of North Carolina at Wilmington since 1993 to collect data on water quality in its creeks.
"They modeled what the runoff was like back in different years when shellfish areas were open in those different areas," Skrabal said. "What they found is that as the runoff increased with the amount of pavement that increased in these watersheds, the shellfish waters were closed."
The project studied how much runoff reduction was needed to help reopen those waters, some areas of which are permanently closed to shellfishing. The hope is to reverse and open at least part of the creeks.
Skrabal's office is currently reaching out to Wilmington neighborhoods in an effort to educate residents on ways they can do their part from their own yards.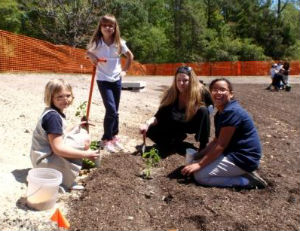 Students teachers and volunteers did much of the work at Bradley Creek Elementary School.
"This is new for us and it's really exciting," Skrabal said. "We're hoping through education that people will see how they can make a difference throughout these watersheds. Our idea is that, instead of trying to stop the sources of pollution, what we're trying to do is disconnect those pathways between those sources and those receiving waters."
Methods such as redirecting downspouts and collecting runoff in barrels or little vegetative swells help keep stormwater out of watersheds and put the runoff into the ground.
"The beauty is that many of these techniques are pretty simple," Skrabal said. "These are things that we can all do that are not terribly expensive but they can make a huge difference. That's important because, in places like Wrightsville Beach, where it is about 100 percent built out, we're having to work in people's backyards to make a difference. I see people getting very excited about it and wanting to do their part."
As of mid-September about 86 swimmers had signed up to contribute to the cause. Participants of the race who want to join the federation may do so at a special rate of $15.
This will mark Wilmington native Henry Singletary's second year in the race, but he's no stranger to the course.
"This is probably about my thirtieth time around the loop," he said.
As someone who spends a good deal of time swimming open waters in the area, Singletary said he supports efforts to clean local waterways.
"It's extremely important not only for us but for all the wildlife that lives there," he said. "I think we're doing a lot better job of monitoring the water quality. I would say it is better than it used to be but it still has a long way to go."
Each race has a three-hour time. There is an $85 registration fee for the long race and a $45 fee for the short race.
"It's one of those races that's very unique," Smith said. "There's nothing else like it in North Carolina. People do it to take the challenge, but they really are helping those who help keep our waters clean."