First of two parts
On July 12 and into the morning hours of July 13, rain came in periodic torrents along the N.C. coast, filling and overflowing shallow ditches along roads and running off parking lots and roofs in sheets and rivulets.
By early morning, 2.5 inches had fallen in Emerald Isle and 5.4 inches had drenched Wilmington, with varying amounts recorded at points in between. At one of those points – the N.C. Shellfish Sanitation Section office in Morehead City – section chief Patti Fowler and her staff knew what that meant: shellfish water closures. And at 9:45 a.m., they sent the word to the N.C. Division of Marine Fisheries office in the same building, and the division got the word out instantly: virtually all the waters in Brunswick New Hanover, Pender, Onslow and Carteret County were shut down to the harvest of clams. While that's a hard economic pill to swallow for some, it has a wider meaning, too, as the health of shellfish waters is a harbinger of sorts, the proverbial canary in the coal mine.
Closures like the one on July 13, though usually smaller in scope, take place on the coast virtually every time there's a downpour, and Fowler and her people have been on the front lines of it for so long that they know what they have to do without even sampling the waters. Generally, 1-1/2 inches is enough to cause a closure in most places. In some areas, based on reams of data from prior rainfalls and sampling efforts, the benchmark is an inch, and in others it might be 2 or as much as 2-1/2 inches. Rainfall of that magnitude invariably washes enough pollutants off the land to necessitate closures in some streams.
The runoff, once thought benign, contains a literal stew of stuff that's bad for water and the life in it: leaks from septic tanks, chemicals and heavy metals, oil, fertilizers from lawns and farm field, among them. One of the key problems is nitrogen from fertilizer, which increases organic growth that depletes oxygen and leads to fish kills. As a result, the state has designated some water bodies as nutrient sensitive, subject to tougher rules.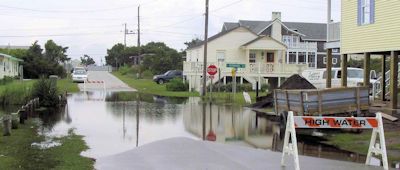 Excessive runoff can also close streets, as officials in Atlantic Beach know.
Even sediments – dirt – are harmful, as they reduce the clarity of the water, and clarity is important for the growth of aquatic vegetation, which serves as marine habitat. Some sediments can bond with pollutants and essentially shelter them, extending the damage and moving them about during dredging and other activities.
Experts agree that stormwater runoff has long replaced point source discharges – pipes from industrial uses and waste treatment plants – as the main source of pollution in coastal ecosystems. It's become more acute as urban development has covered more and more of the coastal region with buildings, roads and parking lots.
According to Fowler, the standard her small state shellfish sanitation agency uses to close shellfish waters is fecal coliform bacteria, which live in the intestines of all warm-blooded animals, including humans, pets and other domesticated animals and wildlife. Coliform bacteria generally don't pose a threat to humans or animals, but are considered a strong indicator of the presence of other disease-causing bacteria, such as those that cause typhoid, dysentery, hepatitis A and cholera.
Both coliforms and disease-causing bacteria live in water. But disease-causing bacteria generally don't survive long enough in the water, outside the body of animals, to be detected, so sampling for the disease-causing organisms is difficult.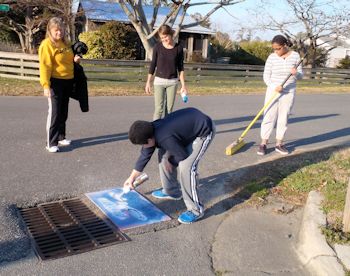 Students at Manteo Middle School stencil a storm drain as a reminder that the water that goes down it flows untreated to the nearest waterbody.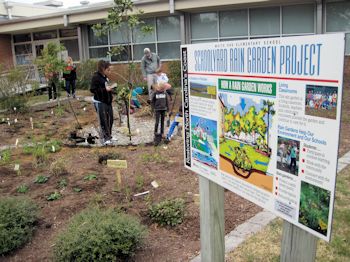 Students and teachers at White Oak Elementary School in Carteret County plant a rain garden to control some of the runoff from school property.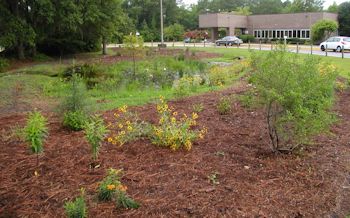 A rain garden at Bradley Creek Elementary School in Wilmington treats stormwater, beautifies the school grounds and serves as an outdoor classroom for students.
Shellfish sanitation's job has an ostensibly narrow purpose – to keep folks from harvesting shellfish that might contain pathogens that make people sick – and the agency has been successful over the years; there's never been a documented serious outbreak of disease from N.C. shellfish, which make their way to markets all over the country. But Charles "Pete" Peterson, a marine ecologist at the UNC Institute of Marine Sciences in Morehead City and a longtime member of environmental panels, emphasized that wider, canary-in-a-coalmine function is a key reason for the state's stormwater runoff rules.
A few days after the July 12-13 rain event, Fowler's office reopened most of the closed waters, but some were shut down for a couple more days. And she and the others know that had the state not enacted rules to limit stormwater runoff it would be much worse.
Those rules date back to the mid-1980s, enacted by the N.C. General Assembly after a lot of pushing by scientists, environmental groups and state regulators, and a lot of opposition from developers, builders and some local governments. The first measures generally allowed up to 25 percent built-upon surfaces without structural stormwater controls in shellfish watersheds, and were generally hailed as a good first step. The growth of permanently closed shellfish waters likely slowed, but it still increased by 13 percent by the middle of the first decade of the new century. And officials noticed that temporary closures, like the one on July 13, continued to increase in frequency and size. Again, a coalition of marine scientists, such as Peterson, and state regulars called for improvements.
At the time, some homebuilders feared the changes would make coastal housing unaffordable. The state itself estimated the cost increase at $5,000, maybe a little more. But Tom Reeder, who is now director of the state Division of Water Resources, said then that the cost of not enacting protective measures would be "incalculable."
The new rules were finally enacted in 2008 by the legislature and mandated a number of steps the state's 20 coastal counties had to take to further limit runoff.
The new rules reduced that built-upon threshold to12 percent for projects within a half-mile of shellfish waters and required that runoff be treated onsite. Methods now encouraged include such things as cisterns and rain barrels to collect rooftop runoff, permeable pavement for parking lots, rain gardens and many on-site infiltration systems, called low-impact development techniques. Tougher standards were set for development within 575 feet of the state's "best" waters, designated as "Outstanding Resource Waters."
The whole idea, according to Reeder and others, was to slow the growth of the hard surfaces from which the runoff occurs, and to increase the opportunity for the water to settle – and be filtered and taken up by vegetation – before it enters the creeks, rivers and sounds.
With the help of organizations like the N.C. Coastal Federation, those common-sense ideas are, well, increasingly common. They can be found at schools, town halls, businesses and homes. What was once viewed as an expensive requirement might still cause some consternation, but they have become accepted parts of the landscape.
Reeder said recently that he believes the system is working. "I think North Carolina has been pro-active, and I think it's made a difference," he said. "Obviously, we're not going to stop all stormwater runoff or all shellfish water closures, but I think we have made good steps."
Friday: Do legislators know the dangers?