BALD HEAD ISLAND — Village officials on this exclusive island in the mouth of the Cape Fear River are asking for a host of changes to state rules that they say are needed to allow them to better control worsening erosion.
A study by the state Division of Coastal Management to change rules protecting the coastline near the mouth of the Cape Fear River will be released next month.
A draft report examining the feasibility of establishing an "area of environmental concern" specific to the area around the opening of the Cape Fear River will be presented to the Coastal Resources Commission in September, said agency spokeswoman Michele Walker.
Areas of environmental concern, or AECs, are designed to regulate shoreline development and prohibit construction of hardened erosion control structures such as sea walls.
The Cape Fear River twists and bends little more than 200 miles from central to Southeastern North Carolina before flowing into the Atlantic, creating a unique area along the state's coastline.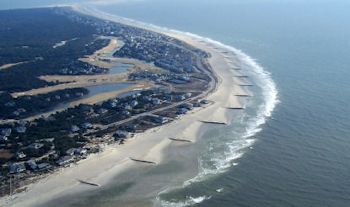 A groin field of 16 bags filled with sand was built on Bald Head Island's South Beach to combat erosion. Photo: Olsen Associates Inc.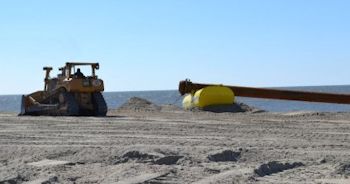 A bulldozer moves around sand during a beach re-nourishment project on Bald Head earlier this year. Photo: Village of Bald Head Island
Unlike the shallow draft inlets traversing North Carolina's coast, the mouth of the Cape Fear is deep.
"The idea really is just to recognize the fact that the inlet here is 45 feet deep, not 12 and that there are unique considerations that should be recognized as a result of that," said Karen Ellison, director of communications for the Village of Bald Head Island.
It's for that reason that village officials are urging the state to create a new AEC for the river mouth near Bald Head Island and Caswell Beach. The river mouth and nearby beaches currently fall within overlapping AECs.
"That channel drives water and waves in different ways than any other inlet in the state," Ellison said. "Erosion happens here quickly. As a result we end up struggling to deal with things that are way out of our control, but then the regulations hamstring our ability to respond. That's really what's driving this whole thing."
The village has spent more than $22 million to mitigate erosion, a problem officials say, because of its unpredictability, hampers property owners from making infrastructure and investment decisions.
The southwest corner of the island experiences the brunt of erosion, Ellison said. In an effort to reduce the loss of sand on that end of the island, the village constructed a temporary sandbag revetment wall. Sandbag structures, as well as other non-permanent erosion control walls, must by approved by the state and granted a Coastal Area Management Act permit.
"The tip of the island keeps shifting northward," she said. "It becomes like a domino effect."
Beach erosion and channel shoaling impact commerce and port operations and drive up U.S. Army Corps of Engineer maintenance costs.
Bald Head officials have proposed a host of changes, including creating a new Cape Fear AEC that exclude estuarine creek areas and exempts the area from "limitations on erosion control structures."
Specifically, the village is requesting the CRC allow structures, including rock groins, terminal structures, breakwaters, jetties, sandbags, sand push, beach sand placement projects, to mitigate channel-induced erosion.
Under the proposal, a coastal engineer would sign off on the necessity of such a structure.
Bald Head officials also want to expand the number of temporary control structures and request the state officially acknowledge a "finding that the beaches at the mouth of the Cape Fear River are experiencing accelerated erosion."
The village wants sandbags automatically allowed within 20 feet of a structure's foundation and temporary structures to be allowed to stay in place indefinitely.
North Carolina is one of only two states – Oregon is the other – that prohibits hardened erosion control structures. Fort Fisher in Kure Beach and Pea Island National Wildlife Refuge at the north end of Hatteras Island are the exception to the rule. Both areas have terminal groin structures.
"This has been a rule since 1985," Walker said. "In 2004 it became a law. The commission feels that hardened erosion control structures are detrimental to neighboring beaches. While you're helping erosion in one area you're hurting another area. It's something that the commission has felt pretty strong about."
The General Assembly would have to pass a law excluding current hard structure rules in a new Cape Fear AEC. Legislators last year directed the CRC to study the feasibility of creating a new AEC for land adjacent to the mouth of the Cape Fear River.
Walker said agency officials plan to hold a meeting with stakeholders sometime this month and a public hearing in October or November in Southport. Dates for those meetings have not been announced.
Coastal Management officials held a public workshop June 26 in Southport, where the primary concern was about dredging impacts, Walker said.
Dredging as well as construction of marinas, piers, docks, bulkheads, oceanfront structures and roads in an AEC requires a CAMA permit.
These areas cover most coastal waters and about three percent of the land in the state's 20 coastal counties. AECs are defined as an area of natural importance and "may be easily destroyed by erosion or flooding; or it may have environmental, social, economic or aesthetic values that make it valuable to our state," according to Coastal Management.
There are four categories of AECs: estuarine and ocean system; ocean hazard system; public water supplies; and natural and cultural resource areas.
Coastal Management's final report must be complete and ready for review by the General Assembly and state Department of Environment and Natural Resources by Dec. 31.