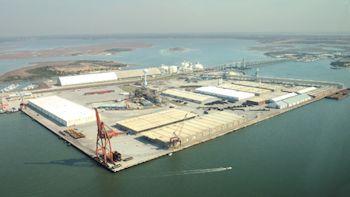 The storage dome and other infrastructure for the wood pellets would be built in the lower right corner of the port.
MOREHEAD CITY – They had a public meeting here Wednesday about the state's plans to ship wood pellets – they really do look like rabbit food — made from N.C. trees to England, where they will be fed into the maws of power company boilers. They talked for almost two hours about storage domes and conveyer systems, about railroad cars and cargo ships, about dust suppression and fire extinguishing.
No one, however, mentioned the 300-pound gorilla that lurks across the Atlantic and could decide, more than all the blueprints and well-laid plans, the future of wood pellets here in North Carolina.
The Carteret County and Morehead City commissioners called the meeting to give officials at the N.C. State Ports Authority an opportunity to update people about their plans to build a shipping and storage facility for wood pellets at the port.
Those were once grand plans, indeed. When first revealed last fall, the project called for a $200 million investment at the ports here and in Wilmington. Four domes, each 150 feet high, would grace the Morehead waterfront at the port and likely become convenient landmarks for offshore boaters finding their way to Beaufort Inlet. The domes would hold more than a million tons of pellets brought there by trains from private plants scattered throughout the coastal plain that would be busily compressing trees into pellets. Train traffic down the single line through the middle of Morehead would quadruple, raising fears about summertime logjams of cars full of tourists blocked from the beaches by lumbering locomotives and their tails of squealing stock.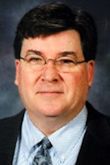 Jeff Miles
"The initial estimate of the market was significantly overstated," Jeff Miles, the ports' executive director told the 60 or people at the meeting. "So we made some adjustments."
The new plans call for one dome and shipping about 300,000 tons of pellets a year out of Morehead City. Train traffic would be reduced to about 60 additional cars a week, or 20 extra cars on each of the three trains that now go to the port weekly, Miles said.  "We tend to think that will be undetectable," he said.
A lower price tag comes with all this whittling. The state now plans to initially spend about $15 million on the pellet facility in Morehead City, Miles said, but could spend more in the future to add additional storage domes if the market demands it. A private contractor would build and operate a similar facility in Wilmington
Miles said the ports hope to start shipping pellets by the end of 2014.
"We'll be well positioned to take advantage of any future growth in the market," he noted
The Gorilla
Any discussion about the future of the pellet industry and the ports' role in it brings us to that gorilla.
A day before the meeting in Morehead, the British Broadcasting Co. published a story that critics of using wood to make electricity say should give pause to anyone planning to turn trees into pellets or to ship them to power plants in England.  The BBC reported that the United Kingdom is turning away from its controversial policy of subsidizing utilities to generate electricity from burning wood.
There's some disagreement about whether the BBC overstated that conclusion, but there's no denying that those policies in the UK, along with similar ones in other countries in the European Union, have fueled the demand for wood pellets made in the Southeast. Any changes to those policies could have real implications for the future of the industry in North Carolina and thus the ports' pellet facilities.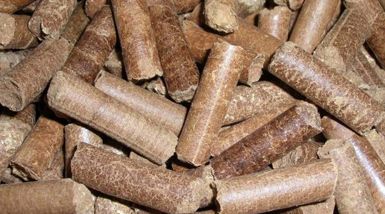 A little background seems to be in order.
European countries in 2009 instituted ambitious policies that encourage power companies to cut their emissions of greenhouse gases and increase their use of renewable energy sources by 20 percent in 10 years. Heavy taxes were placed on carbon emissions, and subsidies were offered to power plants that switched from coal to renewables, which included wood and other so-called biomass.
England and other countries in the European Union at the time considered wood to be "carbon neutral," meaning that burning it produced no additional carbon dioxide that could contribute to global warming. A tree used photosynthesis to store CO2 throughout its life, went the prevailing theory at the time, and burning it merely released that CO2 back into the atmosphere. It was, in essence, a wash as far as CO2 emissions went.
Some scientists at the time questioned the simplicity of the theory, but no matter. European power companies grabbed onto it with gusto. The consumption of wood pellets in Europe has increased almost 50 percent since the polices were instituted, far outpacing the ability of the continent's forests to meet the demand, which is forecast to continue its dramatic rise for the rest of the decade.
The growth ignited a boom here in the United States, transforming what had been a small industry that made wood pellets from sawdust to heat homes in New England into a rapidly growing export trade of pellets made primarily from Southern trees. The piney woods of the Southeast have long been one of the globe's wood baskets, and those trees have now propelled America into the world lead in the production of pellets. At least 30 pellet plants have been built or are proposed – many with the financial backing of Europeans – in Georgia, South Carolina, Virginia, Florida, Alabama, Mississippi and, most recently, North Carolina, according to a study done last year by the Southern Environmental Law Center. All but one of the existing plants have opened since 2008.
New Science, New Thinking

Danna Smith
Harry Huyton
As the boom boomed, scientists looked more closely at the wood-carbon issue. They learned that the answer isn't as simple as originally depicted. It all depends on where the wood comes from, how it's harvested, whether whole trees or wood waste — such as tops, limbs and sawdust — are used and if the land is replanted with trees afterward.
These varied conditions and the actual method used to account for the carbon explain the mixed research results. Some studies showed a no net gain in carbon emissions when burning wood pellets, while more recent studies suggest it takes decades for a new tree to reabsorb the CO2 that's emitted when an existing tree is burned.
The new research is making the UK rethink its subsidies on wood pellets, noted Danna Smith, executive director of the Dogwood Alliance. The environmental group based in Asheville has long been involved in forestry issues in the Southeast. It issued a report last year that documented that whole trees were being used by pellet producers in the region and not wood scraps as was claimed by the industry.
"The new science is questioning many of the assumptions that went into those policies," she said. "The BBC report is an indication that they are thinking differently about these issues than they were just a few years ago. There is a different take now, and Europe is trying to slow things down. The story is an indication of that."
Ed Davey, the UK's energy secretary, told the BBC that biomass was always considered a temporary solution to climate change targets while other renewable energy systems are developed. That's why government subsidies will end in 2027.
His department, in a statement to the BBC, acknowledged that burning pellets and other types of biomass in power stations built expressly for that purpose offers poor savings in carbon emissions compared with wind power or even natural gas. The UK last year instituted a cap on subsidies for such plants. The cap doesn't apply to plants that have been converted from coal or use a combination of biomass and fossil fuels, or so-called co-fired plants.
Harry Huyton of RSPB welcomes what he sees as a change of heart. His group is the UK's largest conservation charity and one of the most vocal critics of the subsidy policies. "This is good progress, and we're talking it up to try and encourage government to keep on going and to apply a cap on conversions and co-firing, too," he wrote in an email.
Miles hadn't seen the BBC story and wouldn't comment on what the implications on the ports' plans might be if the UK changes it subsidy policies. He said during the meeting, though, that the storage domes could be used for agricultural products.
No Changes Planned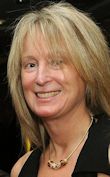 Melanie Wedgebury
Drax, the UK's largest power station, has been converting half its boilers from coal to wood pellets. It imports most of the pellets, primarily from the United States. It would burn the pellets shipped from Morehead City. The company has no plans to change that strategy, Melanie Wedgebury, a company spokeswoman, wrote in an email exchange.
"To be clear, our plans are not affected in any way," she wrote. " There was nothing new in that (BBC) report, and our understanding is that there has been no change in government thinking and government policy remains unchanged. "
Biomass conversions from coal are a key element of the package of renewables required to meet carbon reduction targets from 2020 and beyond, Wedgebury wrote. "Support for converting coal units to biomass, as previously announced, will continue until 2027 which is the basis on which Drax has planned its investment in conversion," she wrote.
Drax has invested heavily in wood pellets, Smith noted, but others should be more wary, especially if they're planning to use taxpayer money. "North Carolina will have big problems into the future because the future of this is uncertain at this point," she said. "It makes it very risky for government to invest in this and companies to put their money in this. It could dry up in the near future. There is a lot of controversy and unsettled science. It's just too risky.