RALEIGH — Moore Square will come alive Saturday as the N.C. Coastal Federation and the Hills to Holy Water Music Arts Tour come together for N.C. Fresh Catch, a daylong celebration of commercial fishing, clean water, arts and sustainable living.
The festivities will be from 1-8 p.m., and organizer Michael Kalna promises it will be fun for all ages. He's the development director and state coordinator for the Hills to Holy Water Music Arts Tour and guitarist for the Durham-based band Dye Wells. When asked to sum up the promise and premise of the event, though, he deferred to band member Renee Lumpkins, who was with him recently as the outfit headed for shows on his native Ocracoke Island on Memorial Day weekend.

The old and the new of the N.C. coast: Houses line a coastal creek, where a commercial fishing boat is tied to a dock. Photo: N.C. Division of Marine Fisheries
"She's a lot better at that than me," Kalna said. "She can explain it better."
"We're celebrating the resources of North Carolina, from the fishermen to the farmers to the brewers to the chefs and the artists," she said. "We're shining a light on community. This is all about local agriculture and fishing and art and beer. It's really unbelievable that in this state, some of these things – fishing and farming – seem to be slipping away."
Kalna and Lumpkins think those traditions can be preserved if people put their minds to it, work together and share ideas, she said.
"What we do in Raleigh and the Triangle impacts people in the mountains and on the Outer Banks," Lumpkins continued. "And what we do in those places affects people in Raleigh and in that part of the state. We want to do what we can to raise awareness of where our food, our seafood and our agricultural products, come from, and how important these things are to the state."
And of course, Lumpkins and all the others involved want to have fun … and beer … and raise money for the federation and the Core Sound Waterfowl Museum and Heritage Center on Harkers Island and for Nourish International, a nonprofit organization that connects students with communities internationally to help eradicate poverty. The organization, which operates at the University of North Carolina at Chapel Hill, N.C. State University in Raleigh and Duke University in Durham, supports local chapters at more than 20 universities in the United States. Students also run small businesses and use the earnings from them to support their projects.

Michael Kalna
The Core Sound museum is also about community, reaching and out and connecting the small fishing villages of Carteret County to each other and to the world with displays, educational exhibits and frequent lectures and presentations by experts. And the Federation, headquartered in Ocean in western Carteret County, is North Carolina's only organization dedicated solely to protecting and enhancing the water quality of the state's fragile coastal region.
All of these fit well with Hills to Holy Water Music Arts Tour. It is, according to Kalna, a statewide concert series promoting the richness of North Carolina's natural and creative resources. It focuses on creating and strengthening community relationships between local arts and sustainable commerce.
For each event, the Hills to Holy Water festival works closely with local restaurants and catering companies to specially craft menus reflecting local flavors, highlighting the freshest ingredients and products from North Carolina fishermen and farmers. A goal is to invigorate the local, sustainable, agricultural and commercial economy. Beer, which is a rapidly growing business in the state, is also a focus.
"As this successful industry continues to flourish, our excitement in promoting the breweries continues," the group's web site states. "Our goal is to present festival participants an assortment of dynamic and exceptional flavors in our beer garden.
Kalna said the concept grew from an event he and others organized some time back to raise money for the youth center on Ocracoke. The idea began as a CD release party for his band, but grew into a community event when Lumpkins suggested doing a fish fry. Local fisherman Farris O'Neal supplied 500 pounds of fresh-caught bluefish. The event ended up raising $3,000, after expenses, for the youth center.
From there, those involved decided it would be good to "take it to another level" and do similar and even bigger things around the state, Kalna said. So they did one in the band's home city, Durham, and another one in Asheville, in the mountains.
Eventually, through mutual causes and friends, the group hooked up with Sally Steele, development director for the federation.
"We thought it would be a good collaboration, a great event," Kalna said. "And it has really come together."
Steele agreed.
"We were delighted to be invited to join the N.C. Fresh Catch event in Raleigh," she said. "Our focus is on water quality and habitats. Fishing and seafood depend on the health of our coastal waters, so we are a great fit for this event that brings attention to North Carolina's great seafood.
The federation has more than 1,000 members in Raleigh, Steele notes. She hopes many come by the booth the federation will have at the festival. Volunteers will be on hand to talk about the group's restoration and education programs, she said.
One of the sponsors is Outer Banks Catch, one of four "N.C. Catch" programs in the state; the others are based on Ocracoke, in Hyde County, and in Brunswick and Carteret counties. N.C, Catch is a nonprofit umbrella organization that ties the work of the local groups together to foster collaboration, to strengthen communication and to enhance a statewide and national presence. It was established in 2012 with assistance from Saltwater Connections, a regional economic development initiative funded by the N.C. Rural Economic Development Center.
Menu items at the event, Kalna said, will include bluefish, shrimp, steamed clams and mahi-mahi. All the cooking will be done on site by area restaurant, and at least five great area brewers will serve up a wide variety of cold beers. He's planning to have enough food for 600 people.
Fisherman David Hilton of the Ocracoke Working Watermen's Association said he and his group were proud to be supplying close to 300 pounds – 90 pounds of filet – of bluefish for the event.
"We probably donated 500 pounds (total weight) for Michael's three previous events, and we're glad to do to it," he said "These events raise some money for various causes and … let people know about the Ocracoke Working Watermen and other commercial fishermen.
"I think this is great," Hilton continued. "It lets people know that commercial fishermen can and will support different kinds of fund-raisers. If you live in the eastern part of the state, you know that it's not unusual. We donate a lot of fish for churches and volunteer fire departments and others who have benefit events."
It's particularly important, he said, for watermen to help out in these times, when for a variety of reasons, there isn't enough state money to go around, yet there are just as many, if not more, need, in communities.
And, Hilton said, it helps the fishing industry to do these kinds of things, especially in communities away from the coast, where consumers are not as familiar with good, fresh seafood.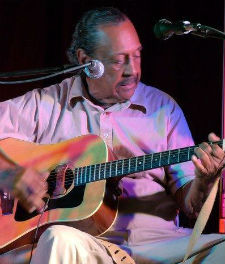 Boo Hanks will be among the musical entertainers.
"By doing these kinds of things, hopefully Ocracoke Seafood Company and other fish houses can begin to educate people away from the coast about the value of the commercial fishing industry and the harvest of seafood in a sustainable way," he added. "We want people to know that seafood is healthy and that our industry provides jobs."
The seafood company itself is a great example of community at work.
In 2006, island watermen and their 300-year heritage faced an end when the last fish house was closed and put up for sale. But the fishermen, with help from others, rallied and bought the place and reopened it, focusing not only on seafood, but also education. Today it's owned by a community nonprofit.
But there will be plenty to do besides just eat at N.C. Fresh Catch. Other activities will include 10-minute tune-up massages, raffles – including one for a cruise – and a silent auction hosted by the federation and Core Sound museum from 4 p.m. to 6 p.m., with all proceeds benefitting the organizations.
Items for the museum auction include cookbooks, a weekend at Crews Inn on Ocracoke with a trip to Portsmouth Island, a hand-carved shorebird decoy, a Cape Lookout Lighthouse framed print and Neal Conoley's book on N.C. boatbuilding, Flare Bow.
Federation auction items include a dolphin cruise for two from Kitty Hawk Kites, algae jewelry by Abby Poray, a four-day, three-night oceanfront stay from Emerald Isle Realty, a kayaking and yoga trip from Second Wind in Swansboro, parasailing in Atlantic Beach, tickets to a Bruce Hornsby concert in August and a hand-carved native American flute.
No afternoon of summer fun would be complete without music, and Kalna said the bands that will play – including his own – will create just the right vibe.
News From Our Shoes will kick it all off from at 1 p.m. Kalna said the outfit is truly unique, and has a special connection to Moore Square.
Author Michael Watkins, he said, was formerly homeless, and will provide perspectives from Raleigh's homeless.  News From Our Shoes will deliver a short skit on homelessness and the transformation of Moore Square.
"I met them a while back and was going to help them with some of their work. That never happened," Kalna said. "But when we were planning this, I thought of them. Moore Square has been going through a transition from kind of a 'homeless hotel' to a family park."
Moore Square is a registered historic district in downtown Raleigh, and is one of only two surviving four-acre parks from the city's original 1792 plan. The park is named after Alfred Moore, a N.C. judge who became an associate justice on the Supreme Court.
Originally a residential neighborhood, Moore Square was a primary commercial hub in Raleigh throughout the late 19th and early 20th centuries. Hargett Street was once known as Raleigh's "Black Main Street" because it once contained the largest number of businesses owned by African-Americans in the city. Eventually, however, that faded and the area became problematic to some before a relatively recent revival. Today, City Market, Marbles Kids Museum/IMAX theatre, Pope House Museum and ArtSpace call the square home.
While Moore Square's renaissance has been a good thing, Kalna said, it's important to continue to recognize that homelessness issue still exists in the area and to address it in meaningful ways.
Other bands include Tiny Boxes, which blends progressive styles with groove to form a solid package that has drawn critical praise; James Arthur "Boo" Hanks, an acoustic blues guitarist who began 75 years ago, with roots in the Piedmont string band and blues traditions; and King Django, who will close the day with old school ska, reggae, dancehall and dub music.