This is part a monthly series about the food of the N.C. coast. Our Coast's Food is about the culinary traditions and history of N.C. coast. The series covers the history of the region's food, profiles the people who grow it and cook it, offers cooking tips — how hot should the oil be to fry fish? — and passes along some of our favorite recipes. Send along any ideas for stories you would like us to do or regional recipes you'd like to share. If there's a story behind the recipe, we'd love to hear it.

Buttermilk Fried Toads With Homemade Tartar Sauce
Serves 4
1 pound Atlantic (or northern) pufferfish, cleaned with skin/fins removed 
1/2 cup cornmeal 
1/2 cup flour 
1 tablespoon Old Bay seasoning
Pinch of black pepper 
1/2 teaspoon Cayenne pepper
1 cup buttermilk 
1 large egg Oil (or Crisco) for frying
Fill a cast iron skillet with about a 1-1/2 inches of oil. Preheat until a thermometer reaches 375 degrees.
Meanwhile, in a shallow dish mix together cornmeal, flour, Old Bay and peppers. In another small dish, whisk together egg and buttermilk. Pick up puffers by the tailfin and dip them in the buttermilk mixture and then dredge in flour mixture.
Fry (being careful not to crowd the fish) in hot oil until lightly brown and crispy. Drain on paper towels or a wire rack set over a sheet pan. Lightly sprinkle fish with sea salt. Serve with tartar sauce and garnish with lemon wedges.
Homemade Tartar Sauce

Makes 1 cup
1 cup mayonnaise 
2 tablespoons onion, minced 
2 tablespoons sweet pickles, minced 
1 teaspoon fresh lemon juice (or more, to taste) 
1/2 teaspoon Worcestershire sauce 
1/2 teaspoon hot sauce, more if you like it spicy 
Pinch of Cajun seasoning or Old Bay seasoning 
Salt and pepper, to taste 
Mix all ingredients well in a small bowl. Cover and chill.
Source: Kendra Bailey Morris
Gray or brown. Dark spots. Big bone. Yellow belly. Pointy spines. Full of hot air. Also known as Sugar Toad or Blow Toad..
Every description of the pufferfish works against its culinary appeal. Give this ugly, little saltwater swimmer a chance and it will please the palate.
Forget fugu, that toxic Japanese puffer best known for providing sashimi lovers with what may be their last meals. The northern puffer (Sphoeroides maculatus) roaming N.C. waters in winter and spring is non-toxic. The firm, tender, white meat along its stiff backbone tastes so much like chicken that the fish's other nickname is sea squab.
"Give 'em a chance," Kendra Bailey Morris, cookbook author and Southern cuisine authority, says.
Morris didn't always take her own advice. Fishing off the mid-Atlantic, where pufferfish appearing from spring to fall are called "Sugar Toads," Morris hooked puffers but never put them on the stove.
"We would catch them, kind of rub their bellies and puff them up, and they would float away," Morris recalls.
The Sugar Toad's ability to inflate is a defense mechanism that makes the slow-moving fish appear menacing. The image wards off predators, but pufferfish are adept hunters themselves. Using their strong, beak-like mouths, they break into shellfish and crabs, a diet that lends wonderful flavor to pufferfish meat.
When Morris finally tasted flour-dusted, fried pufferfish at a Virginia seafood dive, she was smitten.
"You just pick them up by the tail, and you eat them like a piece of fried chicken," Morris says. "The meat is really sweet and delicate. I think it's really one of the better tasting fish — if you can get past the name."
Sugar Toads, Honey Toads, Toadfish, Blow Toads. No matter what pufferfish are called, Morris has only seen them fried, but the fish adapts to various recipes.
"The flavor profile on it is phenomenal," chef Kyle Lee McKnight of contemporary American restaurant Highland Avenue in Hickory, says.
At his previous post, fine-dining Manna restaurant in Wilmington, McKnight sautéed locally sourced pufferfish filets in brown butter. Last September, he served pufferfish with parsley, capers and the German noodle named spatzle. That same month, McKnight taught a pufferfish cooking class in which students prepared sautéed pufferfish with roasted pumpkin.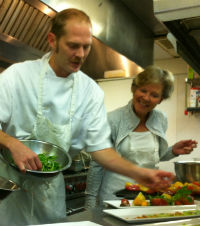 Chef Kyle Lee McKnight has taught classes on how to cook puffers. Photo: Liz Biro
Campers out on the beach at Cape Lookout like to marinate cleaned puffers in Italian dressing for a couple of hours. They then throw them on the grill for 3-4 minutes each side or until the meat is flaky and brown. They look like roasted chicken legs.
Pufferfish may be an option for raw fish dishes, too.
"If it's super, uber fresh, with a nice Spanish olive oil, a little cracked sea salt, fresh lime juice, dill," McKnight says.
Delicious as they are, pufferfish pose challenges, mainly finding them for sale. Because they are ugly, small and provide little meat, few fish markets carry puffers.
Friends of commercial fishermen, especially crabbers, may get their fill of pufferfish. Pufferfish often end up in crab pots. A friend of a commercial crabbers provided McKnight, a local foods devotee, with his ample 2012 pufferfish stock in Wilmington.
Morris has seen puffers sold at Virginia fish markets but not in coastal North Carolina, where Morris plans to relocate soon. She suggests Carolinians call fish markets, especially those that carry blue crabs, and order pufferfish in advance.
Also, ask the fish monger to dress pufferfish.
"It's actually a pain to clean," McKnight warns. "You have to chop the head off, peel the skin off, then you have another membrane you have to take off."
Despite difficulties of finding and preparing pufferfish, McKnight says even at his new, inland Highland Avenue restaurant, focused on homegrown fare, he'll try to source N.C. pufferfish again.
Morris won't abandon Sugar Toads, either, and thinks they'll gain popularity. When Morris in 2011 wrote about the fried Sugar Toads she first had at Arnest Seafood in tiny Manquin, Va., for her Fatback & Foie Gras food blog, the post got more hits than any other.
She's also seen fried Sugar Toads more often in fancy Virginia restaurants. For a time in 2010, even the highly regarded Oceana restaurant in New York City served "chicken-fried blowfish."
As Morris writes at Fatback & Foie Gras, "Sugar toads. They're not what you think…"
Some Tips on Catching and Cleaning Blow Toads
By Frank Tursi
As Liz notes in her article, seafood markets rarely have blowfish. Eating them, then, also requires catching them. Fortunately, they readily take a hook and are easy to clean if you know what you're doing.
Found all along the East Coast and down through the Gulf of Mexico, northern puffers appear as water temperatures drop in November. You can catch them sporadically throughout the winter, but the early spring blow bite is one of the first signs of a new fishing season.
Fishing for puffers is pretty straightforward – a simple, two-drop, monofilament bottom rig that you can find at any bait-and-tackle shop on the coast, long-shanked #4 or #6 hooks and two to four ounces of weights, depending on water conditions. The long-shanked hooks are important. Blowfish have small, but powerful, hamster-like teeth to crush crustaceans, their favorite food. Using long hooks decreases the chance that the fish will cut the leader above the hook.
Attach all this to a light saltwater rod and reel. Blowfish rarely get over a pound. So leave the heavy stuff at home.
Bottom-feeders, blows prefer small crabs but are ferocious predators that will eat just about anything. Small pieces of shrimp and squid are common baits. So are the mole crabs that inhabit the swash zone in the surf. I've even caught them on small, curly-tailed grubs.
Fish off piers, around boat docks and in the ocean near shore. If surf fishing, cast just beyond the first line of breakers. Puffers are likely cruising along the bottom, looking for morsels stirred up by the waves.
There are no size or creel limits, but let the little guys go. There's just not a lot of meat there. And don't be a pig. Two or three medium-sized fish a person is gracious plenty for a good meal.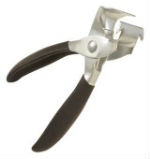 Pliers used to skin catfish make the job of cleaning puffers a lot easier.
You've caught a mess. Now what?  Relax. Cleaning puffers is easier than it looks. A rubber or fish-cleaning glove, a serrated knife and wide-grip pliers used to skin catfish are essential tools. Hold the head of the puffer with your gloved hand and squeeze gently. The fish's gills will pop out. Make your cut at the top of the head just behind the flared gills. If the puffer is of any size, it will take some pressure to saw through the backbone. Continue the cut but don't cut through the skin on the fish's belly. Leave it intact. Grab the exposed meat along the backbone with the pliers and pull the skin away from meat with the gloved hand.
Here's a video of a guy who knows what he's doing.
Trim the blood sac and whatever entrails are still attached to the meat. On larger blows, you can cut the two strips of meat from the backbone with a fillet knife to make sea squab fingers.