The Northeast Cape Fear River lumbers for about 130 miles through the state's southeastern coastal plain before joining its larger sister, the Cape Fear, north of Wilmington.
CASTLE HAYNE — Andy Wood leads our two-person pilgrimage to see a 1,000-year-old cypress along the Northeast Cape Fear River. The mighty tree has lost her neighbors. One went down with Hurricane Fran in 1996. Hundreds more have dropped away from pollution and saltwater intrusion. It used to be a more robust-looking canopy. Ten years ago, it looked better than that," Wood admits. "She's one of the last of the big ones here.
Wood, director of the Coastal Plain Conservation Group, is armed with a dipping net and glass jars as he walks along the trail near Hampstead. The path is just a thin strip of land separating the swamp and the Northeast Cape Fear. The roadbed dates back to the 1800s when we might have travelled, not on our feet, but instead by horse and carriage.
The Northeast Cape Fear runs for about 130 miles through the southeast coastal plain of North Carolina, twisting and meandering along a path of least resistance. Not quite as big as its neighbor, the Cape Fear River, the Northeast Cape Fear is a true tributary. The river is amber-colored– dark due to the organic debris that settles at its bottom.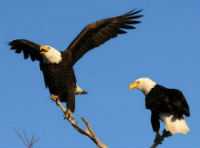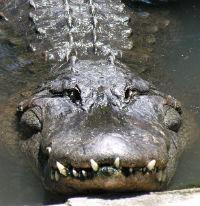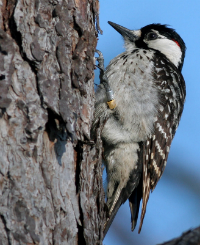 From top: Bald eagles, alligators and red-cockaded woodpeckers are some of the endangered or threatened species that live along the Northeast Cape Fear River.
Wood walks along the trail, pointing out several species that make this river special. We pass a manmade impoundment, which Wood notes the N.C. Wildlife Resource Commission staff manages with the aid of Castor canadensis – beavers.
We nearly miss a brown water snake sunbathing. Wood observes rake marks in the mud nearby and guesses a black bear was looking for its next meal. American holly, a treat for many of the area's songbirds, abounds.
According to Wood, a conservationist, several species found in or around the Northeast Cape Fear are threatened or endangered. These include the bald eagle, the American alligator and the red-cockaded woodpecker.
Wood moved to Wilmington in the mid-1980s and worked as the education curator for the N.C. Aquarium at Fort Fisher. Now, he teaches others in hopes of illustrating the connection between land and water. For example, the wetlands we hike along today are soaking up harmful pollutants and filtering water before releasing it back into the river.
"Like the liver and kidneys," Wood said. "Or a giant sponge."
His return to his first love – freshwater – was motivated by the time spent as a kid in swamps. "I was fortunate to grow up outdoors," he said. "My friends wanted to play war, and I wanted to look for salamanders."
Chances are, had they grown up together, Andy Wood and Charles "C.R." Robbins would have been the best of friends. Robbins, the owner of Cape Fear River Adventures, remembers getting lost in surrounding swamps at just nine years old.
After working in the northwestern part of the United States as a wilderness area guide, he returned to this region. Today, on his guided river tours, Robbins also teaches about the Cape river basin. He discusses stricter fisheries management and pollution policies adopted on the Northwest river system.
He encourages boaters to exercise "take-in, take-out" practices. It is simple, really: Everything you bring onto the river should leave with you.
Yet by Wood and Robbins's accounts, the Northeast Cape Fear resembles a war-torn soldier. In recent decades, the river has combated heavy pollution from hog farms and an oil spill from a metal recycling plant. The results are obvious, Robbins said.
"You can drive up I-40 where several drainages used to be. There were cypress tress growing, along with swamp gums and the pines. They were living areas," Robbins said.
"I've watched them over the last ten or twelve years die away," he said. "They deteriorated quicker than any areas of trees I've ever seen."
This deterioration has been due, in large part, to the region's heavy concentration of large poultry and swine farms. Pollution regulations are present, but policing is not.
"The waste ends up in the water table and in the runoff and in the creeks," Robbins said, nodding toward the Northeast Cape Fear. "Everything drains into another creek and another creek and finally here."
Now, the Northeast Cape Fear faces perhaps its biggest challenge: Titan America. The cement manufacturer has plans to build one of the largest cement plants in the country along the river's banks in Castle Hayne, near Wilmington.
By Wood's estimate, the destruction of more than a thousand acres of surrounding bottomland swamp would be only an initial consequence of the plant's construction. Cement production would also emit harmful air pollutants, a risk to public health, and stress surface and ground water resources.
Together with the N.C. Coastal Federation, average citizens like Wood and Robbins have worked tirelessly to stop Titan for five long years. Their successes have been hard-won.
In 2010, the federation joined other organizations to successfully sue the state to force the cement company to conduct a required federal comprehensive review before it received any state permits. Because Titan had received public funding for their project, a review was required. Following the court's ruling, Titan decided not to accept public funding, thereby evading any review. The court was forced to reverse its decision.
In November 2011, New Hanover County commissioners voted to require heavy industry like Titan America to apply for an additional special-use permit. The permit requires Titan to publically address potential adverse effects to public health and safety, as well as surrounding land values.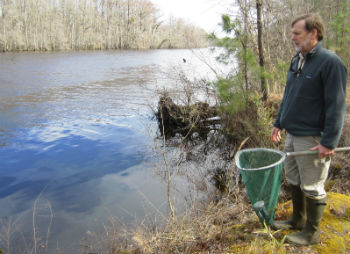 Naturalist Andy Wood worries what destroying wetlands for the proposed Titan Cement plant will do to the river.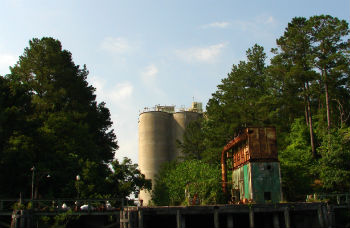 The proposed Titan plant will occupy the site of an old cement plant.
More than 240 local doctors and health care providers have voiced their opinions on public health issues related to Titan's proposed plant move-in. More than 15,000 citizen signatures opposing the Titan Cement project have been collected.
At any opportunity, Robbins says he will continue to plant more seeds, by educating others and getting the word out.
"I have signs up at my house. I talk to my neighbors," Robbins said. "I show up in my 'Stop Titan' shirt."
Wood's advice for people is simple, too. "We have to lead by example," he said. "We must recognize that what we do depends on the ecosystem services provided by the Northeast Cape Fear."
The battered and bruised struggle that belongs to the Northeast Cape Fear is also a story of its own survival, despite everything. Robbins relays stories from older residents, who frequently witnessed the now-threatened sturgeon running into nets stretched across the river. Just last year, Robbins saw a six-foot sturgeon.
"I would like to see them come back here. It's their natural way," he said. "They want to get back."
In a sense, people like Wood and Robbins all want to get back. To their childhoods. To the sturgeon. To the living cypress. It is the reason they support the work of the federation. It is the reason they continue to fight against Titan America.
"If it does happen, it's going to change this area dramatically. Permanently," Robbins said. "It's not going to be something you can fix."
"This is such a special place out here," he said. "You can't replace it."