JACKSONVILLE — Working in the restaurant business for years, Michelle Smith has seen firsthand the waste generated from the kitchen to the tabletop.
When she and her husband, Eric, bought Brewed Awakenings Gourmet Coffee Cafe in downtown Jacksonville in January, her message to him was short, but clear.
"We need to be green," she recalls telling him.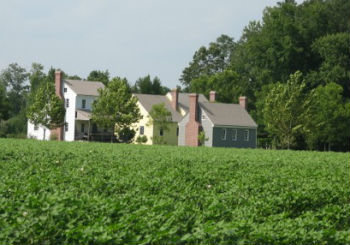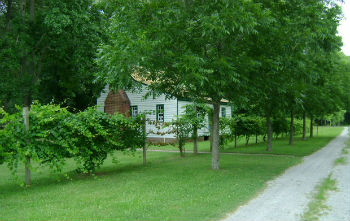 The Beechwood Inn in Hertford is surrounded by farm fields, top, and grows its own pecans and muscadine grapes. Photos: Beechwood Inn
The coffee café, a stone's throw from Jacksonville City Hall on New Bridge Street, is now the only eatery in the coastal plain to earn the distinction of being recognized by the state as a "green" establishment.
Brewed Awakenings is among 53 restaurants, lodges and parks inducted into the NC GreenTravel Initiative, a fledgling program that recognizes travel-based businesses that take an extra step in conservation and preservation efforts. Ten other businesses along the coast have also been recognized, but they are all lodges. All but two are in Jacksonville.
N.C. GreenTravel was started in October 2011 through the state Department of Environment and Natural Resources' Division of Environmental Outreach.
Free online applications are available for lodges, restaurants, museums and parks. The division is creating applications for events and festivals and plans are to extend the program to airports, said Tom Rhodes, N.C. GreenTravel Initiative's program manager.
"Anything that involves tourism has the opportunity to be recognized," Rhodes said.
It was a desire among North Carolina businesses to be acknowledged for eco-friendly efforts that prompted the state to offer the program.
As the tourism industry has been taking green steps in recent years, consumer studies are showing that travelers are becoming more environmentally conscientious.
In one 2010 study published in the Journal of Sustainable Tourism, 90 percent of hotel guests reported that they prefer to stay in hotels that care about the environment. Seventy-five percent of hotel guests said they would partake in environmentally conscious initiatives and 65 percent of people said they think effective green management boosts a hotel's appearance and competitive edge.
"The majority of travelers now are looking for some place to stay or eat or visit on the greener side," Rhodes said. "North Carolina wanted to be a part of that."
Applicants must pass a checklist of green alternatives such as showing they have made efforts to reduce energy consumption, conserve water and reduce and recycle waste.
The process may sound daunting, but the program goes the extra mile in helping businesses that want to achieve green status, Rhodes said.
The department has a group of volunteers called "waste reduction partners" who go out and provide free consultations to business owners. The department is also developing a core application checklist to be posted on its web site
Businesses that receive the green stamp of approval receive a state certificate, a door seal and free advertising.
"

Tom Rhodes
We're working with AAA to have our NC GreenTravel logo on their eco pages," Rhodes said.
The department is also in talks with TripAdivsor.com to partner up on recognizing businesses on the state's green list on the popular web site.
That's good news for business owners like Jackie Hobbs. She was already making eco-conscious choices running Beechtree Inn outside the small town of Hertford when she obtained GreenTravel certification last November.
"I've always tried to be as green as possible," Hobbs said. "We're working on being, as a family, as close to sustainable as possible. We recycle everything we can – paper, plastic, glass and cans. We have a high efficiency washing machine. We have a huge vegetable garden and we grow whatever we can in season."
Fig, pair, apple, cherry and peach trees pepper the 36-acre property, offering guests fresh fruit in season. Free-range chickens produce enough eggs to feed the Hobbs family and inn guests. Breakfast scraps are fed to the family cat, the chickens or tossed in the compost pile. Most of the laundry is line dried.
"If we have guests here for multiple nights I do not change the sheets unless they ask me to," Hobbs said. "I give them a stack of towels and they can choose to reuse a towel or not. Most people don't use the whole stack."
Guests sometimes express their appreciation about the GreenTravel status to Jed Miller, an innkeeper at Cape Hatteras Bed & Breakfast in Buxton.
"There are some people who really do appreciate it and do like it," Miller said.
The inn passed the application process last spring.
"It was something I was concerned about – just trying to leave as little mark as possible," Miller said. "We started recycling and composting and realized just how much trash we cut down on."
He changed the shower nozzles in the guest bathrooms and installed aerators on sink faucets to reduce water consumption. Guests receive shampoo in biodegradable containers and drinking water is available in glass bottles rather than plastic, disposable ones.

The owners of the Brewed Awakenings Gourmet Coffee Cafe In Jacksonville installed low-flow toilets and sinks and wash dishes by hand. Photo: Brewed Awakenings Gourmet Coffee Cafe
Such changes can make a big difference, business owners say.
Our takeaway is either 100 percent compostable or recyclable," Smith said.
The sleeves that hug the coffee cups at Brewed Awakenings are made from 100 percent compostable materials. The Smiths use only
recycled aluminum foil to wrap customers' sandwiches. Low-flow toilets and sinks have been installed in the 600-square-foot coffee shop. Dishes are washed by hand.
At the end of each week a local farmer drops by the coffee shop to pick up used coffee grounds, which he uses to fertilize his crops.
"Most of what we made were minor changes, but it's a big impact," Smith said. "If we can do this and see a significant change then anybody can do it."
The 11 coastal businesses that have so far been recognized are Baymont Inn & Suites, Jacksonville; Beechtree Inn, Hertford; Brewed Awakenings and Gourmet Café, Jacksonville; Cape Hatteras Bed & Breakfast, Buxton; Candlewood Suites, Jacksonville; Comfort Suites, Jacksonville; Fairfield Inn & Suites,  Jacksonville; Home 2 Suites by Hilton, Jacksonville; Super 8 Motel, Jacksonville; Towne Place Suites, Jacksonville; and Quality Inn, Jacksonville.