SOUTHPORT – Here's a fish story about a guy who really wanted to be a beach bum but ended up inspiring a whole bunch of kids instead.
His name is Byron "Barry" Bey. And he came down this way more than 25 years ago to play music on the beach and maybe help with an aquaculture program that South Brunswick High School wanted to start. But he gave up the beach life and became a teacher and his aquaculture program, which releases hundreds of little flounder into local waters each year, is now known the world over.
"There was no curriculum," Bey recalled of those early days. "When I walked through the door, I was given an outline.
"We had 15 or 20 (students) that first year," he added, "and they were the wildest cowboys you ever saw. It was not what I expected, but it turned out to be a good thing."
Aquaculture is like farming, but with fish. Instead of corn, wheat, oats and assorted vegetables, you grow bass, flounder, shrimp and other aquatic creatures. Growing our seafood in this way may become increasingly important in the future.
We now import about 85 percent of the seafood we eat, according to the federal government. Growing our seafood and the essential omega-3 fatty acid it contains may be the only viable way to feed fish to a world hurtling toward nine billion people.
That's where Barry Bey and his kids at South Brunswick High School come in.
From meager beginnings — "raising largemouth bass in a ditch," Bey noted — the school's aquaculture program, which was the first of its kind in the state, now attracts well over 100 students every year. It has been recognized for restocking the area's fish population (flounder, most recently) and as a role model for other schools. Five schools in North Carolina and others in the country and in Europe now have aquaculture programs. South Brunswick students in 2008 teleconferenced with students in a Denmark high school, sharing aquaculture and biotechnology lesson plans, Power Point presentations and training films.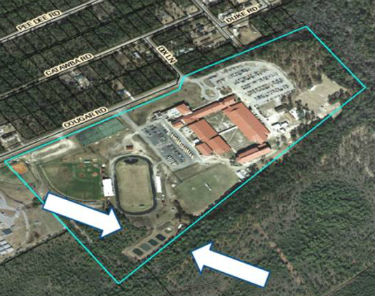 The aquaculture program occupies a small corner of the South Brunswick High School campus. Photo: South Brunswick High School
Over the years, the program has picked up two N.C. Governor's Awards for education and business and technology and has been recognized by the University of North Carolina Wilmington, Time-Warner Cable and Progress Energy for converting to solar power. Sea World gave the schools its Program Excellence Award last year, and Bey was recently nominated for a Sea World's Educator of the Year.
Though Bey tries to deflect the spotlight, it's difficult to separate the program from the man. The program he helped start is now the envy of many four-year college programs, and he has sent hundreds of students out into the world, preaching the gospel of aquaculture and the broader subject of marine environments. Within the last few years, he has begun to teach the children of former students, and while lessons learned in both classroom and the hands-on laboratories are important, so, too, are lessons in character, the shaping of responsible, environmentally-aware citizens.
"I always had trouble standing out at school," said Stephanie Rudloff, a 2007 graduate of South Brunswick High School who is currently working as a marine biologist at Ripley's Aquarium in Myrtle Beach. "He'd have me do something, have me open up in class. He gave me confidence in his class, and it helped me with other classes, too."
She had always known she wanted to work in the marine environment and a career in marine biology seemed right. While the aquaculture program created the foundation for her further education and later employment, it was Bey who helped mold the young woman, Rudloff said.
"He taught me a lot of hands-on things," she said. "Every morning, I had to count baby shrimp, so we'd know the population that we were breeding. I learned how to work hard, which has helped me in the development of a good work ethic."
Like Rudloff, Chad Casteen of Southport always had an interest in the outdoors, fishing in particular. A 1993 South Brunswick graduate, Casteen now works for Archer Daniels Midland and runs fishing charters out of Southport. He, too, remembers the value of the aquaculture program and its teacher.
"He was real energetic," Casteen said of Bey, "and kept kids interested. He actually got me to calm down and pay attention a little."
Born in Montgomery, Ala., Byron Bey moved to Raleigh when he was 10. He earned a two-year degree in fish and wildlife management from Wayne Community College in Goldsboro, though initially, he was more interested in music and became, for a while, a professional musician. It's an interest he continues to share with his students.
Bey sometimes helped his brother, a commercial fisherman. In 1987, Mose Lewis, then the principal at South Brunswick High School, hired Bey's brother and nine others for the fledgling program; Byron was the last.
"Basically," he said, "I came down (to this area) originally to play music at the beach."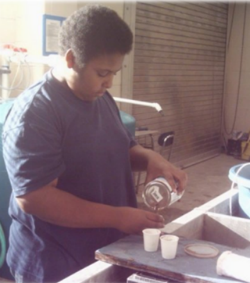 A student prepares brine shrimp that are fed to the little flounder. Photo: South Brunswick High School
Soon, though, he was attending summer courses at various colleges to obtain a teacher certification. Then, he created the school's aquaculture program.
Bey is quick and expansive in discussing the many ways that the program has always been a community effort, entailing financial and volunteer support and cooperation from school officials; local, regional and state authorities; residents of Southport; and the students themselves. That support, however, follows the program initiatives, as with its recent conversion to solar energy to power the laboratory and the re-cycling of fish tank wastewater to irrigate local golf courses.
"Savings using a solar panel array at out fish farm showed our students and the local community how to cut energy costs, (while improving) profits," he explained in his application for the Sea World award and grant that his program won in 2012. "With federal, state and local LEA budget cuts, our students and team felt this was something we could do to save money; to keep our school system functioning, and an example to other school systems in the same belt-tightening situation.
"This was truly a student-led project," he went on to write. "The students themselves did the work . . .assessing site requirements, choosing the best possible site. They and the community learned that it was in their best interest and the best interest of other students and communities — statewide, nationally and globally — to learn about and incorporate green technology in an effort to make this a more energy-efficient world for our children's future."
"A marvelous opportunity," Rep. Mike McIntyre called it. "(It gave) the students and community a real-world experience in 'greening' our future solar energy. This type of experience (will prove) to be invaluable, as (these students) enter the workforce."
Bey continues to hear from former students. Many have gone on to teach others, maintaining the program's exponential reach. Jaylyn Yuhas, who graduated in 2000, has almost completed her bachelor's degree in early childhood education, and in a 2010 letter, described him as "my most favorite teacher ever."
"You made a lasting difference in me," she wrote to him. "As small as an hour a day seems, it changed my life forever. You are the reason I want to teach, why I want the chance to do (what you did) for my students.
"Who knows?" she concluded, "maybe I will be writing you for advice on how to start my own aquaculture program in the school where I teach."
It comes down to choices, and early in life, Byron "Barry" Bey made a few of his own, born of a simple desire, really. Though he ended up working on a global problem, locally, it began with a modest pleasure he continues to enjoy.
"I like to fish," he said.