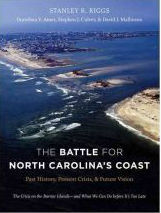 There is no denying our choice to live on barrier islands places us at odds with nature.
Like Holland's lowlands or Venice's island/canal world, our geological existence has been but a wink in the eye of time.
Whether man's engineering feats, be they windmills and dikes, flood gates and canals, or replacing sand on the beach, can succeed or even be contemplated should be the true center of debate as we plan our future.
Instead, opponents of attempting hold back the forces of nature most often frame the argument in terms of class warfare.
Those who directly benefit from the beach — the "rich folks" who own the homes and businesses near the oceanfront — are pitted against everyday residents.
Proponents of manmade intervention can be just as stubborn. They ignore data indicating rising seas or climate change, while failing to realize that the present form of the northern Outer Banks is barely 500 years old.
Proponents would rather debate whether man or nature is causing climate change, an argument that sadly breaks down all too often along partisan lines.
Enter a refreshing change in the dialog about our present and future.
In 2011, Stanley Riggs and three colleagues, Dorothea V. Ames, Stephen J. Culver, and David Mallison published The Battle for North Carolina's Coast: Evolutionary History, Present Crisis & Vision for the Future.
Riggs is a geologist and distinguished research professor, heading up a research program at East Carolina University that draws support from the U.S. Geological Survey, the National Park Service, U.S. Fish and Wildlife and UNC-Chapel Hill.
Riggs uses data from our past and present about climatic conditions without getting into the middle of whether such changes are natural or man-caused processes.
The Battle for North Carolina's Coast is a relatively quick read. There are barely 100 pages of actual text, and those are filled with numerous graphs and pictures, reducing the amount of prose even more significantly.
To understand our present crisis and aid our future planning, Riggs et al spend considerable time on our geological and climatic past.
Our past includes more than 23 periods of time over the course of one million years where glaciers have advanced and retreated, greatly altering our coastal shoreline.
Our barrier islands are in the approximate middle of where the Atlantic Ocean has waxed and waned. Our mainland has extended as much as 30 to 60 miles eastward, with barrier islands moving eastward along the continental shelf.
Other times, when glaciers retreat, can bring the oceanfront closer to the present mainland, with barrier islands moving landward as the waters advance.
Interspersed with these long-term geological changes are short-term changes involving the powerful storms that regularly visit our shores.
Riggs tracks, as much as current data allows, the cycle of hurricanes and nor'easters going back about 300 years, with more reliable data from the late 19th century forward.
It is these storm cycles, which also seem to wax and wane in frequency and power along regular cycles, that can alter the islands' profiles radically over short periods of time.
Finally, Riggs takes us through the history of the islands since Europeans first visited about 500 years ago and demonstrates how current changes appear to be altering the islands at a more rapid pace, similar to the way our current configuration appeared 500 years ago.
He notes how inlets and the width of islands have changed significantly, coming and going, moving westward and southward in just that short period of time.
Tying the two geological and climatic cycles together, Riggs notes we are experiencing both an increase in storm frequency as well as evidence of rising sea levels that might herald the start of another global warming cycle over the (very) long term.
The book then describes the two types of barrier islands that compose our outer shoreline. Some of the islands Riggs calls "simple." These are narrow strips of land without much underlying superstructure and therefore very susceptible to change by storm systems.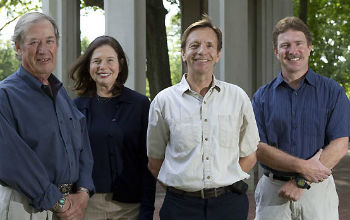 The authors, from left: Stan Riggs, Dorothea Ames, Stephen Culver and David Mallison. Photo: ECU
Other islands and parts of simple islands are classified as complex. These islands have a different substrata, are significantly wider, higher in elevation and feature westward dune lines.
Riggs proposes different future courses of action for the two systems.
South of Oregon Inlet, Riggs states the mostly simple structure of Pea Island and other parts of Hatteras are no longer worth saving. The lifeline of those villages, N.C. 12, can no longer be moved westward in many places.
New inlets will continue to open, Riggs feels, and building one new bridge, such as the span over the new inlet created by Irene, doesn't preclude other inlets opening up just "down the road."
Riggs acknowledges that the option to replace the Bonner Bridge with a long span from South Nags Head to Rodanthe, leaving Pea Island to Mother Nature, is one possibility, albeit very expensive.
As an alternative, Riggs proposes "A String of Pearls" with population centers focusing on the more complex substructures supporting Rodanthe/Salvo/Waves, Avon, Buxton, Frisco and Hatteras villages.
The islands could be served by high-speed ferries, private charter boats and other methods, including mainland parking lots where cars would be left and only people would be transported to these locales.
Some smaller islands might evolve into sparsely populated luxury resorts, eco-tourism sites or primitive camping areas, while the main villages would take on a character and economy similar to Ocracoke Island.
He envisions "world-class ecotourism" destinations similar to those adopted in other areas of the world.
Along our northern beaches, Riggs acknowledges that development has made these economies more similar to larger coastal resorts.
He calls these areas "Islands of Opportunity" and even states some areas might benefit from "holding the shoreline."
Even so, Riggs sees sea-level rise and increasing storm cycles as very real threats between now and the turn of the next century.
He believes the political and economic discussions for the next generation should entail considerable planning and attention to detail regarding our underlying shoreline framework and requires detailed adaption policies in our planning.
He also advises creation of rolling buffer zones that would call for buildings on pilings to allow storm water to pass and even feed the west side of the islands.
The book offers no panacea, and Riggs and his co-authors freely admit their ideas may not be accepted as economically, politically or even technologically acceptable.
But his ideas are worth bringing into our present discussions. The year 2100 is less than two generations away. Thinking only about the short-term has been a constant human failing.
This book deserves a read by all coastal residents, including those residing along our past (and perhaps future) shoreline in Elizabeth City, New Bern and other towns.
Related Stories