WILMINGTON — Thanks to Sandy Cecelski's fulfilled dream and the hard work that brought it to fruition, Taylor White hopes to get a head start on college next year as a senior.
White, a 16-year-old who lives near Carolina Beach, plans to enroll next year in Ashley High School's Marine Science Academy – Cecelski's dream – and will earn six hours of college credit at for the rigorous college-level courses taught at the University of North Carolina Wilmington, Cape Fear Community College and in the field.
"Growing up here, near the water, I've always been interested in the ocean and marine science," White, a junior, said. "I have taken Ms. Cecelski's classes, and that got me even more interested. I'm possibly interested in a career in marine science, and this is such a great opportunity to learn more about it and to get college credits."
The academy was developed by Kenneth Bowen, former principal at Ashley, and Cecelski, a member of the N.C. Coastal Federation's Board of Directors who has taught marine science and oceanography classes in New Hanover County for 25 years. Although the academy – approved and funded at $50,000 by the New Hanover Board of Education earlier this year – is a relatively new concept in public education, Cecelski said developing a program like it in high school has been in the back of her mind for more than two decades.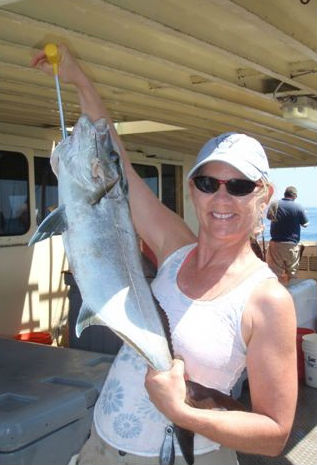 When she's not teaching kids about the marine environment, Sandy Cecelski is out there experiencing it first hand.
It all came together, she said, when Tim Markley, New Hanover County Schools' superintendent, challenged each of the county's high school principals to create a "signature program" that would "define" those schools. It's a concept with a proven track record; New Hanover High School has operated its Lyceum Academy, which offers a faster-paced learning environment for students, since the late 1990s.
"I hate that it has taken 25 years to do this, in all honesty," Cecelski said. "But we're excited. We think it's going to be great for the school and for the students, and I am so grateful for the wonderful support from Dr. Markley and the school board.
"When he asked the principals to come up with a signature program, marine science was just a perfect fit for us," she continued. "Our campus is very close to the ocean and the estuary, and to UNCW and Cape Fear. We have world-class marine scientists right here. We can go to the colleges and on field trips and be back in time for the students' next classes."
Any New Hanover County high school student can apply to the academy, but those accepted must be able to provide their own transportation to the high school. Ashley will transport the students to the colleges and on the field trips for the 90-minute sessions. "In addition to being the instructor, I'll be the bus driver," Cecelski said.
Next year, the program will accept 25 rising seniors. After that, 25 rising juniors and 25 rising seniors will be accepted each year.
So far, Cecelski said, there has been a lot of interest in the academy. Although approval by the school board came in early February, applications are already coming in; 17 had been submitted by early March, and she has no doubt all the slots will be filled.
The students and families will also save money on these college credits, $500 to $2,500 depending upon the school to which they transfer the credits.
Cecelski and others have taken great care to develop a serious, college-level syllabus in time for the first year, and she promises the eight units will touch a lot of bases, including not just biology, but oceanography, physics, geology, engineering, chemistry and ecosystems.
In addition to the natural environment and the colleges, there are also marine industries for the students to explore, including those at the state port in Wilmington.
"The opportunities here are just tremendous," Cecelski said. "We have everything you need.
"It will be technical but very diverse," she said of the curriculum. "It's will also show them the career opportunities that are available.  The students will be able to find out what interests they might want to pursue."
The syllabus and curriculum have been extensively reviewed by several oceanographers and marine biologists from UNCW and the community college's marine technology program.
Academy students will travel to UNCW's Center for Marine Science about 10-12 times throughout the school year to attend lectures and participate in laboratory exercises designed to supplement and enhance regular classroom instruction.
Students will be also required to relate their graduation project to marine science.
"Coastal art, North Carolina maritime history, marine policy, SCUBA…the topics are endless and so are the resources in Wilmington," Cecelski said. "As their teacher, I will be their faculty advisor and will assist them in securing a content specific mentor."
The students also will be required to participate in the National Ocean Science Bowl, a highly competitive national competition sponsored by NOAA designed to inspire and promote the next generation of marine scientists.
Parents are invited and encouraged to attend many of the academy activities. Academy parents will be encouraged to be active stakeholders in their child's education.
The whole concept is designed to create students with a passion for marine science and their environment and to help forge the next generation of marine scientists even as they explore, as high school students, possible solutions to complex environmental issues.
In her presentation to the school board, Cecelski touted the need for those marine scientists of the future.
"Deep ocean exploration and engineering may hold the answers" to many of the world's problems, she said. "Technology yet to be invented may prevent catastrophic events such as the 2010 Gulf oil spill.  Offshore wind energy is coming to North Carolina within the next decade.  Ocean engineers will be valuable professionals on these projects."
The academy, she said, is truly ground-breaking. There are only two high school marine science academies on the east coast of the United States, one in Ocean County, N.J., and another in Miami.
"I am committed to doing everything possible to see this project take off and swim on its own," she said to the school board. "As for me, after 25 years of marine science education, I can think of no greater legacy I would like to leave to the children of New Hanover County.  So when I hang up my ID for the last time a few years from now, I feel confident that we will have highly trained professionals waiting to fill my mud waders."
White, the junior who has applied, said she believes she's up to the challenge.
"It's going to be hard, I know, but I don't think it will affect my other school work, the way it's set up," she said.  "I've already taken a lot of marine science classes, including honors oceanography. I think I'll enjoy it."