MANTEO — They came, they saw, they listened.
That's the story in a nutshell about Monday's visit to the Outer Banks by Gov. Pat McCrory and Tony Tata, the recently-appointed N.C. Department of Transportation secretary.
McCrory and Tata toured N.C. 12 on Hatteras Island to get a first-hand look at the continuing overwash that has frequently forced closure of the road since Hurricane Sandy blew through in late October. Following the hurricane, traffic was re-routed via ferry from Rodanthe on north Hatteras Island to the mainland for several weeks while the road near Mirlo was rebuilt and lined with sandbags to protect it.
Since that time, other storms bringing overwash have frequently caused traffic to be halted for hours or even days at a time while sand is removed and/or the road is repaired. The road, in fact, was closed for hours Monday because of heavy surf from a coastal storm. Hatteras Island residents who wanted to attend the meeting in Manteo had to be prepared to spend the night because the road wouldn't open again until yesterday morning.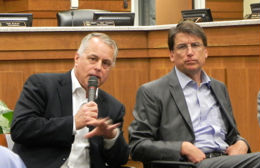 Tony Tata, left, the state transportation secretary, and Gov. Pat McCrory field questions at a meeting in Manteo about N.C. 12. Photo: Rob Morris, Outer Banks Voice
During opening comments, Tata lightened the mood by explaining how the governor became part of the entourage.The original plan for the N.C. 12 tour and the town hall meeting included only Tata, who mentioned his trip during a cabinet meeting with McCrory Monday morning. Tata said that McCrory responded, "That is an issue – do you mind if I come?"
"I said, 'Hey, it's your plane.'" Tata reported.
McCrory said that there is no way to envision the scope of the problem without visiting the area.
"Until you see it, you can't believe it," he said. "And we saw it before high tide."
Whatever solutions are chosen, it will not be a state-only endeavor, said McCrory. Instead, it has to be a partnership between the state, federal and county governments.
He noted that identifying the long-term solution is going to be tough.  "We need short-term solutions and also long-term solutions that will stand more than two years – should be decades."
When the meeting opened up for comments, several Hatteras Island residents expressed their frustrations, concerns and opinions about possible solutions. They also wondered aloud if they would be able to go home via N.C. 12 following the meeting.
Dave Dawson of the Hatteras Island Business Association said that there has been no beach since Hurricane Sandy. And, now, he said, the overwash isn't just from storms but also tides.
Concerns about the declining economy because of visitors' fears of not being able to access the island were echoed throughout the hour-long meeting. And the need for prompt beach nourishment also was a frequent topic.
Moving tourists on and off the island isn't the only concern of local residents.
"There is the critical issue of access to medical care," said Cliff Parker, a retired physician who has been a charter boat captain for 15 years. "It is going to take bold leadership [to find solutions] but when you have shortness of breath or chest pains, you don't want to be on Hatteras Island."
The governor made no bones about his priorities. "Public safety is the number one consideration and then economic impact," he said. "No interest group is going to block us."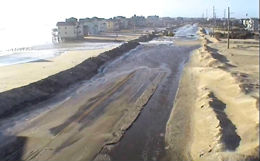 N.C. 12 at Mirlo Beach Sunday morning. Photo: NCDOT
Hatteras Island resident John Head offered support. "We are pretty much in favor of helping you help us. We are open to tolls and are willing to step up to the plate," he said. "The Realtors are having to make deep discounts to get people here. We need nearshore reefs in place to protect us…"
Closing the meeting, McCrory told the crowd that the state can't do anything about storms or tides and doesn't want to give false expectations. "We will be very direct, very pragmatic and we will take action…we are not deferring, not accusing," he said. The state will look for the best course of action, McCrory said.
Other public meetings on the future of N.C. 12 were scheduled for yesterday at the Rodanthe-Waves-Salvo Community Center in Rodanthe and for today at the Ocracoke Community Center. They start at 4 p.m.
Those meetings will be in the eye of the storm, so to speak. A coastal storm that brought high winds and soundside flooding to Hatteras last week is long gone, but waves and swells — as high as 10 to 15 feet – pounded the island, closing N.C. 12 for hours at high tide, for the past six days. Heavy seas could continue to close the road at high tide – perhaps into today.
There was ocean overwash over N.C.  12 in Kitty Hawk, at the Pea Island Inlet Bridge, the S-curves near Rodanthe and Mirlo Beach, north Buxton and on the northern end of Ocracoke.  There were also reports of some overwash east of Hatteras village on Saturday night.
As much as seven feet of sand covered the S-turns Sunday morning. Almost all of the sand dumped on top of the sandbags at the S-curves has been washed away, but the bags have held up and more sand will be trucked into the area when the overwash stops.
About the only good news about the highway has been that the roadbed is apparently not seriously damaged or compromised.
According to DOT and Dare County officials, there is slight damage to the asphalt on the south side of Pea Island Bridge.  At that point, traffic has been one lane.  However, the repair is not expected to take long once the overwash stops.
The main headache for travelers has been that DOT crews have had to close the highway to clean sand and water off the pavement after every high tide since last Thursday.
The coastal low that moved offshore of the Virginia-North Carolina border last Wednesday was a slow mover as it headed northeast.  Meanwhile, a high pressure over the Great Lakes kept North Carolina sandwiched in a pressure gradient with high winds.
The National Weather Service's high surf advisory, which forecasters have kept extending, ended yesterday, but an approaching cold front with strong southerly winds of 20 to 25 knots and seas will continue at about at 7 to 9 feet until at least today.