A version of this story first appeared in the Tideland News
Several boating and fishing groups and boat manufacturers are opposed to a bill that would raise the yearly registration fee on all recreational boats in North Carolina in order to pay for dredging inlets along the coast.
Senate Bill 58, introduced by state Sen. Harry Brown, R-Onslow, would eliminate the flat fees of $15 and $40 that recreational boaters in the state now pay for registering a watercraft for a year or three years. Instead, the legislation would establish a fee schedule based on vessel length with the owners of the smallest boats paying $15 year and the largest $150. The fees for new boat titles and transfers would also increase.
The bill requires that half the money each year go to a dedicated fund that would be used to help pay for dredging inlets that have a maximum depth of 14 feet.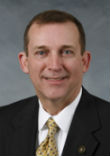 Sen. Harry Brown
BoatUS, which has about 16,000 members in North Carolina, agrees that the inlets along the coast have to be maintained, said Nicola Palya Wood, who works in government affairs for the organization.
"But it has to be equitable," she said. "We have serious concerns with the bill the way it's written. We represent all boaters in North Carolina and we want to make sure all boaters are fairly treated. The lion's share of the costs in this bill falls to recreational boaters, but leaves the commercial boater untouched."
The group on its Web site is urging its N.C. members to contact their legislators to oppose the bill. The site has generated more than 1,200 emails to the N.C. Senate opposing the bill, Wood said.
Bass fishermen don't seem too pleased, either. The N.C. Bass Federation features the BoatUS alert on its Web site. It has about 400 active members in the state and is an independent affiliate of the Bass Federation, one of the largest fishing groups in the country.
"While we like to see everything done to protect the inlets, there are lots of freshwater boat owners, fishermen and recreational boaters all over the state who would never see the benefit," Chuck Murray, president of the N.C. group, explained in an email. "We are in no way supporting this bill."
BoatUS and a group of boat manufacturers, which includes Grady-White Boats and Parker Boats in Carteret County, have been talking to Brown's office about the bill, Wood said. They hope to talk to Brown directly about their concerns and other options to raise money for dredging.
"Dredging has to be done, and the fees haven't been increased in many years," Wood said. "But these increases are substantial and there has to be a more equitable way."
Brown did not respond to an email or telephone calls seeking comment.
Under his proposal, boats less than 14 feet long would continue to cost $15 for one year. The owner of a 14- to 19-foot boat would pay $25; 20 to 25 feet, $50; 26 to 40 feet, $100; and vessels longer than 40 feet, $150.
Boaters would get no discount, as they do now, for registering their boats for three years.
Half of the boat registration fees and one-third of money for new titles would go into the dredging fund. A minimum of $10 of each new title or transfer would go directly to the dredging fund under the proposal.
The registration and title fees are used by the N.C. Wildlife Resources Commission to pay for a variety of boating-related initiatives, including boater safety and construction and maintenance of public boat ramps and docks.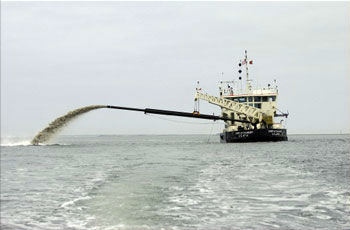 Senate Bill 58 would create a dedicated funding source to help pay for dredging most inlets along the coast.
Under the bill, a "shallow draft inlet" means "a waterway connection, with a maximum depth of 14 feet, between the Atlantic Ocean and a bay or the Atlantic Intracoastal Waterway, or a river entrance to the Atlantic through which tidal and other currents flow."
Inlets along the central and southern coast, such as Bogue, New River and Carolina Beach inlets, have been primarily discussed by state and federal officials when talking about shallow-draft inlets. Oregon, Hatteras and Ocracoke inlets on the Outer Banks have also been described as such by the U.S. Army Corps of Engineers, and Oregon Inlet's authorized depth by the Corps is 14 feet. But there was some concern in Dare County that Oregon Inlet wouldn't qualify for dredging money, but Brown told the Outer Banks Voice in an email that the inlet would be included.
That could be a problem, noted Rudi Rudolph, Carteret County Shore Protection officer. It costs about $6 million a year to maintain Oregon, he said. That's about as much as it takes to maintain all the inlets along central and southern inlets combined, he said. So Oregon would be sucking up a vast quantity of money generated by the dedicated fees, Rudolph fears.
But he supports a state bill because it would establish a revenue source to help pay the state's share of the cost for inlet dredging, but Rudolph added that he'd like to see a few changes to the bill.
"The idea is that there would a dedicated revenue source, which would get us out of the ups-and-downs of depending on the general fund" for state contributions to dredging projects, Rudolph said.
"This would be a very good step," Rudolph added. "But the bill specifies a 50-50 split (between the local government funding and the dedicated state fund). What we would like to see, if it might be possible, would be a 75-25 state-local split, or maybe 65-35."
The bill, Rudolph said, is clearly intended to help fund the inlets along the central and southern coast, such as Bogue, New River and Carolina Beach inlets, which traditionally have been dredged by federal vessels.
But it might be good, he said, if some of the new revenue could be made available for dredging waterways – such as Taylor's Creek in Beaufort – that are not inlets, but are crucial to local economies.
Topsail Beach added its name last week to the number of beach towns that have voiced their support for the bill. Topsail, like other beach communities, has been trying to cope with the loss of federal funding to keep shallow-water inlets open. It paid $225,000 on a dredging project that began last month in New Topsail Inlet. Pender County contributed $75,000 to the project, and Surf City has agreed to provide $37,500. The state is picking up the remaining $225,000.
The bill will next be heard by the Senate Finance Committee.