Facts About Our 'Plastic Ocean'
One of the most serious threats to our oceans is plastics pollution. Plastic constitutes approximately 90 percent of all trash floating on the ocean's surface, with 46,000 pieces of plastic per square mile. Why is there so much plastic in the ocean? Unlike other types of trash, plastic does not biodegrade; instead, it photo-degrades with sunlight, breaking down into smaller and smaller pieces, but they never really disappear. These plastic pieces are eaten by marine life, wash up on beaches or break down into microscopic plastic dust, attracting more debris.
Plastic is also swept away by ocean currents, landing in swirling vortexes called ocean gyres. The North Pacific Gyre off the coast of California is home to the Great Pacific Garbage Patch, the largest ocean garbage site in the world. The floating mass of plastic is twice the size of Texas, with plastic pieces outnumbering sea life by a measure of 6 to 1. These floating garbage sites are impossible to fully clean up.
Plastic poses a significant threat to the health of sea creatures, both big and small. Over 100,000 marine mammals and one million seabirds die each year from ingesting or becoming entangled in plastic.
It takes 500 to1,000 years for plastic to degrade. Even if we stopped using plastics today, they will remain with us for many generations, threatening both human and ocean health. Despite these alarming facts, there are actions we can take to address the problem of plastics.
Fast Facts
The average American will throw away approximately 185 pounds of plastic per year.
Eight percent of the world's oil is used for plastic production.
Biodegradable bags prevent the deleterious effects of plastic on ocean environments. They break down naturally and don't leave harmful chemicals behind.
Plastic in the ocean breaks down into such small segments that pieces of plastic from a one liter bottle could end up on every mile of beach throughout the world.
Approximately 380 billion plastic bags are used in the United States every year. That's more than 1,200 bags per US resident, per year.
WILMINGTON — She remembers the question vividly, with snapshot clarity in her mind's eye. It was 1971 and Bonnie Monteleone was about 12 years old. She and her mother were in the kitchen of their Elmira, N.Y., home. Mom was wrestling with a piece of cellophane, wrapped around a Styrofoam container that held dinner, when she posed a rhetorical question.
"Where does all this stuff go?"
Little Bonnie didn't know the answer back then. It would take almost 40 years for the answer to present itself in the graphic photo of a deformed turtle. When young turtle had swam into a plastic, six-pack ring, which got caught on its shell. The plastic ring stayed put as the turtle grew, and resulted in the deformity of the turtle's entire body.
Monteleone was by then working in the chemistry department at the University of North Carolina Wilmington. She had moved to the city in 2004 when her daughter was enrolled at the university. She landed a job at chemistry department, where she works to this day. Monteleone decided to go back to school to pursue a Master's degree and a possible career in scientific writing.

Bonnie Monteleone
The turtle photo in 2007 dramatically altered those plans. The accompanying article detailed the background to what was about to become Monteleone's new life's work. Written by Susan Casey, the article was originally published in Best Life magazine and has been reprinted in a variety of magazines and on Web sites.
Casey described the work of oceanographer Charlie Moore. He sailed in 1997 from Hawaii to California and came across what would later be known as the North Pacific Garbage Patch. It is an area of the ocean, twice the size of Texas, that contains six times as much plastic as sea life. It was, noted Casey in her article "as though someone had taken the pristine seascape of (Moore's) youth and swapped it for a landfill."
Moore left a 25-year career running a furniture restoration business and embarked on a mission to discover what exactly was going on with this amount of plastic in our oceans. He created the Algalita Marine Research Institute to conduct studies of the problem and spread the word.
Monteleone was instantly horrified by the picture of the turtle, and with the help of a UNCW fellowship to defer research expenses, she contacted Moore and participated in a 3,460-mile research trip aboard his vessel.
Her master' thesis on the subject, titled the "Plastic Ocean Project," became the name of a non-profit corporation she founded, dedicated to research, education and outreach on the subject. She and other students joined with the Bermuda Institute of Ocean Sciences last summer and conducted research in an area 30 or 40 miles off the coast of Bermuda, to determine whether the problem that existed in the North Pacific was as prevalent in the Atlantic. Though not as dramatic, the plastic problem was everywhere.
"If you're going to talk about impact," she said to a reporter from Bermuda's Royal Gazette publication at the time, "you should indicate the marine life associated with it. We looked at these marine animals, which look a lot like the plastic we were collecting.
"If marine life is mistaking the plastic for food, it will be consumed," she went on to say, "and when you consider that the first piece of plastic you ever touched in your life is still around, unless it has been burned, you start to see the scale of the problem.""
Plastics, Monteleone explained, have been found in sea birds, turtle fish and whales. In one study, conducted in the Pacific Northwest, a single bird was discovered with 454 pieces of plastic in its stomach.
She brought the issue to a local meeting of the Sierra Club last month at Halyburton Park, and though her Power Point presentation was thwarted by a facility-based computer glitch, she changed gears deftly and with the assistance of some art work she has created (an altered re-creation of a public domain mural called the Great Wave, that blends pictures of plastic, embedded in an ocean wave), she demonstrated the problem to a small, but enthusiastic group of Sierra Club members.
Evidence, to date, has suggested that this problem has not, to any great degree, begun to affect the North Carolina coast. Along with UNCW students, she has been collecting samples off the coast, and has yet to discover signs of any widespread problem here.
"We're gathering baseline data," she said, "and right now, we don't see the microplastics that we see elsewhere, which says a lot about what we have to offer here."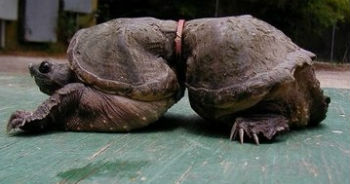 This picture of a deformed turtle started Bonnie Monteleone's on her life's work.
Still, she notes, it is a problem that residents should not dismiss. It is also something of an intractable problem that she is anxious to address. In a blog post on the Plastic Ocean Project, she made note of the fact that she can no longer purchase her favorite Wishbone salad dressing in glass jars. A ubiquitous "they" have decided that the product will only be offered in plastic.
"I realize that big business has the upper hand on our packaging," she wrote, "and most of us will just suck it up and buy what we want, when we want, no questions asked, and that translates to more plastic trash in our environment."
She goes on to recommend that you actually collect trash, particularly plastic, in a selected area over a period of week or so, and determine which company is producing the largest amount of it. With pictures and videos, she suggests, compile an evidence database and send it all to the offending company.
"Suggest that they promote responsible disposal of their packaging (and) promote user responsibility in their ad campaigns," she wrote.
"We need to find the areas where it's concentrated, especially fishing areas, because that's the most troubling for both man and marine life," she said.
"Of all the environmental issues," Monteleone told the Royal Gazette, "this is one that people might be able to clean up. At least, it's visible.
"First," she added, "we have to make people realize we have a problem."