Estuaries like this one along the White Oak River in Carteret County give North Carolina the second-largest estuarine system in the country. Photo: Bill Meserve
By Christine Miller
OCEAN — Here at the N.C. Coastal Federation, we may be gearing up today with chocolate and flowers for Valentine's Day for that special someone, but we know it's what you do over the long haul that really shows love. And we love estuaries, long time. One might even say we 'heart' them, because we're told that's what the kids are saying these days.
Here's why.
North Carolina's estuary system is the second largest in the nation (and let's face it, size matters). More than that, it is unmatched in its generally pristine state — far more than other US estuaries, we have something worth protecting. It's not broken, at least not badly, and we want to keep it that way. You can help—keep reading.
This magical zone where fresh water and salt water meet is where fish and crustaceans find love, too. All the critters we love to eat—shrimp, fish, crabs, oysters—they come here to meet and mate and provide us with delicious meals. Salt marshes and other shallow estuarine areas serve as nursery areas for 90 percent of saltwater fish and shellfish in North Carolina. If you like to fish or crab or shrimp, you, too, heart estuaries.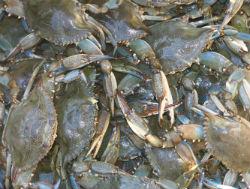 Blue crabs are just one of the many animals that depend on estuaries.
And they're gorgeous. Call us shallow, but one look at a sunset over the marsh, or a glimpse of the wild horses of Shackleford Banks, and we're goners. Paddling through the marsh, surrounded by birds and the occasional dolphin is relaxing and brings peace. What's not to love?
Showing our love means protecting these special places. That takes time and it takes money. With all that's going on in Washington, it looks as though the programs that help us take care of our estuaries might slip through the cracks and disappear. We need to stand up for our love and make sure that legislators know how much we love our estuaries, what they mean to us, and that they deserve support.
To do this, several groups, including Restore America's Estuaries, of which we're a part, have started the "i heart estuaries" campaign. We need to let leadership in Washington know that we love NOAA's Community-based Restoration Program, USFWS Coastal Program, NOAA National Estuarine Research Reserve System, and EPA's National Estuary Program. And that we want them to love them, as well.
Tell our leaders that love is in the air for these programs; here are the links to do it:
Share the love on Facebook or Twitter.
Happy Valentine's Day, everyone. You look particularly lovely today.