OCEAN — Ted Miller always encouraged people to live life to its fullest and to take care of their minds and bodies through exercise and nutrition. He was a living example of that philosophy until his death last summer at the age of 98.
His children hope their father's legacy will live on by donating his Earth-Wise Farm to the N.C. Coastal Federation, the conservation nonprofit group that one of those children, Todd, started more than 30 years ago. The federation hasn't decided yet how to put the farm to a use.
The federation will find a use that honors his father's memory and life's work, said Todd Miller, now the organization's executive director. "He really wanted the property to contribute something lasting to future generations and society, and not be sold off for development," Miller said of the 3.5-acre tract of prime waterfront property off N.C. 24 in this small community in Carteret County.
In his 2003 book, Wildegeest! A Search for Last Places- Sequel, Ted wrote, "When we returned to the 'home place' in North Carolina, the beautiful farm I had purchased long ago from Mr. Ken Parker had recently been used to grow cotton and was reeking of chemicals. Intolerable! Development and land purchases were closing in, demolishing the farmers. It was time to hold the line and clean up the soil, demonstrate pesticide-free growing of vegetables, fruits and grains."
In the book, Ted remembers the home gardens that sustained people during the Depression and the Victory Gardens of last century's world wars. "When I was a boy, people shopped for 'staples'—a raw material, or commodity, grown or manufactured nearby. There wasn't much variety, but we enjoyed satisfying meals. Diseases and obesity, that are now epidemic due to overabundance, were not much in evidence during the Great Depression of the '30s, or World War II rationing. Much could be gained if people with unused land, regardless of size, would reinvent 'Victory Gardens' as a way to add clean, fresh, nutritious vegetables and herbs to their daily food supply, and as a long-term continuing project."
So, in the early 2000s, Ted started Earth-Wise Farm, banned all pesticides and herbicides and successfully grew fruits, grains and vegetables.
In addition to his advocacy of food grown free from chemicals, Ted recognized early in his life the health benefits of fish oil. A chemist, he moved to Morehead City in 1948 where he directed research and quality control at Wallace Fisheries Co.'s menhaden plants in North Carolina, Florida and Louisiana. He was experimenting on feed that would help accelerate the growth of chickens. No one at the time knew that menhaden oil was an excellent source of omega-3 fatty acids.
In the 1950s Ted prepared and circulated a technical bulletin "Fish Oil – A Material with a Thousand Uses." Soon afterward he was recruited by the Rockefeller Institute to help produce five gallons of menhaden body oil to be used in a landmark study on the human health effects of eating fish oil.
Ted  continued to work with Wallace Fisheries and others in the fishing industry when he opened his own laboratory called Marine Chemurgics in the mid-1950s in his backyard in Ocean. He closed the lab in 1972, and spent five years as a food science seafood extension specialist for the N.C. State University's Seafood Laboratory.  He then reopened his lab in 1977, and worked until 1991 on projects sponsored jointly by the federal government and private industry. The research centered on finding ways to make omega-3 fatty acids acceptable, beneficial and safe for human consumption.
When Ted's beloved wife, Sylvia, died after 40 years of marriage, Ted said he came to what he termed a "somewhat uncomfortable" place in his life. He stopped his work with Marine Chemurgics Laboratory and at the age of 76 set out on a series of travel odysseys with his family dog. He chronicled his travels in an online book and discussed his 15,000-mile trek up to and through Canada and another trip to Newfoundland, where he fell in love with the area and bought property.
Ted became more focused on aging and character development in the elderly and wrote extensively on how to survive the loss of a spouse and how older people can remain productive and independent.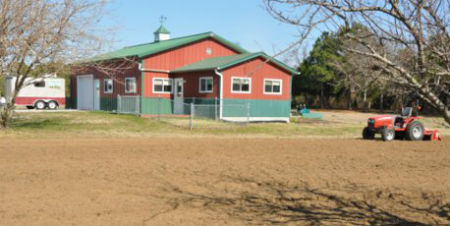 During his last year, Ted tried diligently to find a couple willing to take over management of Wildegeest Foundation, which he started to address healthful lifestyles and appreciation for the aged. However, his search proved fruitless. After he died, his children had to decide what to do with his property. "His interests were related to the work of the N.C. Coastal Federation, but if we could have found someone to carry on his work on fish oils, prudent diets and aging, that would have been best," Todd Miller said. "He searched for such a person for many years, and was not successful in finding the right match. After his death, the family decided that that the federation was best situated to manage the land in a way that would benefit the public, given the family connections and the close proximity of our office to the property."
Miller operated the federation from the family home until around 1987, Todd said.
The family decided to donate the Earth-Wise Farm portion of Ted's approximately 15-acre property to the  federation, Todd explained, with the goal of supporting the organization's work while still allowing the farm to continue to be productive.
The property recently appraised for $220,000 and includes one main residence building and two buildings used for equipment and gardening support. In addition to the cultivated portion, it is home to a variety of pecan, pear and mulberry trees and blackberry, raspberry and grape vines.
Sam Bland of the federation is responsible for the management of the property and says he is still in the early stages of starting to care for the farm and develop programming that is consistent with the mission of the federation.
Possible uses, said Todd, include the site of the federation's annual Native Plant Sale, a native plant farm, retreat and workshop location, field trip launch, dormitory for interns, community garden, clamming or oyster farm, satellite federation office and lodging for board members or donors. There are some restrictions related to the donation as well — the property cannot be subdivided, there can be no building on the waterfront portion of the property and the land must be used by a non-profit for educational  or conservation purposes.
Regardless of the uses of the farm, it will doubtlessly impact the area positively and be an asset to the efforts of the N.C. Coastal Federation, according to Bland. "The EarthWise farm will allow us the opportunity to explore other options to support our restoration, education and internship programs," he said. "We are also evaluating ideas on ways to use the farm that will get people involved and engaged with the Coastal Federation to promote awareness of the federation and the coastal issues we are working to address. The donation of the farm is a reflection on the entire Miller family and their sincere commitment to preserve and protect our fragile coastal environment and to ensure that we a have healthy ecosystem to support all of the recreational, commercial and aesthetic values for generations to come."