Last of four parts
MOREHEAD CITY — When he bought his home here two years ago, Fabian Botta knew that he and his family would have to learn to coexist with the neighboring railroad track.
The appeal of the two-story, 102-year-old American Foursquare style home with a grand front porch and water view overshadowed worries about the railroad track running alongside Arendell Street, the town's main thoroughfare.
"We've gotten used to it," said Botta, part owner and head chef of The Ruddy Duck Tavern.
Plans to build a wood pellet storage facility at the port in Morehead City has the Bottas and their neighbors now wondering if they will be forced to adapt to more train traffic. The proposal raises questions about how such a facility may change the face of this small town where the economy relies so heavily on tourism.
Sentiments about the proposed facility and the additional rail traffic it's projected to create range from cautiously optimistic to skeptical.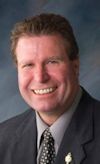 Mayor Jerry Jones
The project has the approval of the Morehead Town Council, which adopted a resolution in November supporting the proposed facility. Commissioners in Swansboro passed a similar resolution in November as well.
"Our feeling was that the facility is a good match," said Jerry Jones, the Morehead City mayor. "It's an organic material coming through this city."
The facility would receive and store wood pellets to be shipped to Europe, where there's growing demand from utility companies to use as an alternative fuel. The N.C. State Ports Authority plans to build similar storage facilities at the port in Wilmington.
Since the Morehead City port was designed as a shipping and receiving operation, a wood pellet storage facility would be a good fit, Jones said. That wasn't the case for a sulfur melting plant proposed for the port. That project was killed in 2011 following vehement opposition from town leaders and residents.
Nevertheless, town leaders and residents are concerned about additional rail traffic, which cuts across an intersection of U.S. 70.
"I do know that there are some plans that could mitigate this concern that we have," Jones said. "I'm not really familiar with what the plans are. I haven't sat down with anybody. I'm comfortable it can be worked out. Morehead City was founded around the railroad track. I don't foresee any more traffic delays with increased rail traffic than what we already have."
During an Oct. 30 public presentation, Tom Bradshaw, the Ports Authority executive director, said rail traffic through Morehead City would increase by no more than 75 cars in a single train and increase by about one extra train a day for five or six days a week. The ports authority and railroad will try to operate the trains at odd hours to prevent disrupting tourist traffic, he said.
The authority, state Department of Transportation, and N.C. Railroad Company, which owns the more than 300 miles of track running from Charlotte to Morehead City, will have to do more than that to reduce a drastic impact on the town, said Neal Littman, chief operating officer and general manager of Morehead City Yacht Basin. He was one of the leaders of the opposition to the sulfur smelter.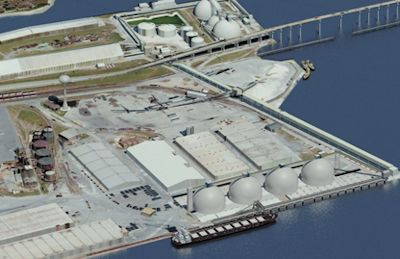 Here's an artist's conception of the proposed wood pellet facility at the state port in Morehead City. The pellets would be stored in the four domed structures at the bottom. Photo: N.C. State Ports Authority
"What it's going to do to the local community is really devastating unless they take some really expensive steps to minimize it," Littman said. "It's going to change the character of Morehead City. They need 17,000 rail cars per year at the design capacity they're talking about. If you do some simple math that means you've got an extra train of 50 rail cars at least every day except Sundays and holidays. A 50-rail car train is larger than the trains that they currently build and run through Morehead. It leaves you with the state, at some point, needing to build a second rail line. Where are they going to put it? It creates a whole new layer of troubles."
Morehead City's economy is based on tourism, not industry, he said. By the Ports Authority's own estimation, the storage facility would create a small number of locally based jobs. Overall, the facility would reportedly create nearly 600 jobs regionally and generate an estimated $14.8 million a year in revenue. Good for the state, Littman said, but not necessarily a direct benefit to the town.
"I'm not sure if it's going to be for the betterment of Morehead City," Littman said.
Ports Authority plans call for tearing down old warehouses on the south side of the port and replacing them with four, domed storage buildings. The new buildings will reportedly be 150 feet tall – about twice the height of the pot ash domes at the port.
The domes will hold up to 1 million tons of wood pellets a year. The Ports Authority board voted in November to spend up to $5 million for the design of the facility. They hope to begin shipping from the new facility by January 2014.
"From the perspective of a taxpayer in the state, I worry about spending a lot of money on building this infrastructure and then the Europeans waking up and thinking, 'Gee, our cost per kilowatt hour is costing too much,'" Littman said.
Denard Harris, owner of Portside Marina, which sits next to the port's front gate, has different concerns.
"I do have a question having grown up here that I have dealt with internally," he said. "Why aren't we using wood pellets ourselves? Where is our market here in the United States? What do they know that we don't?"
Locals can learn to deal with extra rail traffic, he said.
"It's part of our life," said Harris, who lives less than a block from the railroad track. "If it will generate jobs and meets the smell test we haven't got a problem with it. We are concerned about keeping people employed around here. You can put up with a lot of things you probably don't think you can."
Botta isn't necessarily convinced that will be the case.
"I'm not really thrilled about," additional rail traffic, he said. "I think a lot more trains coming by here is not going to help Morehead City. I'm not adamantly opposed to it. I think there's ways of working together. I just hope everyone makes the right decisions with this."