OAK ISLAND — When Mary Ellen Rogers retired to Oak Island in 2005, the lifelong environmentalist looked around for sea turtles to help.
During her just-ended real estate career in Charleston, she'd founded the Island Turtle Team to protect nesting turtles on Sullivans Island and the Isle of Palms.
But Oak Island's turtles were already being cared for, she was told.
How about sea birds, she wanted to know. Those creatures caught in nets, sliced up by boat propellers, or washed up on shore exhausted by the rigors of migration.
Nobody, she was told, was doing anything to get the winged creatures healed and back in the air. The nearest coastal wildlife shelters serving the large birds – pelicans, ospreys and the like – were north in Morehead City and south in Charleston.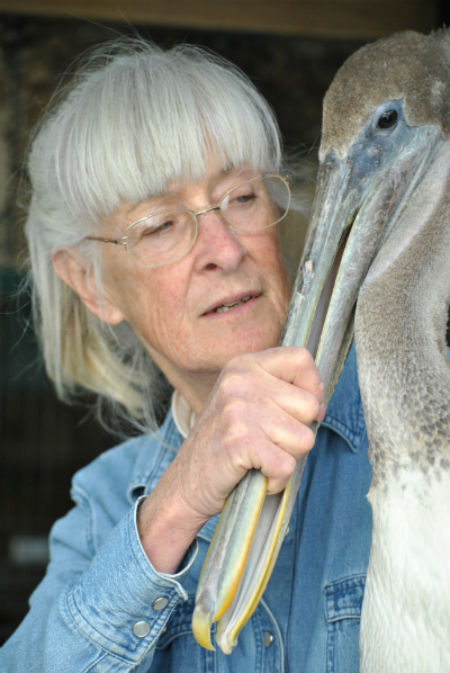 So Rogers apprenticed at the shelter in Morehead City, got her license as a wildlife rehabilitator, and in 2007 opened Sea Biscuit Wildlife Shelter in the bottom floor of her home in Oak Island.
A baby osprey, a wobbly oystercatcher and whatever else turns up with a critical problem live there. Pelicans and loons live in a shelter outside, where they have access to a therapeutic pool.
"In winter, I'll have as many as 26 pelicans at a time," Rogers said recently. "Last week I had a beautiful great white egret. These birds all coexist very nicely in the wild."
Raptors, which the center accepts, are a different matter, requiring separate quarters. In addition to them, Sea Biscuit also accepts songbirds.
All those birds coming in – 378 last year, more than one a day – mean somebody's got to come up with a lot of fish and mice for the birds to eat. And in the case of loons and oystercatchers, the dinner has to be still alive.
So Rogers fishes every day in the tidal creek behind her house, carving out time for her second career in an island dress shop, a job she took "to support my wildlife habit."
"If I throw live fish in the water, the loons will zoom around underwater. They'll swim and go to great lengths to get something alive," she says.
A wondrously diverse assortment of friends and supporters provides equally diverse means of support for the birds.
When one local couple goes out fishing, they set two lines behind the boat, one for their dinner and one for the birds. The Oak Island Warrior Ride, motorcycle-riding armed forces veterans, drilled a well to supply water to the pool built with a grant from Brunswick Electric Membership Cooperative. Somebody else came up with a used swimming-pool pump. A service club at St. James Plantation near Wilmington paid for a shelter roof and trap door that gives access to the pool.
Another couple brings their kids and comes down from Virginia once a year to do whatever Rogers wants: painting, cleaning, feeding.
Some eight volunteers regularly help out at the shelter; another 10 pick up and deliver fish; and there are 15 to 20 that Rodgers can depend on to go get birds called in by law enforcement and beach-goers who happen upon them in Brunswick and New Hanover counties. "I got a call from 911, 'There's a hawk on Snow's Cut Bridge (Carolina Beach); could I go get it?' This is 10 o'clock at night."
She called a volunteer, who dashed out and temporarily deposited the rescued hawk in her own garage.
Six corporations join individuals and organizations in ponying up the $11,000 in cash that keeps the shelter going each year, and that, says Rogers, doesn't count the multitude of in-kind gifts she receives. Like three coolers of fish from three guys who teach summer campers at the N.C. Aquarium at Fort Fisher. They froze leftover bait and brought it to her.
Then there are the veterinarians, both local and at N.C. State University's veterinary school, who provide medicines, diagnoses and the often inevitable euthanasia.
A large number of the birds are in such bad shape that they either die or are euthanized.
Some others are so damaged that, after treatment, they go on to educational or other rehab centers rather than being released in the wild.
But then there are the 45 percent that are success stories. After treatment, volunteers send them soaring into the air, or in the case of Canadian-bound gannets, into the waves.
Gannets return to their home in the Maritime Provinces after wintering in the U.S. Southeast by riding the Gulf Stream. They float because they can't fly; their feathers haven't grown back after spring molt.
"They get hit by boats, bitten by sharks," says Rogers. She rescued one several years ago only to have it refuse to go back in the ocean because there were no other gannets around.
Until one day when a new flock arrived. A fishermen friend called and said, "Hey, Rogers. Grab that bird and run out there."
When she let the bird go this time, "He went right into the waves. I never saw him again."
In addition to the usual injuries and instances of young birds too hungry and tired to continue their migration, Rogers sees a lot of frostbitten pelicans in winter.
Adults know to fly south when the temperature drops, but first-year birds think, "I'm going to stay right here at the pier because that's where people feed me," she says.
A mystery this year has been the large number of loons, including the more rarely seen adults. Residents of Canada and northern U.S. lakes, they migrate to southerly spots including the Gulf of Mexico and Florida for the winter.
By late July, Sea Biscuit had taken in 34 loons in distress. In all of last year, there were only 18. Of the 34, 28 died.
Some appeared to be having the kind of breathing problems associated with a fungal disease that attacks already-weakened birds. A couple of others that Rogers examined after death had a tarry substance in their digestive tracts.
She's contacting scientists to try to discover the cause or causes, but meanwhile, she's rigged up the kind of nebulizer familiar to asthma sufferers. It mists a treatment usually applied to chickens into the loons' tent.
"You never know what's going to happen next," she says. "I'm ready for anything."