NAGS HEAD — Soured by what they view as onerous government restrictions on fishing, boating and beach driving, Outer Banks divers are skeptical of a proposed update of the Monitor National Marine Sanctuary that would include any possibility of future expansion.
But sanctuary officials said the draft plan does not propose or advocate an expansion; it only proposes discussion of whether or not the sanctuary should protect more wrecks off the coast.
"This is not an effort to shut down the site," David Alberg, the sanctuary superintendent, told an audience of mostly divers and fishermen at a public meeting last month at Jennette's Pier. "It's an attempt to better understand the resource."
Alberg said that the need to discuss expansion was first raised during public scoping meetings in 2008, and ultimately was recommended by the sanctuary's advisory council, a representative group with interests in fishing, recreational diving, education, business, research, tourism, conservation and government.
If the draft plan is approved, it would prompt a dialogue with the community about the potential value, or downside, of expanding. It merely puts the question on the table, he said — not preordains the outcome.
"The answer is, let's hold those public meetings," Alberg said. "NOAA can't make those decisions unless we get that public input."
Designated in January 1975 by the National Oceanic and Atmospheric Administration as the nation's first marine sanctuary, the Monitor sanctuary is a column of water one-mile in diameter centered on the remains of the Civil War ironclad Monitor. The Union vessel, which was headed south to Beaufort, sank 16 miles off Cape Hatteras during a raging New Year's Eve storm in 1862, taking the lives of 16 men.
Although the ship has alone proven to be a goldmine for researchers — more than 2,000 artifacts were preserved in recovery efforts —– it also sits within the notorious Graveyard of the Atlantic, where thousands of vessels dating to pre-colonial history through World War II were lost to pirates, weather and wars.
In addition to the issue of potential expansion, the sanctuary staff identified priorities, based on council recommendations: resource protection; education and outreach; archeology; resource monitoring and science; identification of human remains recovered from the Monitor; conservation of the Monitor and the Monitor artifacts; and site administration and operations.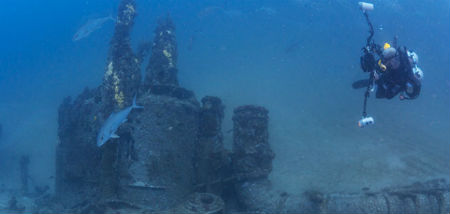 According to Joe Hoyt, a NOAA marine archaeologist shown here, 50 to 60 Allied, Axis and merchant vessel wrecks rest off the North Carolina coast. Those wrecks could be protected as part of an expanded Monitor Marine Sanctuary. Photo: Office of National Marine Sanctuaries
Clearly, it was the idea of expansion of the Monitor sanctuary that most concerned those at the Nags Head meeting.
"In the southern Outer Banks, we all know what's happened with the federal government," Steve Wilson, a commercial fisherman and diver, told Alberg. "It doesn't matter what reassurances we receive. Any third party can come along and blow that right out of the water."
David "Crocket" Farrow, who owns a dive charter business in Manteo, said that despite Alberg's promise to listen, he believes that, ultimately, NOAA intends to expand, no matter what the local community says.
"We live for this ocean," he said. "Now when government comes in, it's just fight after fight. What y'all do to us is hard, man. We're like Indians on a reservation right now. Everywhere we go, there's government surrounding us."
And he said he is not alone in his skepticism about NOAA.
"Expand, expand, expand —- you keep bringing it up," he said to Alberg. "We don't want it. Nobody I know wants it."
Others at the meeting agreed, saying that putting anything in the plan about expansion of the sanctuary, even just saying it should be discussed, would be akin to guaranteeing expansion. And to them, that mean less access for folks who make their living on the water, and more control to government.
In a later interview, Alberg acknowledged that the Monitor sanctuary has been more restrictive than the other 12 sanctuaries in the system, but that is mostly because of the uniqueness of the vessel and its extraordinary location. Divers need to apply for research permits, although they're free, and research can mean simply taking photographs. Nonetheless, Alberg said that he thinks a less restrictive model would be more appropriate. With the wreck under 235 feet of water — considered a 'tech dive' — only two to three divers annually even apply for a permit.
Comment on Plan
Public comments on the draft management plan will be accepted through June 22. Submit comments through the electronic rule-making portal or by email. Visit the Monitor National Marine  Sanctuary Web site for more information.
Otherwise, fishing on the wreck is fine, as long as the engine is not cut off, there are no drag nets used and an anchor isn't dropped. Boats come and go and people fish over it all the time, he said.
"One of the problems is the word 'sanctuary'," Alberg said. "People hear that and they think: 'Stay away! Don't come in! Don't do anything!'"
Another way of thinking of a sanctuary, however,is as a designated site that merits appreciation, but that also preserves cultural, natural and historic resources for future generations to enjoy. For instance, much of the Battle of the Atlantic took place in North Carolina waters, and there is no other place in the world where divers can access three German U-boats — as long as they're not touched or salvaged. A sanctuary that promotes the site on a national scale, while fostering its protection, could attract cultural and heritage tourism and booster the Outer Banks as a dive destination.
Another site, Thunder Bay National Marine Sanctuary in Alpena, Mich., is also in the process of updating its management plan, but the community has specifically requested expansion, said Carol Shafto, the chair of the sanctuary council for seven years and the town's former mayor.
Before Thunder Bay was designated in 2000, many members of the Lake Huron community — also divers and fishermen — were suspicious and distrustful of NOAA, she said, fearing restrictive regulations and requirements like user fees and permits. Folks even took to wearing "Say no to NOAA" buttons. In response, NOAA agreed to a five-year sunset clause.
But at the end of five years, the community, which is 100 miles from a freeway, was reaping the benefits from cultural tourism and gladly renewed.
"Now we're into 12 years, and it's very difficult to find people who admit they were against the sanctuary," Shafto said. "It may be the most significant and positive thing this community has ever done."
Shafto said that there is a new heritage center, a major new museum that displays shipwreck artifacts, a new nautical festival, a new glass-bottom boat tour to show wrecks in shallow waters, and most recently, an effort to expand land-based amusements for families.
"It's more than a mecca for divers," she said. "It's become a family destination. There's been a lot of positive spinoff that wouldn't have otherwise happened."
Alberg said that a 2005 survey done by East Carolina University determined that from about 1600 through World War II, 2,500 to 3,000 vessels went down between Cape Hatteras and Cape Lookout. But most of those ships don't exist anymore, and NOAA is not including any wish list in the draft plan detailing what vessels to include or what size an expanded sanctuary should be.
Jim Bunch, a veteran Outer Banks diver and member of the Monitor sanctuary advisory council, said that he understands why local divers and fishermen would be nervous about more government control off the coast and "making it basically a wildlife preserve." Yet the reality is, he said, that the only thing government has tried to stop them from doing is removing artifacts from wrecks. In fact, he has never heard anyone say anything bad about the Monitor sanctuary.
"The big problem is the unknown," said Bunch, who has been diving since 1955. "I think the preservation part, there's no problem with that."
There's about 10 or so dive operators on the Outer Banks, Bunch said, and no more than 30 along the entire North Carolina coast, and they take out thousands of divers each summer.
Bunch said that if NOAA approached the community and reassured them— say, there won't be fees, they'd work on publicity, they'd help out in any way they could —- folks would be willing to go along with an expanded sanctuary.
"It's honestly good for them," he said. "It just increases the awareness of what's out there."