PANTEGO — The developer of a proposed wind farm in Beaufort County plans to follow voluntary guidelines that the federal government recently issued that are meant to reduce the number of bird strikes while promoting increased use of wind power.
But the manager of a nearby wildlife refuge isn't convinced that the turbines, which would be higher than the Washington Monument, won't threaten the tens of thousands of migrating waterfowl that are attracted to the refuge each winter.
Pantego Wind Energy LLC, a subsidiary of Chicago-based Invenergy LLC, recently received approval from the N.C. Utilities Commission to build an 80-megawatt wind farm that could generate enough electricity to serve about 15,000 houses.
The project, though, has been controversial because the 49 turbines, which will reach 500 feet into the sky, would be built near three national wildlife refuges that are the winter homes of thousands of snow geese and tundra swan.
The new guidelines from the U.S. Fish and Wildlife Service are meant to protect birds and other wildlife by providing a scientific basis for developers and government regulators to identify sites with low risk to wildlife while allowing for more wind energy projects on private and public lands, Ken Salazer, the U.S. Interior Secretary, said when they were made final on March 23.
"These voluntary guidelines have been developed through an intensive public process with significant help from the wind energy industry, state agencies and wildlife conservation groups and are designed to achieve the best outcome for wildlife and wind energy development," he said.
Using a tiered approach, the guidelines are meant to provide a structured, scientific process for developers and regulatory agencies to identify sites with low risk to wildlife, and to help them assess, mitigate and monitor any adverse effects of wind energy projects on wildlife and their habitats. If they follow the guidelines, developers are unlikely to be prosecuted under federal law in the event of bird deaths.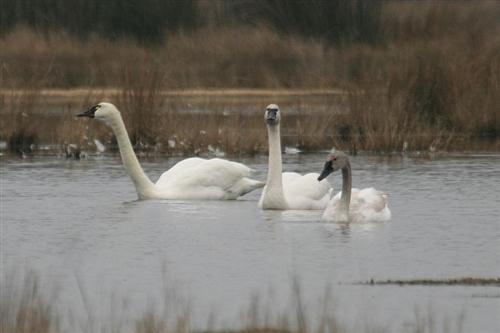 Thousands of tundra swan migrate to the widlife refuges in eastern North Carolina. Can they co-exist with wind turbines?
The Utilities Commission, in giving the Pantego project its blessing, required that Invenergy follow the guidelines, said David Groberg, a company vice president of development
"Invenergy has successfully used the tiered approach recommended by the Fish and Wildlife Service on prior projects, and has implemented this approach on the to project, even prior to last week's publication of the final guideline," Groberg wrote in an email in response to questions.
That gives Howard Phillips little comfort. He is the manager of the Pocosin Lakes National Wildlife Refuge. It and other nearby federal refuges – Alligator River and Lake Mattamuskeet – have become winter havens for migrating waterfowl from Canada and Alaska. The Fish and Wildlife Service runs the refuges.
The first steps in the new guidelines, Phillips noted, are meant to help choose locations that minimize a wind farm's effects on wildlife and habitat. The guidelines call on the wind industry to eliminate from consideration areas that would pose high risks to birds and other wildlife and to take steps to alleviate problems by restoring nearby habitat and other actions.
Implementing the guidelines after the site has been chosen would seem to bypass those safeguards, Phillips said.
"The concerns that the site presents to me haven't changed," he said. "They are doing some studies, but I'm going to have reservations and concerns until I'm convinced that I shouldn't be concerned."
Groberg noted that Invenergy followed earlier drafts of the guidelines while developing the project. "Invenergy is already implementing the Fish and Wildlife Service-recommended tiered approach from prior drafts of the guidelines to reduce risks to wildlife at the Pantego project," he wrote. "In accordance with this approach, we are evaluating the science as data become available and will use these final guidelines to guide the decision-making process as we move forward with the project."
The American Bird Conservancy, an advocacy group that has pushed for mandatory standards, said voluntary guidelines are largely unenforceable and will do little to protect millions of birds killed or injured by wind turbines.
The group "supports wind power when it is 'bird-smart.' Unfortunately, voluntary guidelines will result in more lawsuits, more bird deaths and more government subsidies for bad projects," Kelly Fuller, the group's wind campaign coordinator, told The Washington Post.
While no one knows exactly how many birds are killed by wind turbines, a 2008 study by a biologist with the Fish and Wildlife Service estimated that wind farms were killing about 440,000 birds a year in the United States.
The number of wind turbines has grown significantly since then, with overall output increasing from about 25,000 megawatts of electricity in 2008 to nearly 47,000 megawatts last year, according to the wind energy industry.
Its goal of providing 20 percent of the nation's electricity by 2030 could lead to a million bird deaths a year or more, according to the American Bird Conservancy.
The Fish and Wildlife Service estimates that up to 1 million birds die annually in oil field pits and at waste facilities, but says millions more are killed by cars, cats and collisions with buildings, power lines and radio towers.
David Yarnold, president and CEO of the National Audubon Society, called the guidelines a good compromise that reflects years of consultation with interested groups, including environmental groups. Audubon was among those groups

Joe Albea
"Conservationists can't have it both ways: We can't say we need renewable energy and then say there's nowhere safe to put the wind farms," Yarnold told the Post. "By collaborating with conservationists instead of slugging it out, the wind power industry gains vital support to expand and create jobs, and wildlife gets the protection crucial for survival. These federal guidelines are a game-changer and big win for both wildlife and clean energy."
Joe Albea has another word for it. He's a writer and television producer in Greenville who has extensively filmed and photographed waterfowl in the region. He was also among the leaders of a successful fight to defeat a practice landing field that the Navy wanted to build in the region several years ago.
"Audubon and Fish and Wildlife are just placating an industry that wants to expand all over," Albea said. "We're allowing as a state slowly but surely the loss of what was attractive to the black bears and the birds. We have to make a decision about what we want. Do we want the industrialization of our coast? This may be a green industry and all that but it's still an industry."