SOUTHPORT — Tourists and locals spending a sunny Saturday on the Brunswick County beaches last month may have wondered what the fuss was about when they saw clusters of excited people, huddled together, pointing and gazing out to sea. Bird lovers had flocked to the coast to view the winter migration.
They came armed with powerful scopes, binoculars and cameras with long lenses. They lined boardwalks and beaches like a troupe of paparazzi gathered along the Hollywood red carpet.
Saturday, Jan. 28, dawned clear and cool, promising a beautiful day of birding near Fort Fisher State Park where a dozen birders traveled by ferry to stake out the marshes, walk the beaches, scan the rocks and stroll through a maritime forest hoping to spot the bird of a lifetime, or at least to make a good list of birds they spotted on the trip.
They were mostly satisfied, according to Steve Shultz, who led one of 31 excursions the Carolina Bird Club sponsored that weekend. The birding club is the largest in Carolinas with almost 800 members and may be one of the oldest. No one really knows, but it's celebrating its 75th anniversary this year. It will mark the occasion at a special meeting in Raleigh in May.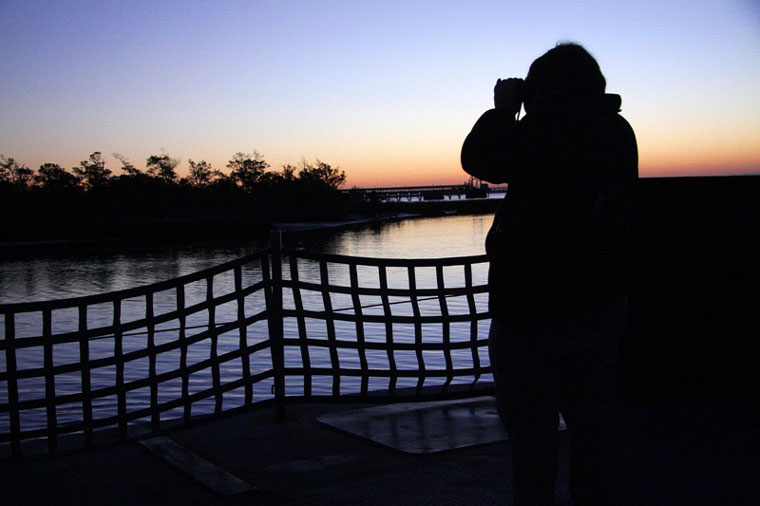 Dawn is one of the best times for bird watching. What's that they say about the early bird? Photo: Teri Saylor
Bird Club's Annual Meeting
The coastal tours were part of the club's winter meeting in Southport, Jan. 27-29. The meeting attracted nearly 150 birders from the Carolinas, Georgia, Florida and Virginia, Shulz said.
"We targeted about a half-dozen species we really wanted to see," he said. "Black scoter, razorbill, seaside sparrow, sedge wren, orange-crowned warbler and a pair of great cormorants."
The cormorants were celebrities of sorts. They had taken up winter residence on two pilings just offshore at Carolina Beach.
Dan Hudson, a retired veterinarian from Cary, had spotted one of the great cormorants back in December and was surprised to see two of them there in January. The large birds perched on their pilings, one preening and beating its wings as its companion surveyed the ocean, seemingly oblivious to a couple of surfers trying to catch a wave and a gaggle of humans on the shore peering at them through a variety of lenses.
"They sure do take care of their feathers," Hudson said.
Hudson met his two companions, Lewis Burke and Kent Bedenbaugh, through birding a couple of years ago. Burke, a law professor at the University of South Carolina in Columbia, and Bedenbaugh, a training manager for the South Carolina Technical College system, connected through an online message board for birders and discovered they were neighbors. Hudson and Burke became acquainted on a birding trip in Arizona.  In June, the three birding buddies will travel to Alaska in search of fowl they have never seen before.
Hudson has seen nearly 700 different species of birds over the years he has spent keeping a life list. Burke has viewed about 500.
For birders, the hobby is all about the lists. "You can have a world list, which is about 10,000 birds," said Hudson.
"You can have state lists," Bedenbaugh added. "People have county lists, and a lot of people keep year lists, so they can start over at the beginning of the year. If you start over with a new year list, it gives you a reason to look at a robin."
Donna Sayce of Fairfield County, S.C., who has been birding for 42 years, admitted in a hushed whisper that she doesn't keep lists. "I just like to come out and enjoy the birds," she said.
A report on the club Web site after the meeting listed 162 different species of birds spotted over the weekend.
"That is a pretty typical report for a winter meeting," Shultz said.
Birds Like It Cold
The weather over the weekend was a mixed bag with wind and rain on the first day, and warm sunshine on the second day. Neither day was perfect for birding, but the sunny weather was welcomed.
"Overall it wasn't bad, but colder weather would have produced more bird activity because they tend to feed when the temperatures are cool," Shultz said.
This trip marked the bird club's first meeting in Southport, where the National Audubon Society's Christmas bird counts are among the highest in the state, according to Shultz.
"The diversity of habitats, beaches, marsh and nearby long leaf pine forests create good bird diversity," he said.             Some birders made rare harlequin duck sightings at Wrightsville Beach. Others were able to check out razorbills off their life lists after they saw a pair bobbing in the ocean not far off shore.
"It was not exceedingly uncommon for razorbills to be spotted here," Shultz said. "But it was rare to have them in so close. Often you have to be out in a boat to see them."
For Gail Youngblood of Summerville, S.C., nearly every bird was a life bird. "My husband and I have been birding for less than a year, and nearly every bird we see is new to us," she said.  Even the seasoned birders who have logged hundreds of species and probably did not spy one single bird they have never seen before were happy to be there.
For nature lovers, it's not always about the birds. Hudson put it into words. "Birding is about setting goals and trying to meet those goals, but probably one of the most important things is spending time with birding buddies and developing good friendships."
And for that, the weekend was a success.