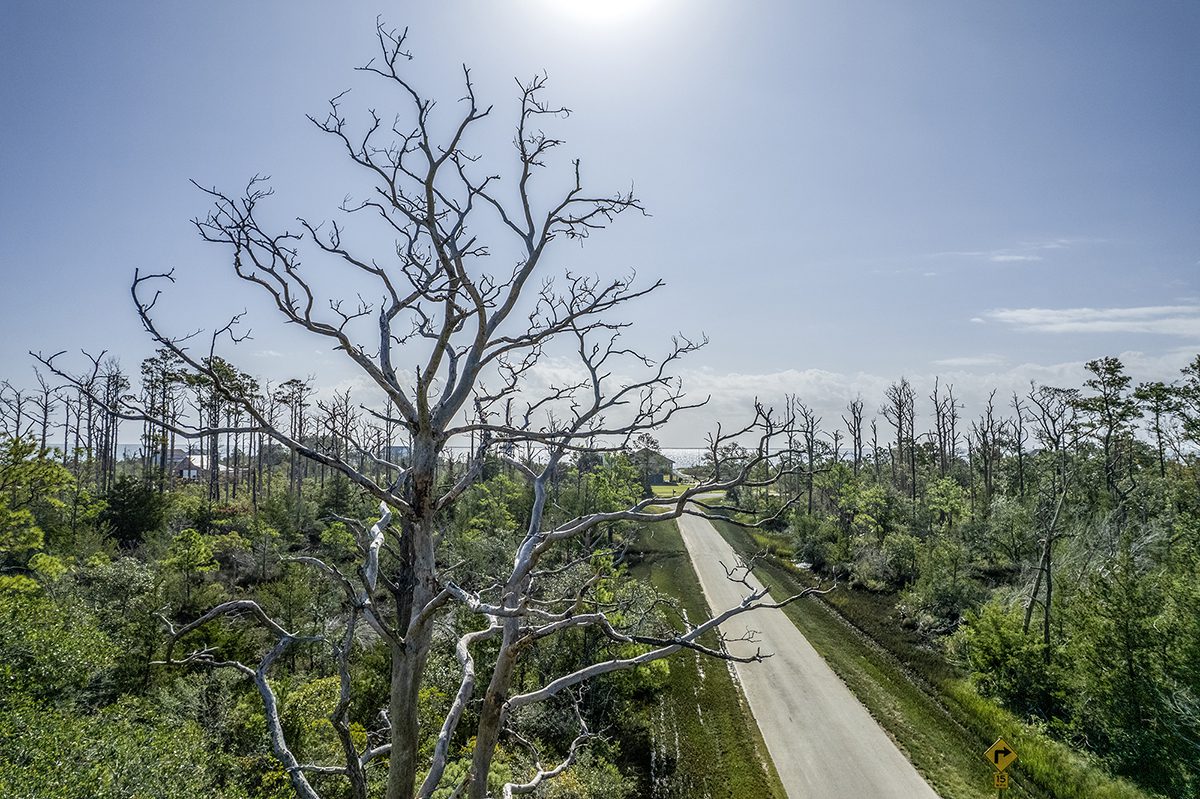 First in a series.
Nothing's been the same since Hurricane Florence for the 13 unincorporated Down East communities in Carteret County.
The slow-moving Category 1 storm hovered over the state after making landfall Sept. 14, 2018, on Wrightsville Beach, causing record-breaking flooding and dumping dozens of inches of rain on eastern North Carolina.
The National Oceanic and Atmospheric Administration estimates that the tropical cyclone cost $24 billion, or $29 billion in today's dollars, with the total damage from Florence in North Carolina being more than the combined cost of Hurricane Matthew in 2016 and Hurricane Floyd in 1999.
The Core Sound Waterfowl Museum and Heritage Center on Harkers Island, like much of Down East, was not spared. The 22,000-square foot facility suffered millions of dollars in damage.
After extensive repairs and being sidelined by COVID-19, the facility has been back open for a bit, but it isn't back to normal.
To discuss the changes taking place over the last five years and to look ahead, the Down East Resilience Network coordinated in mid-September a two-day community conversation at the museum.
The network made up of researchers, agencies, educators, students, advocates and others invested in adaptation and resilience was formed almost three years ago to raise awareness of the environmental changes taking place in the region.
To begin the conversation, tours were offered Sept. 12 of Cape Lookout National Seashore to learn about its resiliency strategies and of Down East communities to see the risks and realities of those living there. Attendees returned to the museum Sept. 13 to hear what's happening with the commercial fishing industry, talks on the science behind flooding and ghost forests, North Carolina Department of Transportation infrastructure plans, and ways to navigate the ever-more-difficult insurance industry.
Guides on one of the Down East tours that hot September day were lifelong residents Chris Yeomans, Cheryl Lawrence and Richard Gillikin.
The trolley with about two dozen onboard meandered along narrow, two-lane roads lined with deep ditches.
Yeomans, a retired Carteret County educator who led the tour, began by encouraging passengers to observe Down East, "where we call home."
He, along with Lawrence and Gillikin, pointed out throughout the two-hour tour where roads and properties tend to regularly flood, which seemed to be in more places than not, and the history of some of the older houses.
When the trolley paused on a corner in the unincorporated community of Marshallberg, Lawrence's home of more than 40 years was just down the road.
She gestured out the window and said, "this is Core Sound."
"I say I live on Core Sound, but actually, during a storm, I live in Core Sound," Lawrence said. "I have sat on my front porch during a hurricane, and I have watched waves come across the banks from the ocean into the Sound, and I have had white caps in my front yard."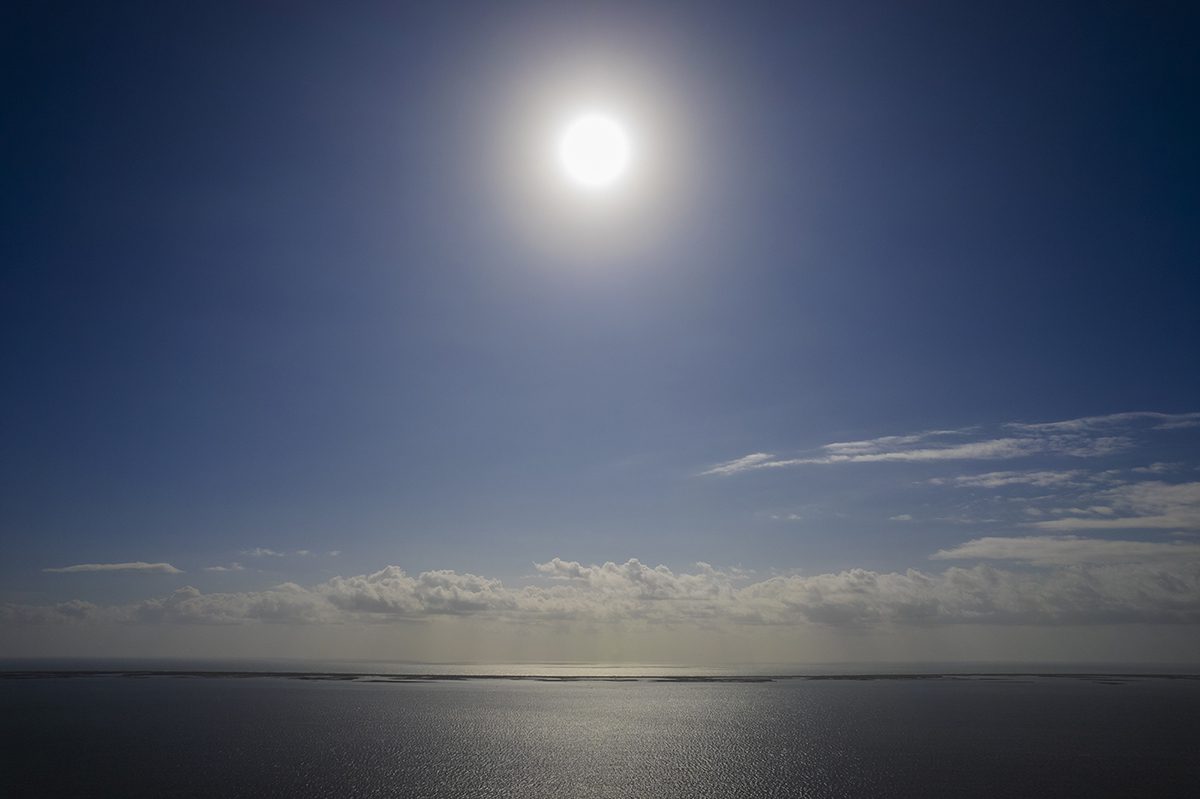 She moved into her new home in 1981, and that summer, there was a strong northeast storm.
"From day one, I've always had flooding and never gotten help. I asked for ditches to be dug, we just can't get the state to help us," she said. And the flooding has changed over the years. It lasts longer and is higher, and when her yard floods, it "takes forever" for the water to recede.
In addition to the nuisance flooding that appears to affect everyday life for residents, the vegetation is suffering from saltwater intrusion, leaving a different kind of scar on the landscape.
"We have what we call ghost forests," Lawrence said. Her road used to be full of greenery and now "the trees are nothing but sticks, no leaves or limbs or anything. The saltwater has taken over. I cannot plant flowers in my yard."
Gillikin, whose family has lived for generations Down East, reiterated that everything has changed since Florence, especially the trees.
"I might hurt some people's feelings here. I'm not so sure that I'm on board with global warming and all this mess, to be honest with you. But I do know things have changed. That's all I can say. Places are flooding now that didn't flood before," Gillikin said.
"Trees are dying," he continued. The "pines were just as green as you've ever seen a pine tree from top to bottom. Now, it looks like a nuclear bomb was dropped off here. People can say the hurricanes did it, but hurricanes have been around from the beginning of time as far as I know. When I grew up in the '60s and '70s we had hurricanes, and it never killed the trees like this."
And the ditches along the roads rarely held water, but now they stay filled, Gillikin continued. "It's an everyday deal. There's water in these ditches all the time."
Rob Young, director of the Program for the Study of Developed Shorelines at Western Carolina University in Cullowhee, made a few points about what the passengers were observing during the tour.
He began by saying that while it's not his job to convince anybody anything about climate change, "I can tell you one thing we do know about change, and that is that sea level is rising. That one's about as straightforward as you can get. We've been measuring it from tide gauges for over 100 years, everywhere on the planet. The volume of the ocean, the amount of water in the ocean, is increasing and sea level is going up."
The rising sea level is doing more than eroding beaches, it's raising the regional groundwater table. "We're talking about 16 inches over the last three or four decades. In a place that is as flat and low as this, a foot and a half makes a lot of difference."
The rising water table also means that when it rains, there's less space for that water to seep into the ground. "You take a rain bomb that's dropping an inch or two of rain on you, and it can't go into the ground anymore the way that it used to, it has to run off," he said. "What we're facing Down East is this gradual rise in the water table. It's also the driver of the ghost forests."
Yeomans, earlier in the tour, had spoken of his concerns about what will happen when the septic systems and drinking water wells Down East are ruined, when the ground is saturated so that fish and shellfish habitat die because of stormwater runoff and failed septic systems.
Young responded that failing septic systems are a public health issue.
"I would be stunned if there's an in-ground septic system in this community around here that's functioning. I would be stunned. Maybe there's some mounted septic systems. Maybe there are some that have been modified, but septic systems that perked 20 years ago, 30 years ago, they're not perking anymore," Young said. "Your septic system is not treating the effluent that you're putting into that septic tank."
Young called it a threefold problem.
"How do we help folks keep their homes dry? And that's on the top of the list for me, individual people," he said. "Can they elevate? Can they afford to elevate? What would it cost? Is there a way to help them do that proactively, not after the next storm when they've had water in their house?"
Yeomans also has been thinking about what can be done to prepare for a storm.
"Before the storm comes, why can't we have resources in various staging areas, either at schools or at fire departments, or somewhere that will be relatively safe? We don't want our resource to be washed away — things that can be there before the storm," he said.
Yeomans told the tour group that the official storm shelter in the county is in Newport, which is several miles and bridges away, but the community will open Atlantic School for people in flood-prone areas or in mobile homes. He formerly served as principal there.
His suggestion to help Down East residents was to have a generator for the entire school and turn Atlantic School into a storm shelter for residents who aren't financially able to prepare, and the elderly who need electricity for their medical care. It would also keep the air conditioning running to prevent books and other supplies from getting moldy, and to preserve the refrigerated food in the cafeteria.
"There's resources at the school where when bridges are washed away, and roads are washed away, you can have access to those," he said. "I know it's a pretty big measure and is going to cost the money up front, but it can save some lives."
Community night
Following the tour, the museum hosted a community night to look back on the fifth anniversary of the storm.
Harkers Island resident Corey Lawrence opened the discussion. He said in 2018, 11 days after the storm when the power was finally restored, he wrote a Facebook post to capture his feelings.
Five years later, from the podium inside the now-repaired museum in front of about 60 or so, he read from that post.
Lawrence said he appreciated how simple it is just to flip on a switch and have light, for the fridge to be cold, to have hot water, and to have the air conditioner running again.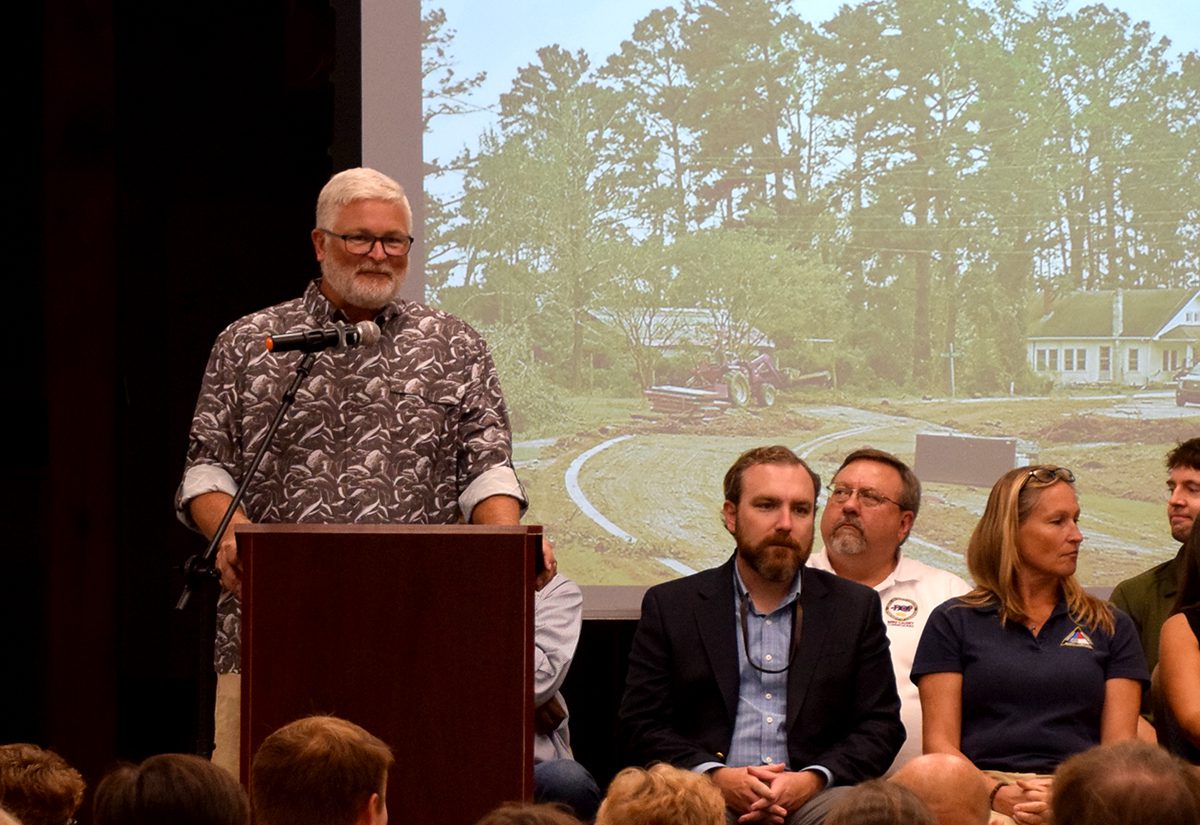 "If there's anything good that comes from these storms is people I have never seen before and know I'll never see again that came from places like Rocky Mount and Wilson, and Louisburg. And they showed up with pig cookers and randomly set up wherever, and you get word that there's food," he said, his voice thick with emotion.
"I appreciate people that did things like that. I've been reminded to use my manners even more than I usually do. I've said 'thank you' after standing in a line and I never meant it more in my whole life," he continued. "Patience is gold, and so is water, a warm plate of food, ice, and gasoline. I believe that angels were everywhere, and the saints still exist. Giving is better, and oftentimes is easier than receiving. I learned that serving others brings joy. That warm food is soul food. That ounce of prevention really is worth a pound of cure."
The Rev. Robbie Phillips, former director of Carteret Long Term Recovery Alliance, told the crowd that "we are very much still in recovery tonight." Five years later there are still people in the community who have not recovered, and might not ever recover. "To me, that's staggering. Because 95% of the people in our community have (recovered), and they've long forgotten about the people who have not."
The alliance was formed about five weeks after Florence and the organizers committed to helping until the last home is complete. "And I'm here to tell you tonight that the last home is not complete."
As of mid-September, 623 families, or cases, had been to the alliance for help. Of those, 477 have been closed by working with agencies and partners, and the alliance directly closed 93 cases. There are still 146 cases open, with 73 being managed entirely by the alliance.
Phillips, a Presbyterian minister, said the biggest lesson she learned came shortly after Florence when Presbyterian Disaster Assistance met with the community.
"They gave us an image and I'll take this with me always," Phillips said. "They said a disaster, particularly like a hurricane, rips the roof off of a community, just like it rips the roof off of our homes, and it gives us an opportunity to stare into the community, like we've stared into our homes and find the weaknesses, find the things that need to be fixed. Folks, our roof on our community is still ripped off," she said. "We are still staring in and finding the weaknesses, seeing where we need to fix things and adjust things. And I think we will be doing this for a very long time."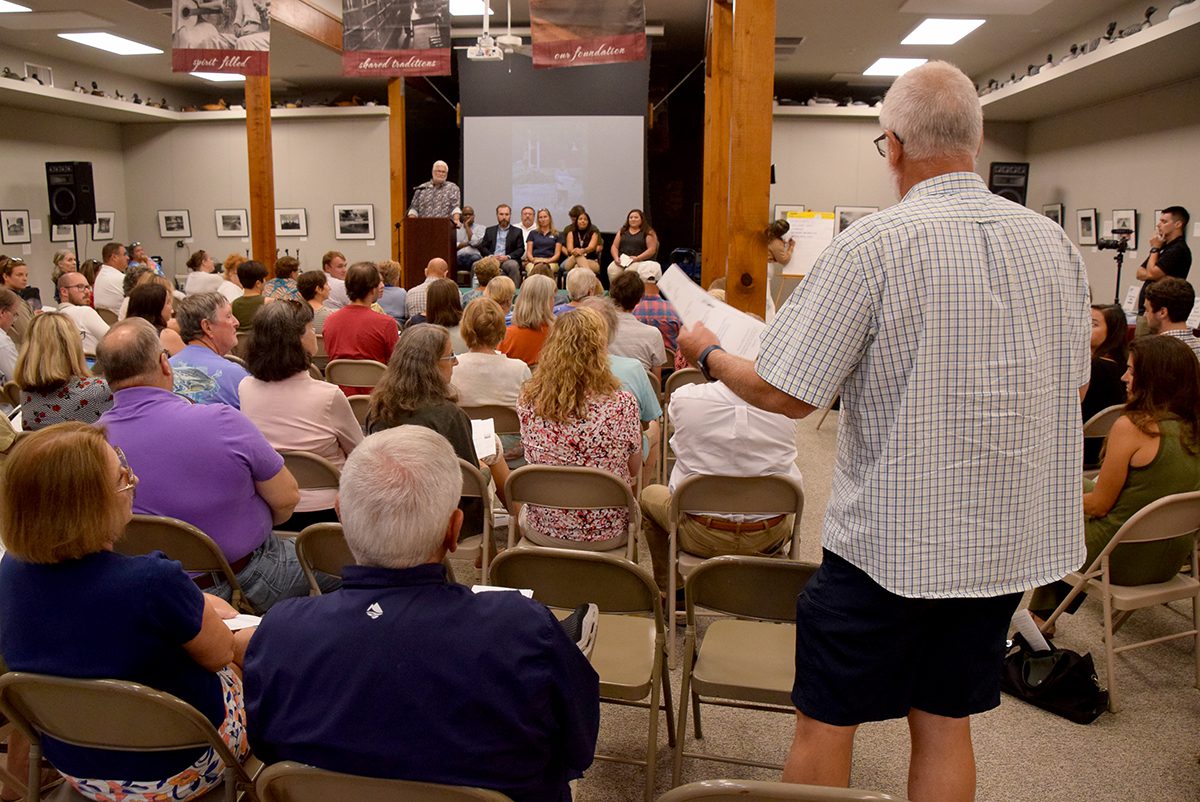 State agency representatives and the audience discussed the greatest challenges for Down East, which included recovery inequity, infrastructure, insurance concerns, the role of federal recovery agencies, and how to get help on the county and state level.
More than one attendee spoke up about how deserted they felt by the county.
One resident asked if there were any county representatives attending the community night. Upon learning the answer was no, she said, "They need to come to the table with this community and have a real discussion about what we need here. As unincorporated communities in a large geographic area, how do we get our voice out there?"
Another resident added, "we need the county to be more active. We need somebody that will listen, that says, 'hey, we're really going to do what we say and when we can get this done." He added that he'd been fighting for 20 years to get ditches fixed.
I'm living in the house I've been in for 67 years, and when I think about things changing, it's changed," he continued. "Because first of all, hurricanes, the frequency certainly has changed, the intensity has changed. So, something's going on. I don't know what, I'm not that smart. But I know it's changed. And if we flood with a northeast wind, with just wind and rain, what do you think we're going to have when a hurricane comes in?"
Next: What's changed? What's next?