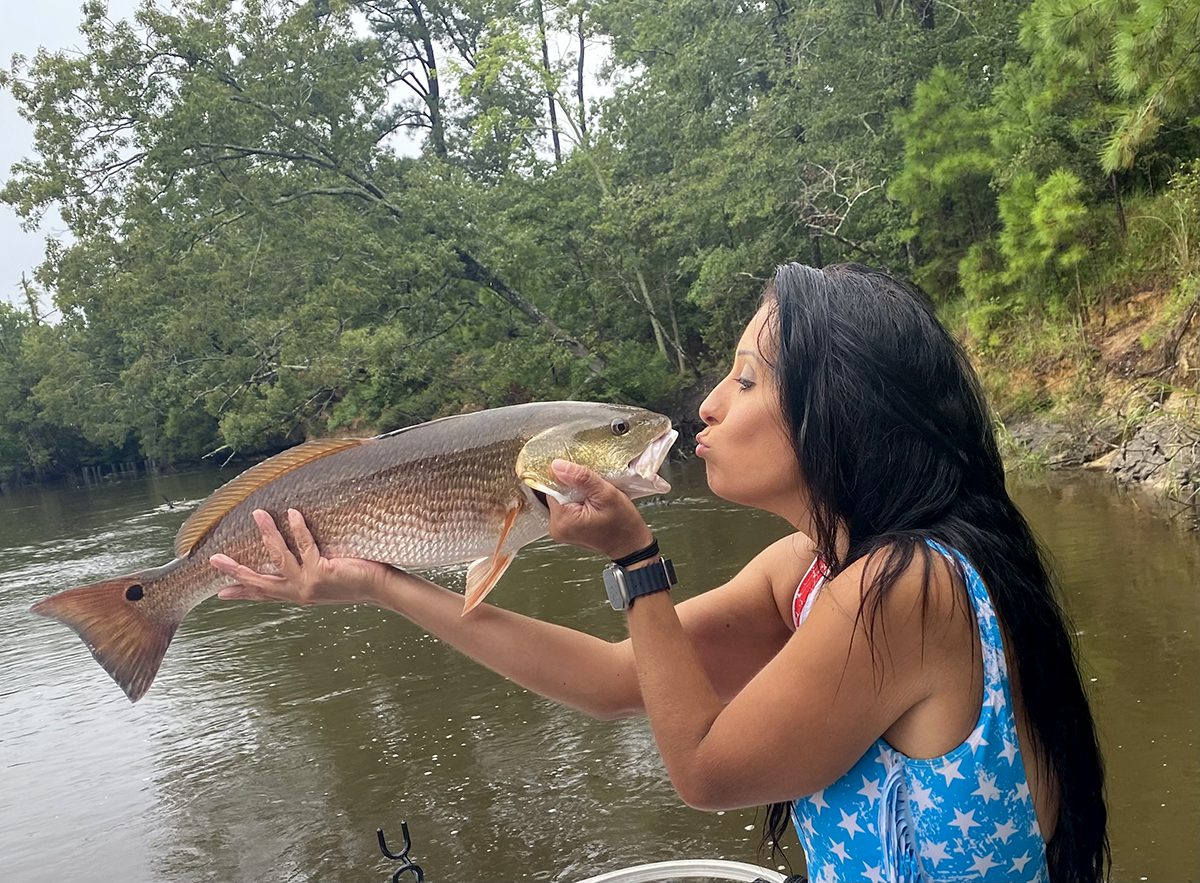 Tonya Sanders had had enough of the online trolls.
She simply wanted to share her fishing feats on social media, her capabilities as a recreational angler, and exchange fishing tips with others who enjoy casting a line as much as she does.
But as anyone on social media knows, there are plenty of keyboard warriors itching to pounce at the opportunity to belittle, discourage and insult.
As she ramped up her online presence earlier this summer so too did the negative comments.
Sanders was called a "prop" by a poster who accused her of not catching the fish she was holding in one photograph. Another commenter mocked a different photograph, telling her she looked like she was posing for a glamour shot.
The online harassment took a particularly unnerving turn when one man commented about female breasts.
"I just didn't realize it would be like that and maybe that was my fault because I was just being happy-go-lucky and not really diving too much into the social media aspect of putting myself out there as like, 'Hey, I caught this and I'm proud of it. Does anybody else want help learning how to do this?' Or, maybe someone else would give me pointers," Sanders said.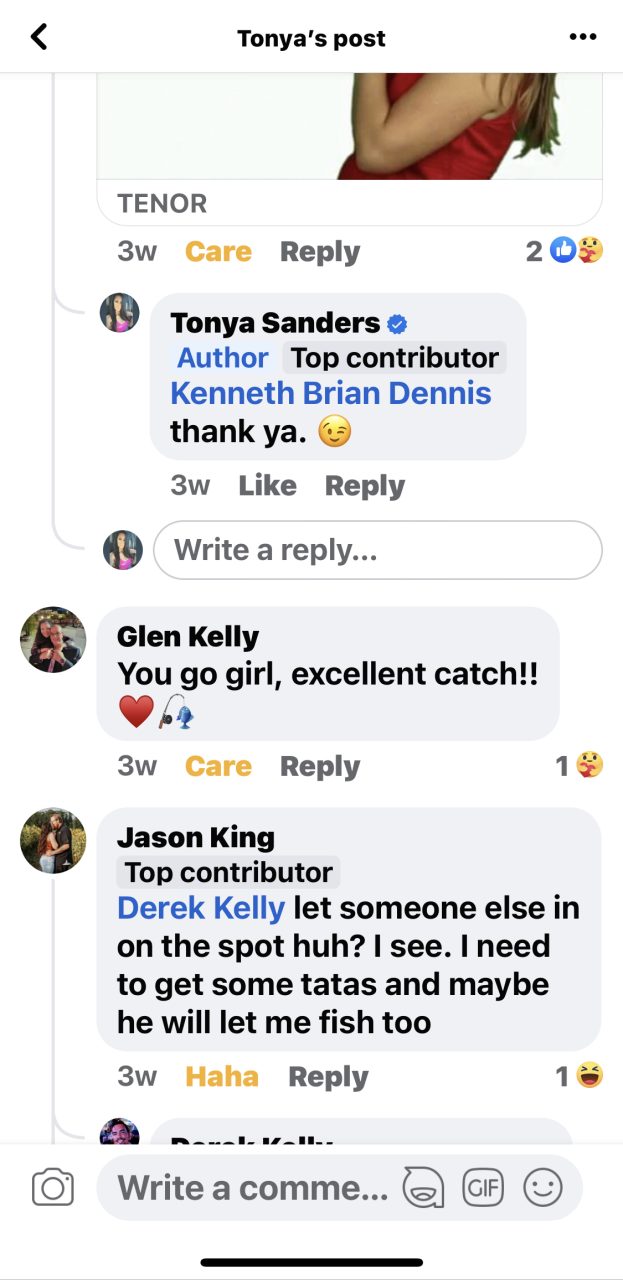 So what if she's wearing makeup, she thought.
"I guess maybe it doesn't look like I've been fighting a fish," she said. "I have no clue."
But Sanders firmly believes she would not be reading the same derogatory comments on her posts if she were a man.
"So, I decided that I was going to make my own group," Sanders said.
The Facebook group would be open to all anglers, regardless of gender or experience level.
"But it's specifically a safe haven for women to be able to post their catches or to connect with other anglers," Sanders said.
Within the first four weeks of creating Female Fishing Fanatics earlier this summer, Sanders' Facebook group had grown to more than 320 members and counting from across the country and as far away as Thailand.
She's garnered the support of local businesses who've joined her group, donated prizes to be handed out to the winners of raffles she's hosted — just a way to keep things fun — and been welcomed by owners of businesses she and her fiancé, Rob Lissor, feature in what they plan to turn into a traveling-angler-type series they'll share on the group.
"I knew I was going to have to put in a lot of work and sharing, but I did not expect it to take off like it did," she said.
This is not where the 37-year-old Wilmington native ever thought she'd find herself.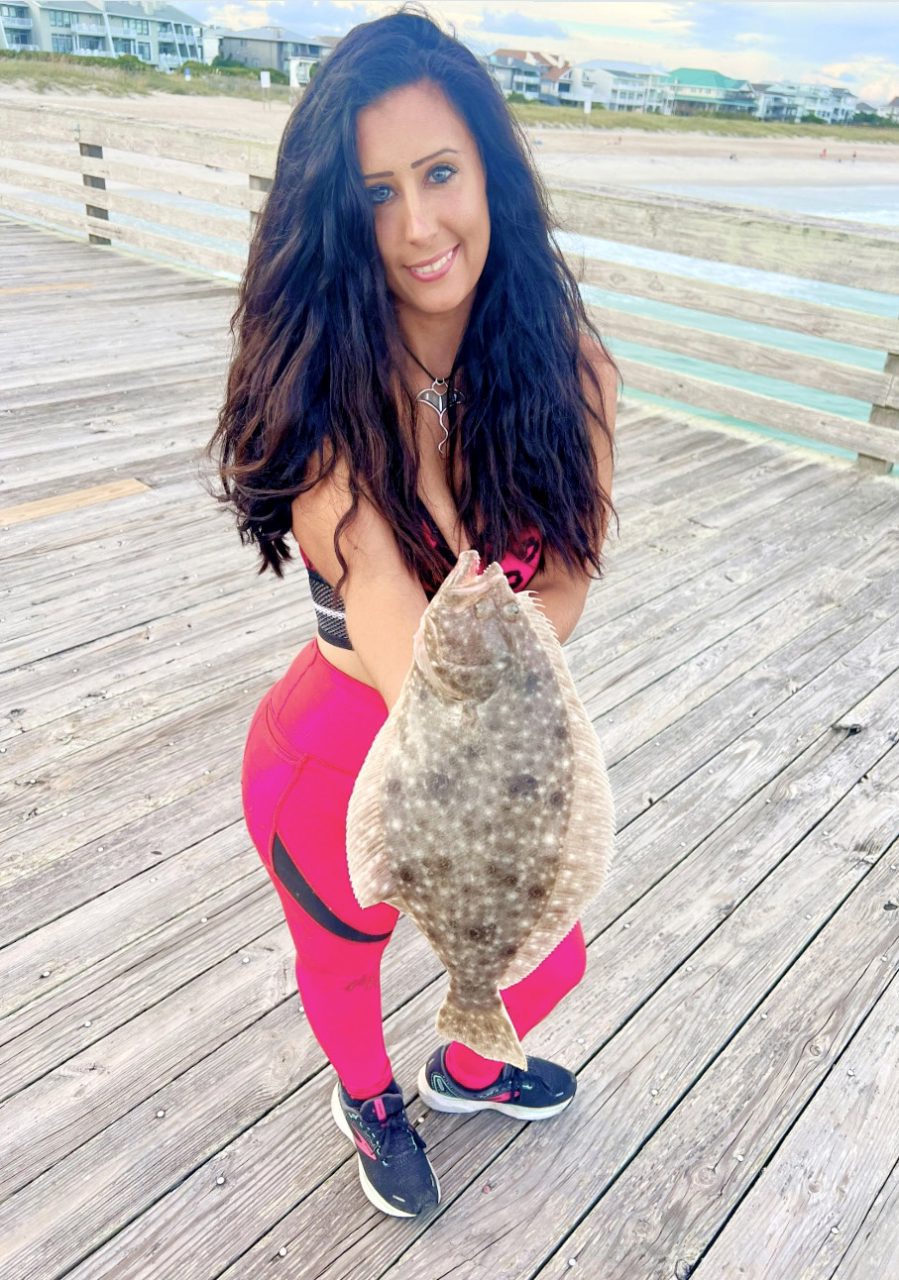 She's been fishing throughout the area since the time she was a toddler being toted around by her father, a man who, after learning he had a baby girl said, "That's OK. I'll take her fishing anyway."
Sanders doesn't claim to be an expert angler. She does not own a boat.
That doesn't hamper her desire to fish. On her days off she can be found fishing in Wrightsville Beach for sheepshead or in Fort Fisher for drum, depending on the season.
She was fishing in Town Creek, a blackwater river meandering through Brunswick County, during a telephone interview with Coastal Review.
She stopped mid-sentence, the conversation going silent, before apologizing and explaining, "I heard drag screaming and that's my favorite sound."
Sanders and Lissor were in the midst of featuring The Gator Hole Country Store and Tackle, a convenient store in Winnabow that proudly advertises the sale of cold beverages, cigarettes, live bait and tackle.
It was Aug. 30, the day before the remnants of Hurricane Idalia would blow in from the southwest after making landfall Aug. 29 in Florida's Big Bend region as a Category 3 storm.
"We got a hurricane on our doorstep and we're out here and, you know what, this is what this is all about," Lissor said. "I've had a rekindle of love of fishing since we started this.
"Speaking as a male in an administrative position in a female group, the amount of support that we give our members and that our members give each other is something that I've never seen before in any Facebook group. We are uplifting and caring and we encourage everybody to post and we celebrate those posts. There's no negativity whatsoever and that's what's drawn people to us. It's been a heck of a ride so far and we're loving it."
Jaime Short, who co-owns The Gator Hole with his fiancé Nicole Pruitt, said he teamed up with Sanders and Lissor for the love of fishing.
"We just like to see people have fun and go out fishing," Short said. "We just want everyone to enjoy the water. It's fishing. It's supposed to be something that everyone goes out and enjoys. I get out-fished by Nicole, and I wouldn't have it any other way."