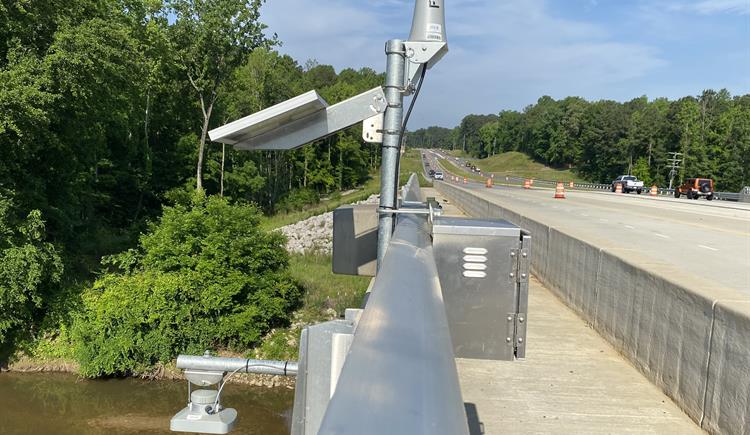 The North Carolina Department of Transportation needs your vote to win people's choice for its early flood warning system.
The American Association of State Highway Transportation has named the flood warning system as a "Top 12″ finalist in the 2023 America's Transportation Awards competition.
NCDOT is competing for the grand prize and the people's choice awards. A nationwide panel of experts will determine the grand prize winner, while the people's choice award will be based on online voting from the public. Each award comes with a $10,000 cash prize to be donated to a charity.
People may cast a ballot for NCDOT's flood-warning system on the contest webpage. Individuals may vote daily across multiple devices through Nov. 14.
"Becoming a finalist is a tremendous testament to our department's commitment to resiliency, safety and innovation," Transportation Secretary Eric Boyette said in a release. "This cutting-edge tool will help us be more prepared to respond to any storm and allow us to better communicate with our state and local partners and the traveling public about any hazardous situations that may arise due to flooding."
The flood warning system helps NCDOT staff prepare for, respond to and recover more quickly from a severe weather event. The system relies on a network of over 500 river or stream gauges and monitors more than 15,000 bridges and culverts and over 2,000 miles of state-maintained roads.
"This system can alert us to critical information early on during a storm and potentially save lives," said Matt Lauffer, the state hydraulics design engineer for NCDOT. "The programs in our flood-warning system rapidly alert us to any problems that may be occurring to the roads, bridges and culverts we are monitoring."
The NCDOT modeled the program, in part, after the N.C. Emergency Management's flood inundation mapping system that focuses on buildings that may flood in a storm. The NCDOT relies on NCEM's existing network of stream gauges, which cover over 2,000 miles of roadway, and elevation data to gather critical information.
"This advance warning system is a testament to the great things that come when strong partners collaborate," said William Ray, director of the N.C. Division of Emergency Management. "Together, these systems are helping our agencies quickly respond to storms so we can better protect the public from major flooding events." ​