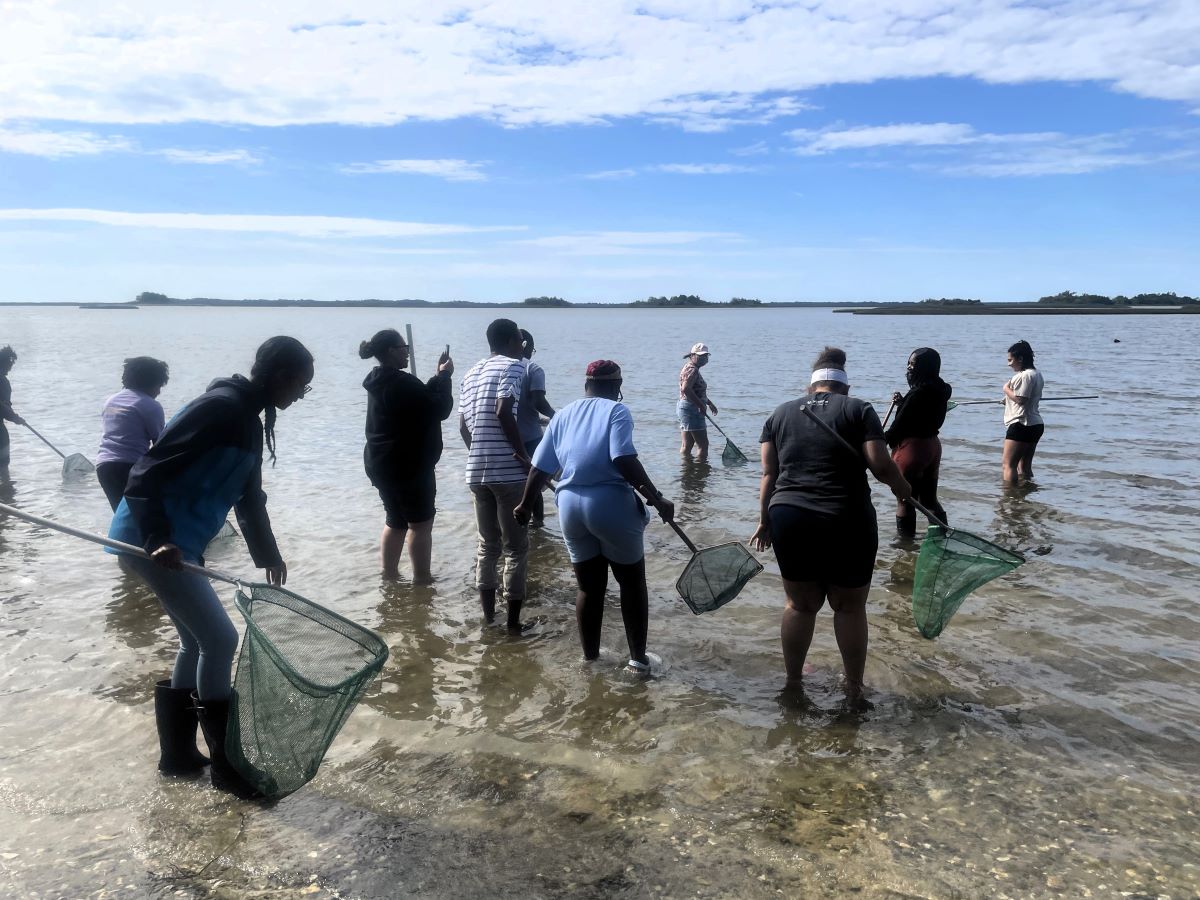 The North Carolina Coastal Federation is moving forward with its plans to expand an existing Pamlico Sound oyster sanctuary network and create a partnership to encourage underrepresented university students to study marine sciences.
The National Oceanic Atmospheric Administration notified the nonprofit Thursday that the $14.9 million grant had been finalized.
NOAA first announced the award recommendation in late April for the nearly $15 million project titled, "Completing the Pamlico Sound Oyster Sanctuary and Training the Next Generation of Restoration Professionals," through the Biden administration's Climate Ready Coasts initiative, funded through the Bipartisan Infrastructure Law and Inflation Reduction Act.
This project is expected to complete the 500-acre goal of oyster sanctuaries in the Sen. Jean Preston Oyster Sanctuary Network, which is named in memory of the late state senator who represented Carteret County, and to facilitate an innovative program with N.C. State University and N.C. Central University to offer hands-on opportunities for underrepresented undergraduate and graduate students studying marine sciences.
Coastal Federation Oyster Program Director Erin Fleckenstein said that there are a handful of immediate next steps ahead for the oyster sanctuary work, including finalizing locations of future sanctuary construction.
"The grant will allow us to build out several existing sanctuaries that are already permitted, but we also need to finalize locations and permit the additional sanctuary locations," she said. Organization staff will be able to work with material suppliers to secure enough in the quantities and types needed to build out the sanctuary acres, and ensure that the stockpile locations are prepped and ready.
Lastly, Fleckenstien said that for this portion of the project, the Coastal Federation will open up bids for a construction contractor who will be responsible for constructing the sanctuaries that are planned.
For the partnership with the two universities, Fleckenstein said the researchers have advertised and made motions to hire a cohort of graduate students who will work toward their master's or doctorate's during the course of the grant.
"We've developed a list of potential research questions that the students will address during their research," she added.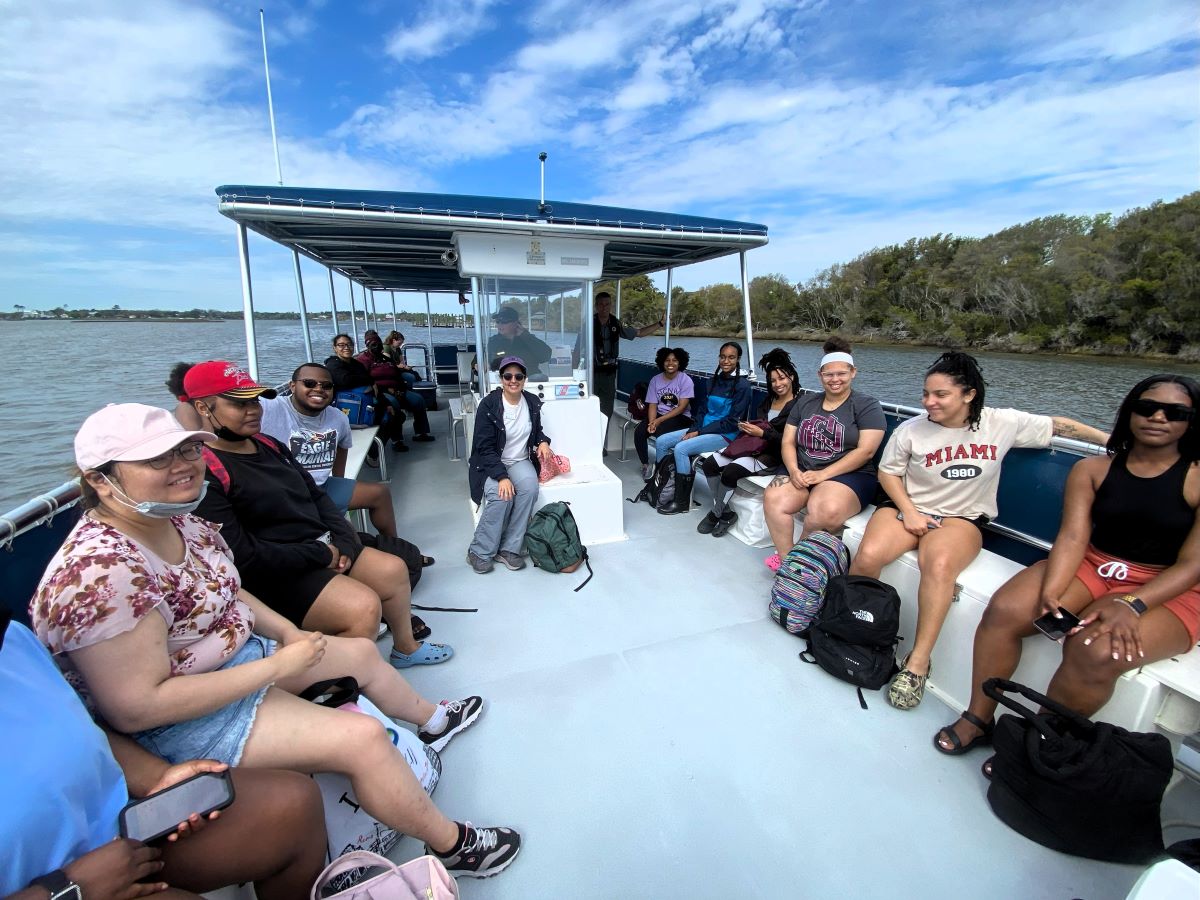 N.C. State Center for Marine Sciences and Technology, or CMAST, Director David Eggleston explained to Coastal Review that research on restoring oyster reefs and creating tools to help guide future restoration sites has been conducted for the past 15 years. The research group first teamed up with the Coastal Federation in 2010 in response to funding through the American Reinvestment and Recovery Act.
"This initial effort focused on assessing the ecological performance of restored, subtidal oyster reefs in Pamlico Sound that are a part of the Jean Preston Oyster Sanctuary Network," he said. This current project with the Coastal Federation, and other partners including N.C. Central, the state Division of Marine Fisheries and the North Carolina Aquariums system, will assess the ecological performance of restored subtidal oyster reefs.
"A novel and key component of the current project is to diversify and train the next generation of coastal habitat restoration practitioners. There is increasing recognition of the valuable ecosystem services provided by coastal habitats such as oyster reefs, seagrasses, salt marshes and mangroves. Given limited resources for habitat restoration, it is critical to locate restoration projects in areas that have the greatest chance of success," Eggleston explained.
During this project, they will focus on training underrepresented graduate and undergraduate students in Geographic Information Systems, or GIS, computer-based machine learning, population dynamics, statistics and a broad suite of field and laboratory techniques including scientific diving, boat handling, and communication skills.
The N.C. State component is to assess the ecological performance of the restored oyster reefs relative to either unstructured estuarine bottom, or adjacent oyster reefs. Examples of ecological performance include tracking oyster settlement, growth and survival on restored oyster reefs, characterizing fish use of the reefs, the footprint of the reefs and any changes in their structural complexity over time, and refining GIS-based tools used to guide where to locate new restoration sites, he explained.
"Most of the budget for this project component is devoted to supporting graduate and undergraduate students from underrepresented groups in science, technology, engineering and math, or STEM," he said.
N.C. State University is partnering with Dr. Carresse Gerald, assistant professor in Environmental, Earth and Geospatial Sciences at N.C. Central University, to recruit undergraduate and graduate students to participate in this project, serve as a formal co-mentor and graduate committee member for students, and facilitate approaches for student success, Eggleston said.
For undergraduates, this includes successful scholarship or fellowship applications, employment post-graduation in STEM, or acceptance to graduate programs. For graduate students, this is earning a degree in a timely manner, which is two to three years for a master's or four to five years for a doctorate, as well as enhancing skills in critical thinking, communication, interdisciplinarity and quantitative tools.
"These achievements should lead to increased workforce development of underrepresented groups as restoration practitioners, as well as building research capacity at an Historically Black College or University," he said.
Gerald and Dr. Del Bohnenstiehl, professor in the Marine, Earth and Atmospheric Sciences department at N.C. State, introduced the project during the Coastal Federation's Oyster Summit, a two-day workshop held earlier this year in Raleigh.
Bohnenstiehl said there are three pillars to the program, with the first being a cohort of eight graduate students from underrepresented groups. The students will have an opportunity to begin or finish their master's program or begin their doctorate program in marine science, data science or geospatial analytics.
"Our focus is going to be on recruiting from HBCUs such as North Carolina Central and other universities," he said. HBCUs are historically Black colleges and universities.
The students will be working collaboratively and be involved in all aspects of the project. They will be able to carve out some piece of the project that they can focus on for their thesis, gain more expertise and work with advisers, Bohnenstiehl continued.
Gerald, during the summit, said that over the past few years, she has taken undergraduate students to the coast to work with the Coastal Federation.
"They really enjoy being out there, looking at the living shorelines, looking at the oysters and learning about the ecological impacts of those types of things on the environment," Gerald said, adding that the program advisers intend to travel to the coast with more undergraduate students to encourage their exploration of this type of science and to develop an interest in restoration ecology.
Gerald said there will be opportunities for undergraduates in her science classes to visit the coast for field work, as well.
"I had an environmental education and outreach course that has come down to the coast before and so we'll have some of those students as well participate in this effort to learn more about living shorelines, the ecology in the marine data science that is happening down in the Pamlico Sound," she said.
Bohnenstiehl said that one of the opportunities that Central's undergraduate students are encouraged to take advantage of in the short term is the summer fellowship at CMAST, "an existing program that has been very successful. It's up to about 40% minority participation already."
There is funding through this project to support four students from underrepresented groups every summer for the next three years, Bohnenstiehl said.
"We think there's going to be a huge opportunity to bring these students in, and all the research shows if you start off hands-on, kind of long summer experiences are really critical for getting students engaged in and engaging them in the STEM fields," he said. STEM means science, technology, engineering and math.
The students will train and take courses but at the heart of the project is an ecological study, trying to understand the benefits of building the sanctuary reefs, their function and their ecosystem services, Bohnenstiehl explained.
"And that's what the students will be working on, trying to quantify and understand together with partners from DMF and elsewhere," he continued. Components of the project include field sampling, oyster demographics, mercury within the oyster samples, and "We'll be looking at maps of the seafloor, trying to quantify and find ways to describe the habitat that's created by these reefs."
Bohnenstiehl said they anticipate bringing the graduate students into this project in all aspects as well as the undergraduate students at these different levels.
"Over the next three years, we should have 70 or 80 different students participate in these programs and contribute to the science that goes into all of this and hopefully they'll be prepared then to be this next generation of practitioners when it comes to understanding oyster reefs and restoration in general," he said.
Gerald explained to Coastal Review that she was brought in by the Federation's Coastal Education Coordinator, Rachel Bisesi, "who asked if I would be interested in working on the grant. After a meeting with other partners from NC State we were forging ahead."
Gerald said they plan to select well-rounded students – four from N.C. State and four from N.C. Central – by evaluating their academic progress, personal statement along with other metrics.
Some of the work students will delve into includes analyzing habitat restoration response variables in the oyster populations and evaluating contaminants such as mercury in the oyster species, she explained.
Gerald said the goal for N.C. Central's portion of the project is to increase students, more specifically underrepresented and underserved individuals, to engage in ecological studies and more specifically restoration ecology by engaging them in the large-scale oyster restoration project in the Pamlico Sound.
The Coastal Federation publishes Coastal Review.