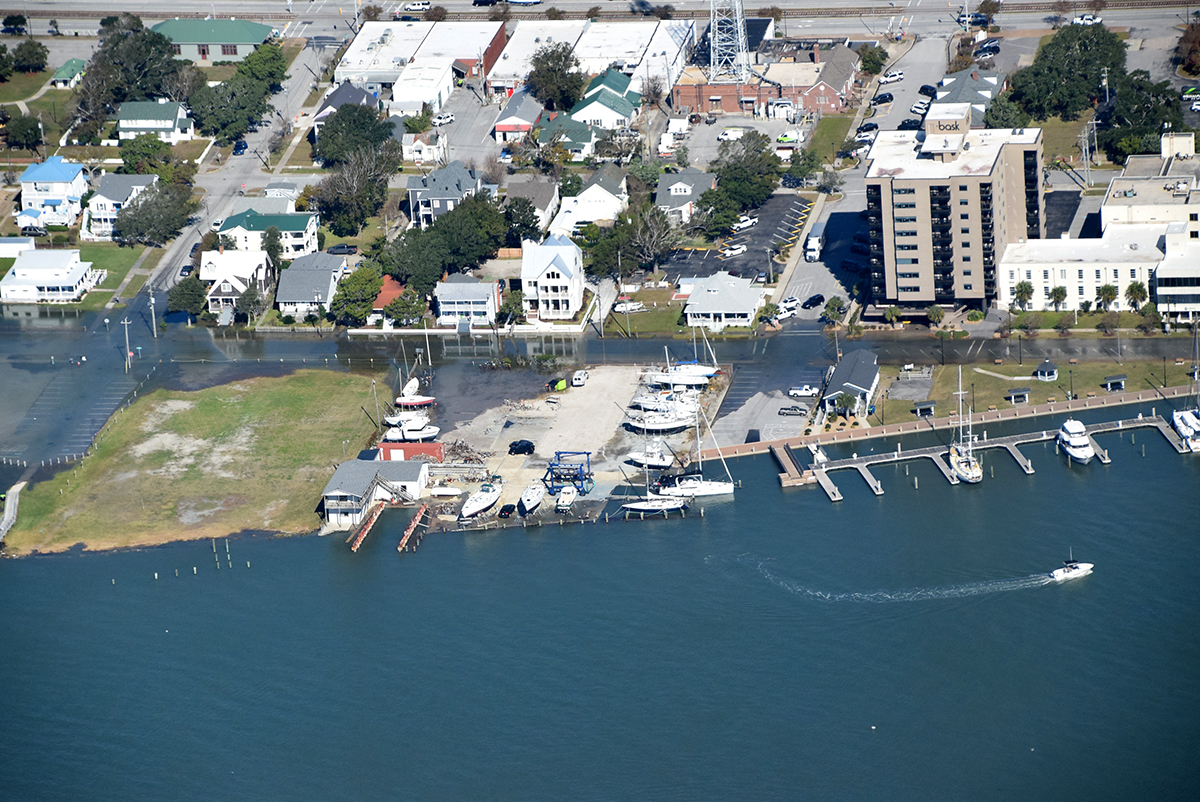 A new collaboration of coastal flood monitoring efforts in Virginia and North Carolina could offer a broader view of how king tides affect coastal communities along both states' coastlines.
The North Carolina King Tides Project, an international initiative to document extreme high tide events with photos, and Wetlands Watch, an environmental nonprofit organization based in Norfolk, Virginia, began a concerted outreach last week, just ahead of the late-August king tides that began Sunday.
For the North Carolina King Tides Project, the public can upload photos of flooding and water level gauges to illustrate water depths to the Coastal Observer app. Using Wetlands Watch's sea level rise app, volunteers can drop GPS pins while walking along the edge of floodwaters to map how far water encroaches inland, or the horizontal extent of flooding. Tutorials on using the apps are available on both websites.
Organizers hope these complementary collection tools will lead to more comprehensive data on these highest high and lowest low tides of the year.
The North Carolina King Tides Project was established to help visualize how normal high tides could look in the future. It was created with support from a National Oceanic and Atmospheric Administration grant from 2015 to 2019, but the project has relied on volunteers ever since.
Project founder Dr. Christine Voss told Coastal Review in an email Thursday that the initiative was glad to welcome Wetlands Watch and their team to North Carolina.
"We are grateful to have them here. I think we can learn more about the impacts of coastal inundation and salt intrusion along coastal NC by using both of our apps to document the extent of flooding during king tide events, which are natural events that have always occurred, but give us a way to visualize how future, higher sea levels will impact our coast," she said.
Though the initiative has been unfunded for several years, Voss said the project "has been able to continue by the grace of several dedicated volunteers, whom we appreciate. It is a community science project for NC coastal citizens, by NC coastal citizens and they continue to submit images and data, and help one another learn how to deal with the impacts and complexities of rising sea levels along our coast."
Wetlands Watch Executive Director Mary-Carson Stiff told Coastal Review in an interview Thursday that she was also excited about the combined effort.
"We have some shared watershed projects through green infrastructure and conservation, landscaping, training professionals at certifications for maintenance of a lot of those practices," she said. "We do a lot of work with different states and have benefited tremendously from cross-state partnerships in the policy space too. So, seems like a no-brainer."
Wetlands Watch and the North Carolina King Tides Project held a virtual information session Wednesday to explain their goals and review how the apps work.
Wetlands Watch Community Engagement Project Manager Gabi Kinney explained that king tides occur when the full or new moon's orbit is closest to Earth, called in perigee. The moon's gravitational pull effectively raises these high tides.
These tidal events provide a glimpse of future tides, Kinney said. "We can study king tides of today to get a feel for what it might look like in the future with sea level rise and all of these projections."
Kinney said Wetlands Watch connected with the North Carolina King Tides Project after NOAA's climate program office approached the organization to expand its annual "Catch the King" weekend effort to document king tides in coastal Virginia.
Catch the King is an annual tide-mapping event that encourages volunteers to collect flooding data during the highest tides of the year. This year's is Oct. 27-29 in coastal Virginia.
Wetlands Watch selected North Carolina for a few reasons, Kinney said. A graduate of the University of North Carolina Wilmington and previous intern with the North Carolina Coastal Federation, she has connections with the area and is familiar with the flood risk that Wilmington faces, and she learned how flooding is impacting other North Carolina coastal communities through Voss.
Voss is a coastal ecologist who retired about a year ago from University of North Carolina Chapel Hill's Institute of Marine Sciences in Morehead City. During the webinar she explained that while she's officially retired, she's still helping with the project.
She said that one of the reasons the King Tides Project was launched was because imagery is powerful in communicating what is taking place with flood events and sea level rise "because it's hard to imagine what the scientists are telling us."
Though the project technically is no longer funded, "there's a core group of volunteers who are very passionate about it, and the public seems to be remaining passionate about it. So, we're trying to keep everything going, and thank you, with help from Wetlands Watch," Voss added.
Kinney explained that she and Voss had discussed how to meaningfully merge the two programs. They kickstarted the joint effort in June. Since then, Voss has published a king tides calendar for 2023 and program information. Kinney has connected with nonprofit organizations, local and state agencies, and others working in the flood resilience monitoring space in North Carolina to establish interest. She is also available for training and questions for interested groups and residents.
"With the merging of the two programs, it's actually been a really nice collaboration because we kind of complement each other's datasets rather than overlapping," Kinney said.
Kinney said one of her goals is to foster bigger and broader partnerships between North Carolina and Virginia.
"We each do a lot of flood risk and resilience building work," Kinney explained. "I think that this is such a great segue for Wetlands Watch to get a view on what's going on in North Carolina, for us to provide our support wherever we can, and for us to learn from you all in terms of collaboration."
Another goal is to build awareness about sea level rise and flood risk. "Through community science, we can give people a tool like an app to use and actually go out in the field and feel like they're part of a climate solution," she said.
"Once we collect all of this king tide data, we want to try to figure out more pathways to get the data in the hands of people who can use them, how can we export this data and how can we use them to contribute to planning decisions, climate adaptation, even just more public awareness," she said. "Eventually, later on in the project, we'll kind of take a look back at all of our data that we collected and then see what we can go from there."
Volunteers are encouraged to collect data during this week's king tides that continue through Sept. 4, with particular interest in the super full moon in perigee Wednesday. Though there is no formal event, volunteers are encouraged to download both apps and submit what they observe.
Organizers said that safety is a key priority and to avoid unsafe conditions such as heavy rain, winds, and rapid flood waters.
Remaining king tides for this year are Sept. 25-Oct. 4, Oct. 27-Nov. 1, and Nov. 26-28.
To become involved, email Wetlands Watch Community Engagement Project Manager Gabi Kinney at gabi.kinney@wetlandswatch.org.