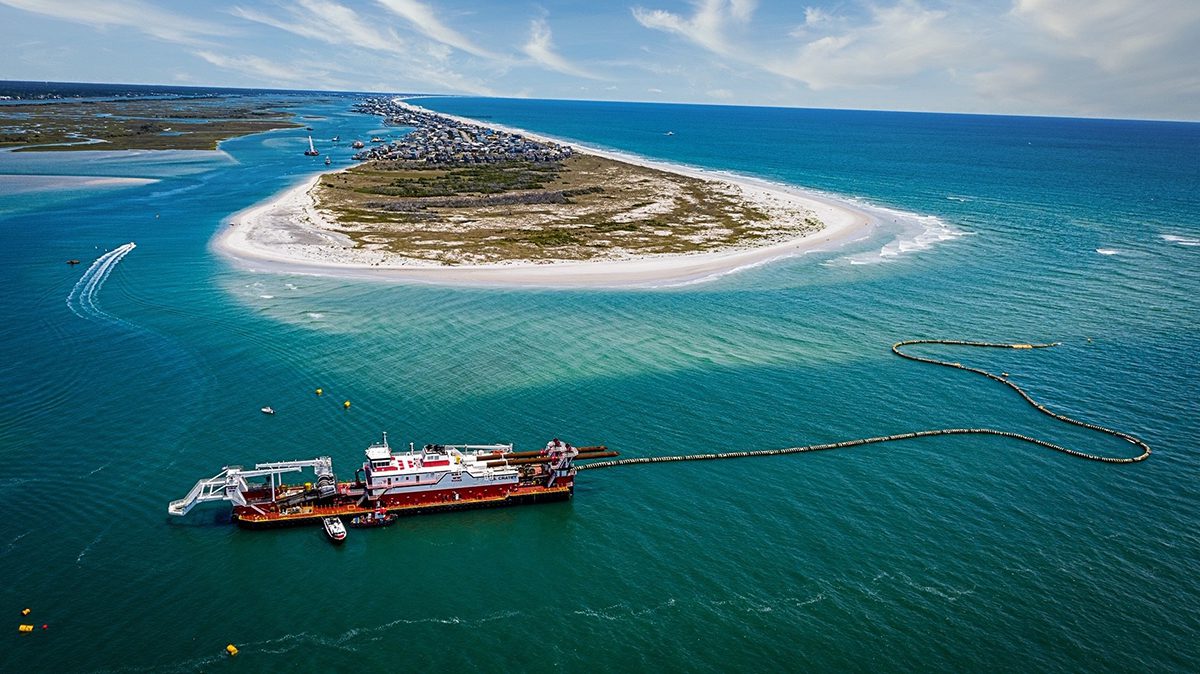 TOPSAIL BEACH – With the one-year mark approaching since a Raleigh software entrepreneur submitted plans to build a family compound on the undeveloped south end of Topsail Island, frustrations have mounted over when to hold the next and possibly final public hearing on a request to rezone a portion of the property.
This week, commissioners set a hearing for late summer.
When the town planner suggested Topsail Beach commissioners host the public hearing in October, several property owners attending the board's regular monthly meeting Wednesday night let out a collective sigh of exacerbation and verbally protested.
What ensued was a debate of timelines, procedure and, when the conversation turned to holding the public hearing on a Saturday rather than during a regular weeknight meeting of the commissioners, precedent.
"October? This is July," Commissioner John Gunter said.
Gunter said he had a list of a dozen or more conditions he'd like to add to proposed development plans that have morphed since Pendo CEO Todd Olson turned them over the town last October as part of a request to conditionally rezone the property.
Olson and his wife Laura are under contract to buy the nearly 150-acre site pending their request to rezone roughly a quarter of the property from its current conservation zone.
The couple has also signed a letter of intent with the North Carolina Coastal Land Trust to grant the organization a conservation easement for a minimum of 80% of the property, which would forever prevent development on more than 115 acres.
But a grassroots group called Conserve the Point is working with nongovernmental organizations to try and cull public and private funding to buy the land from the current owners to ensure none of the property gets developed.
The Topsail Beach Planning Board in May unanimously denied the Olsons' rezoning request.
The Olsons want to build seven houses, a pool and pool house, decking beach and sound accesses, and a six-slip private marina on the sprawling, natural area known as The Point.
The south end of Topsail Island has steadily grown over the years with the island's southerly migration at New Topsail Inlet.
The land, owned for decades by the McLeod family, is a popular draw for residents, tourists and frequent visitors of the town who enjoy sandy walks along the ocean and sound shores.
The Olsons' request to rezone fewer than 30 acres has been met with fierce opposition from property owners, tourists and environmentalists.
The land is designated critical habitat to threatened and endangered piping plovers and loggerhead sea turtles. It is within a state-designated inlet hazard area and in a VE flood zone, which is an area with a 1% or greater chance of flooding with an additional risk of damage from storm waves.
The property is also within a federally designated Coastal Barrier Resources Act, or CBRA, unit.
Congress enacted CBRA in the early 1980s to discourage development in low-lying, storm- and flood-prone coastal areas by prohibiting certain federal assistance within those areas, including eligibility to the National Flood Insurance Program. Local governments face the threat of being cut off from some types of federal funding if that town, city or county extends infrastructure such as water and sewer service to development within a CBRA zone.
Town commissioners were informed Wednesday night that Laura Olson is in the process of meeting with various environmental agencies at the property and that she has a deadline of Aug. 18 to submit any additional information to the town based on the results of those meetings.
That led to commissioners questioning whether the Olsons are planning to make changes to the plans that have been submitted to the town.
When asked to address commissioners, a visibly frustrated Charles Riggs, the Jacksonville-based surveyor who represents the Olsons, said he was at the meeting with the understanding that the board was going to potentially place additional conditions on the proposed development plans.
"I was not prepared to make a presentation tonight," he said. "Any change (to the plans) would be based off what the commissioners are requesting. It's my understanding that the concept and plans that you have seen is what we're going to be moving forward with. I was here tonight to gather information on what the commissioners wanted to do."
He said the Olsons certainly do not want to withdraw and resubmit their application to rezone, a suggestion Gunter initially made and then recanted just before the meeting adjourned.
"I don't want this to go back to the planning board," Gunter said. "I want this to move and to move fast."
Commissioner Frank Braxton concurred.
"I agree with John that we need to move this forward and to get this behind us," he said.
Gunter continued to push for a public hearing before September, a timeline Mayor Steve Smith said simply isn't feasible.
"We have a lot of other things we have to take care of in the town," Smith said. "This is not the only one."
Commissioners unanimously voted to schedule the public hearing at their Sept. 13 meeting.
Commissioners also agreed to hold a workshop to discuss any conditions they may decide to place on the proposed plans. Details of that workshop are to be determined.