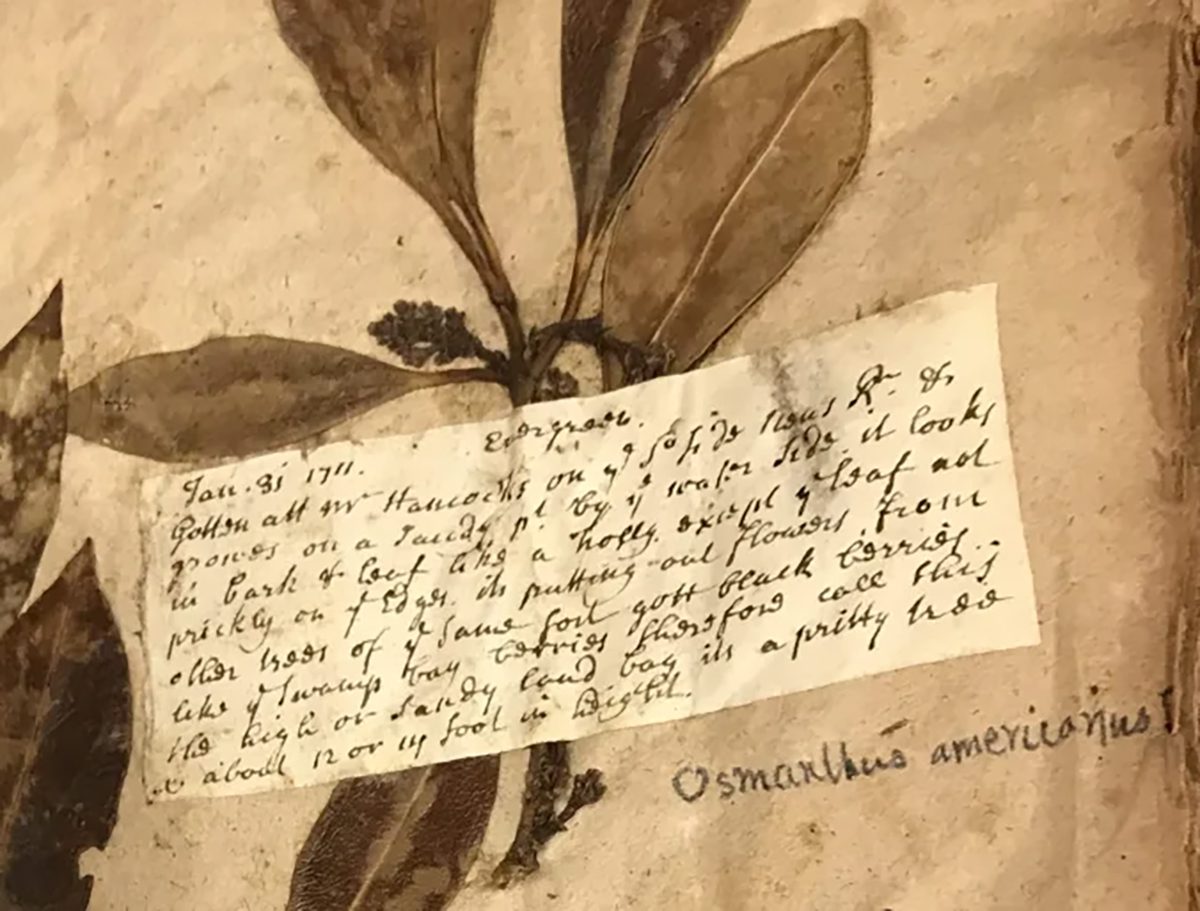 Second in a series by historian David Cecelski. Read the first installment. Coastal Review features his writings about the history, culture and politics of the North Carolina coast.
In the weeks after John Lawson's death, his "one book of plants very Lovingly packt up" crossed the Atlantic and found a new home in James Petiver's herbarium in London. Dried and mounted, the plants remained there until Petiver's own death of natural causes in 1718.
At that point, Lawson's plants were purchased, along with the rest of Petiver's collection, by Sir Hans Sloane, a friend of Petiver's and a fellow member of the Royal Society. The Society was, and I suppose still is, England's foremost fraternity of scientists and naturalists. Isaac Newton himself was the president of the society for many years in the early 1700s.
Sir Hans Sloane (1660-1753) was a physician and scientist who was probably the pre-eminent collector of antiquities, exotic plant and animal specimens, and natural history curiosities in all of England in the late 17th and early 18th centuries.
That is saying a lot because "curiosity cabinets" and private museums that displayed objects discovered, bought or stolen during English voyages abroad were all the rage at that time.
Originally from Killyleagh, Ulster, in Northern Ireland, Sloane began his career as a collector in 1687 when he sailed to Jamaica to serve as a physician for a colonial governor.

While in Jamaica, Sloane put together a collection of 800 plant specimens, as well as collections of animal specimens and other artifacts. Recent scholarship has shown that he drew heavily on the knowledge and labor of West Africans that were slave laborers on the local sugar plantations to build his collections.
At that time, British subjects held roughly 40,000 West Africans in bondage in Jamaica, where enslaved African laborers outnumbered free whites by more than five to one. Most of the Africans were Akan people from present-day Ivory Coast and Ghana.
Enslaved Africans may also have been forced to assist John Lawson to collect the plant specimens that are now at London's Natural History Museum.

During North Carolina's Proprietary Era (1663-1729), Englishmen of Lawson's class rarely traveled without the company of enslaved Africans. They routinely relied on them as guides, to pilot their boats and to supply their dinner tables, among other things.

Lawson had two enslaved Africans with him when the Tuscarora captured him and put him to death in the fall of 1711. The Tuscarora did not harm the Africans.
The specimens that Sloane collected in the Caribbean later led to a work of natural history, a two-volume manuscript called "A Voyage to the Islands of Madera, Barbados, Nieves, St. Christophers and Jamaica."
When he returned to London in 1689, Sloane continued to build his herbarium and other collections. He did some collecting himself, but he acquired most of his specimens by purchasing them from other collectors. As in the case of Petiver's herbarium, he often did so after their deaths.
Sloane financed those collections with his own income, but also drew on his wife's fortune. There, too, was yet another connection between scientific inquiry and the slave trade. The wealth of his wife, Elizabeth Langley (Rose) Sloane, was based to a large degree on her inheritance of her first husband's sugar cane plantations in Jamaica.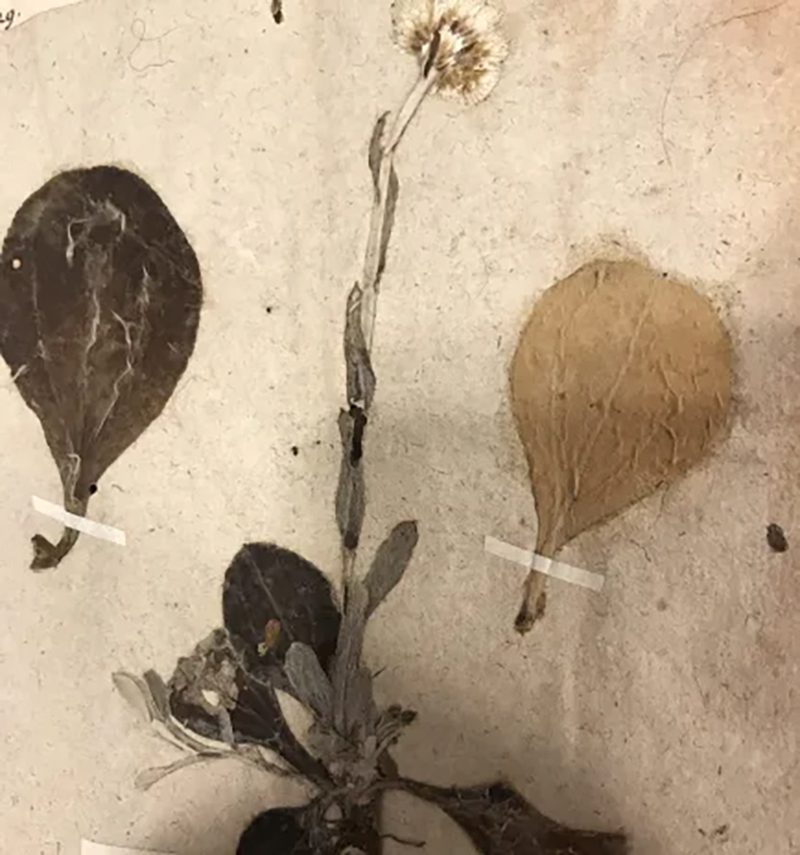 Over time, Sloane's collections filled two houses in Bloomsbury. He then moved the collections to a larger location, the manor house in Chelsea that had once been one of King Henry VIII's residences.
Lawson's plants still formed part of Sloane's herbarium when he died in 1753. By that time, the herbarium had grown to include 334 volumes of plant specimens, a third of which had originally belonged to Petiver.
At Sloane's death, his collections included, among much else, his herbarium, 1,125 "things related to the customs of ancient times," and 50,000 books, prints and manuscripts. Those objects became the founding collections for three of Great Britain's leading cultural institutions: the British Museum, the British Library and the Natural History Museum.
In recent years, the British Museum, the British Library and the Natural History Museum have all been embroiled in controversies concerning the relationship of their collections to Great Britain's history of colonialism and imperialism.

Many of those controversies again highlight the ways in which scientific discovery and colonialism often went hand in hand in recent centuries.

The government of Nigeria, for instance, has formally requested that the British Museum repatriate the Benin Bronzes, an extraordinary collection of more than 900 artistic, sacred and ceremonial objects that date at least to the 16th century. British forces took them during their pillaging and bloody occupation of Benin City in 1897.

Benin royal shrine head, 1400-1500s, in the collections of the British Museum. Via Wikicommons

Similarly, the Ethiopian government has formally requested the repatriation of hundreds of ancient manuscripts stolen by the British during the Battle of Maqdala in 1868. They are currently in the British Library.

Taken from the Ethiopian mountain stronghold of Maqdala in 1868, this 18th century manuscript of the Nativity of Jesus highlights an apocryphal text written in Coptic in the fifth century A.D. This page, showing the Holy Family escaping the persecution of Herod, features one of the manuscript's 265 illustrations. Courtesy, the British Library

Other controversies have involved the Natural History Museum.. One recent case led to the repatriation of the remains of 113 Moriori that were removed from New Zealand in the mid-19th century.
Along with the rest of Sloane's herbarium, Lawson's plant specimens were housed at the British Museum when it first opened to the public in 1759. Curators later moved them and the museum's other natural history collections to a new building a couple miles away.
That happened in 1881, when the museum that is now simply called the Natural History Museum opened in South Kensington, just a short walk from Hyde Park and a longer but quite doable stroll from Buckingham Palace and St. Paul's Cathedral.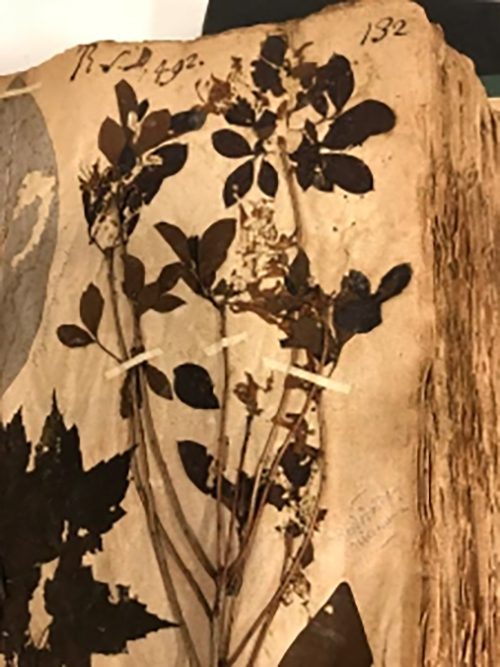 -To be continued-
Cecelski shares on his website essays and lectures he has written about the state as well as brings readers along on his search for the lost stories of our coastal past in the museums, libraries and archives he visits in the U.S. and across the globe.