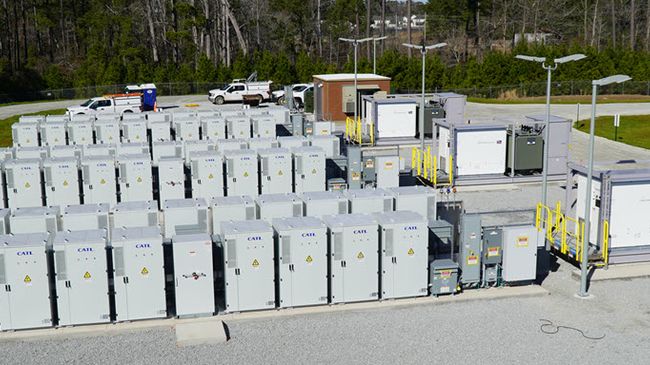 What officials are calling the largest battery energy storage system in North Carolina is now operating in Onslow County.
Duke Energy announced Thursday that the 11-megawatt system will operate frequently in tandem with a nearby 13-megawatt solar field on leased land within the confines of Marine Corps Base Camp Lejeune.
"Battery storage is an important resource for our transition to cleaner energy," Duke Energy North Carolina state president Kendal Bowman said in a release. "Pairing the energy storage system with our existing solar facility at Camp Lejeune helps strengthen the reliability of our energy grid and makes better use of our existing solar generation."
The battery storage and solar systems can also be operated independently. The battery system takes up about an acre.
Each system is connected to a Duke Energy substation and will be used to serve the energy company's customers.
These systems could in the future enhance the base's resiliency against outages.
"Through an enhanced use lease (EUL) and strategic partnership with Duke Energy Progress, Marine Corps Base Camp Lejeune has been able to make an important investment in the pursuit of energy security inside the fence-line," Navy Cmdr. Ross Campbell, director of base public works said. "Integration of the solar plant with a battery energy storage system, unthinkable a decade ago, presents the installation with a number of opportunities to achieve energy resilience objectives. These systems are part of the ongoing collaboration with the Department of Defense and its utility providers to ensure energy security at federal facilities."
This is Duke Energy's latest addition to its battery storage capabilities. A 9-megawatt lithium-ion battery system is online in Asheville and a 4-megawatt system is part of a microgrid in the town of Hot Springs.
The company has about 90 megawatts of battery energy storage projects operating in three states and anticipates having more than 1,600 megawatts of battery storage in service by 2029.
Duke Energy says battery storage helps maximize intermittent power generating sources like solar and wind on the energy grid.