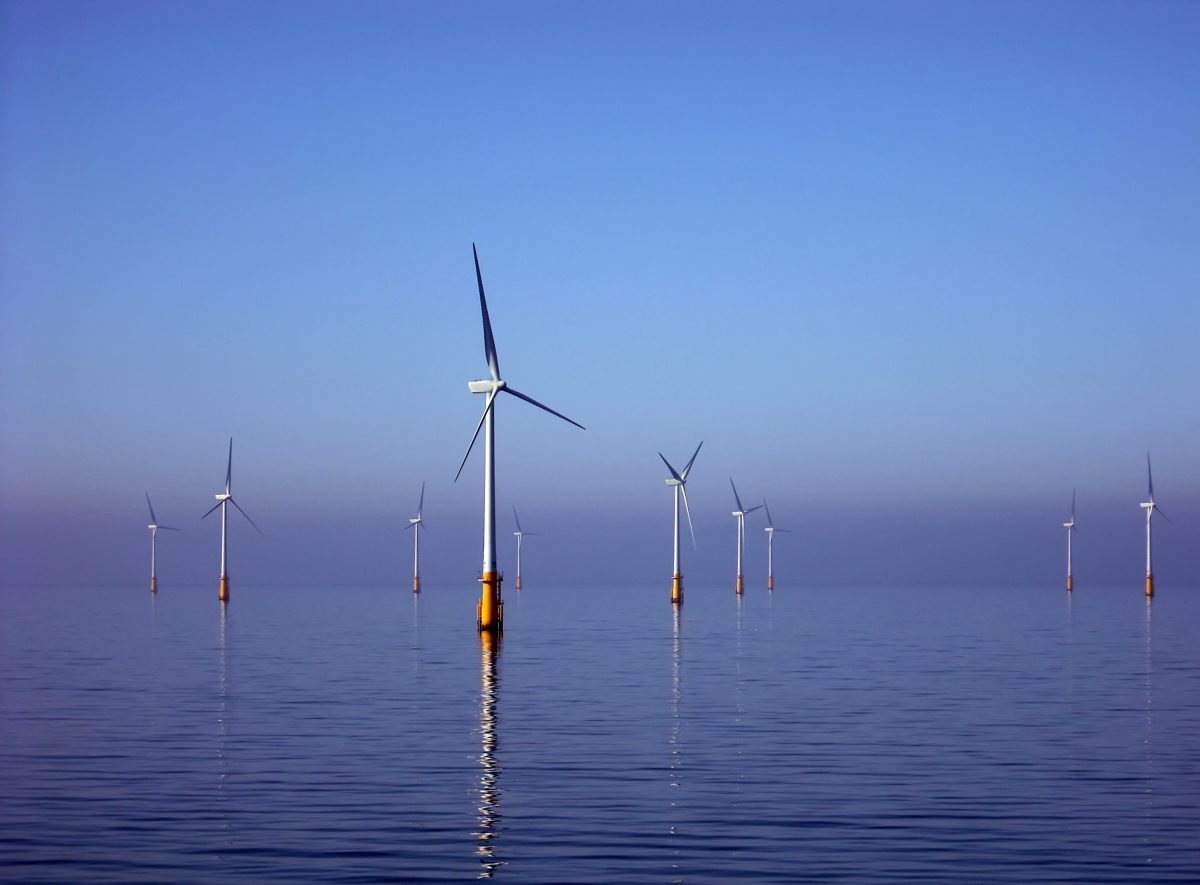 An offshore wind developer has upped its public presence to take on concerns about its proposed project 27 miles off the Outer Banks.
Avangrid Renewables, which has an office in Virginia Beach, hosted open houses earlier this month in Kitty Hawk, Nags Head, Havelock and Morehead City about its progress on the Kitty Hawk Wind project.
The company leased 122,405 acres in the wind energy area off the Outer Banks from the U.S. Bureau of Ocean Energy Management in 2017. Once fully built the 190-turbine project is expected to provide up to 3,500 megawatts to power about 1 million homes.
At the open house in Havelock March 20, company representatives were on hand to answer questions. Lining the room inside the Tourist & Event Center were a a few dozen informational posters on easels.
Each poster relayed information on different topics, from how offshore wind works to engagement with the Department of Defense and the fisheries industry to detailed timelines for the project.
The posters are available on the website as part of a virtual tour. There's also an opportunity to offer input, ask questions and provide contact information to receive updates.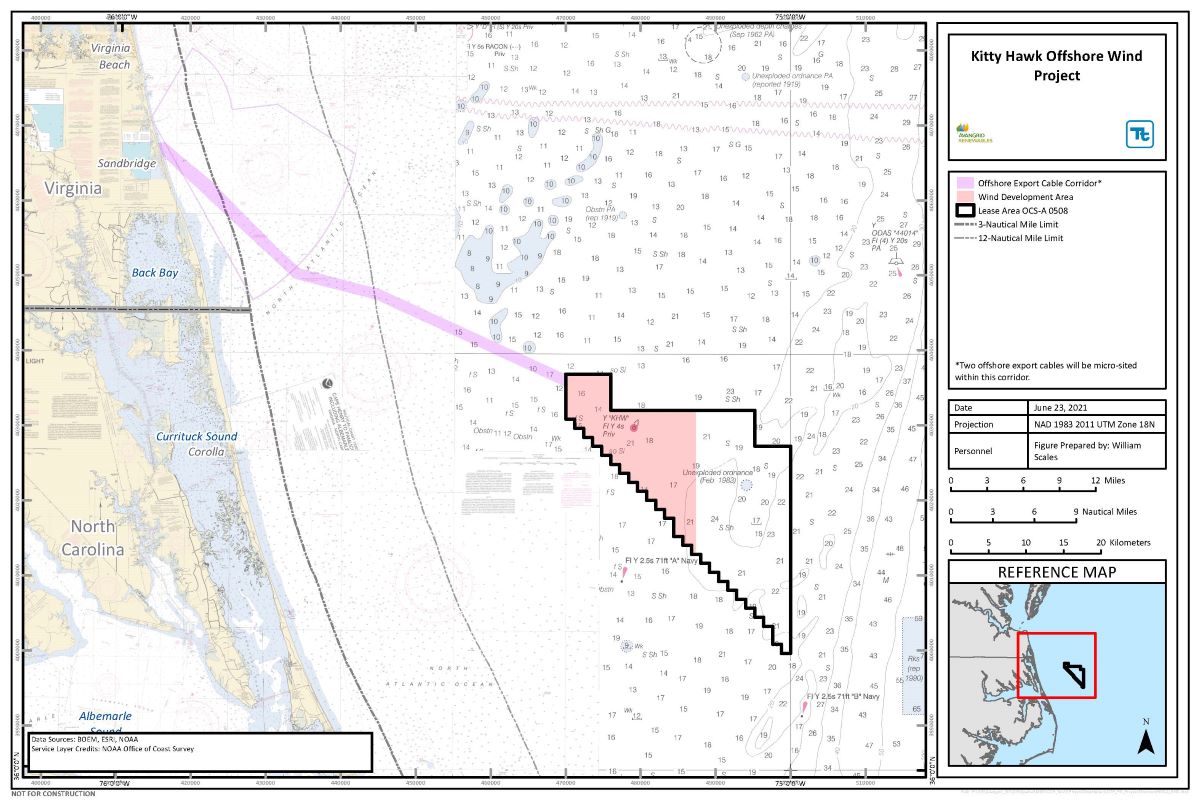 The project "represents a historic opportunity for North Carolina and the Hampton Roads region," Craig Gilvarg, Avangrid director of communications for offshore wind, told Coastal Review Friday in a follow-up interview.
Gilvarg said that since the open house, feedback to the company had been "extremely positive," and attendees said they left better informed about offshore wind and development practices. Most expressed they were supportive or very supportive of offshore wind.
Avangrid said it plans to hold more open houses to receive public comment over the next 18 months as part of its stakeholder-engagement plan, he added.
Kitty Hawk Wind is one of two offshore wind energy developments for the state, with the other being Carolina Long Bay off the North Carolina-South Carolina state line.
The company, on a poster at the open house, says the project will help achieve the goals set by Gov. Roy Cooper in 2021 through an executive order that sets for the state offshore wind development targets of 2.8 gigawatts by 2030 and 8 gigawatts by 2040. Cooper also established the North Carolina Taskforce for Offshore Wind Economic Resource Strategies, or NCTOWERS, through the executive order.
The Kitty Hawk Wind project is composed of Kitty Hawk North and Kitty Hawk South. Developers are currently working on local, Virginia and federal permitting for Kitty Hawk North. BOEM in July 2021 published a notice of intent to prepare the environmental impact statement and held a public comment period and virtual scoping meetings that summer for Kitty Hawk North.
"BOEM is reviewing the comments received during the public comment period to help identify important resources and issues, impact-producing factors, reasonable alternatives for consideration, and potential mitigating measures that should be analyzed in the Kitty Hawk North draft Environmental Impact Statement," Lissa Eng with BOEM's renewable energy for the Atlantic Region, told Coastal Review Monday.
The draft environmental impact statement is expected to be published in the Federal Register for public comment sometime early next year.
Assistant Secretary of Clean Energy Economic Development Jennifer Mundt explained during the NCTOWERS meeting last month in Raleigh that after the draft goes through public comment, the final environmental impact statement would be published along with BOEM's record of decision delineating the preferred development alternative. Several other federal and state permits and authorizations are required and, once obtained, Avangrid will be able to proceed with construction.
Kitty Hawk North is expected to include up to 69 total wind turbine generators and have transmission cables making landfall in a neighborhood in Virginia Beach, connecting to the Pennsylvania-New Jersey-Maryland Interconnection energy grid, according to the federal permitting dashboard.
In all, Avangrid expects to receive necessary approvals, authorizations and permits to begin construction no earlier than 2026 on Kitty Hawk North, according to the website.
Kitty Hawk North is the furthest along in the process, Mundt said.
For Kitty Hawk South, which is the larger portion of the Kitty Hawk Wind energy area, Mundt said that developers submitted their construction operations plan to BOEM and were working with the agency. BOEM had yet to determine that it is a complete application but after that happens, it will be released publicly, beginning the National Environmental Policy Act process.
Developers working on plans for Kitty Hawk South expect up to 121 turbines at that site and have looked at 30 potential locations for energy transmission landfall along the North Carolina coast. There are several steps Avangrid needs to take for Kitty Hawk South, including permitting on local, North Carolina and federal levels. Construction on this project will not begin until at least 2028, according to the website.
Gilvarg said that any detrimental effects on the viewshed from Kitty Hawk Wind would be minor but added that the turbines may be faintly visible under the clearest weather conditions. "The variability in project visibility is influenced by viewing distance, Earth curvature, changing light, and weather conditions."
Gilvarg said that Avangrid had been reaching out to fishing communities at tournaments, fisheries council meetings and research summits, and through the company's fisheries representatives for the region. These representatives are coordinating with regional scientific and academia institutes to plan and carry out monitoring initiatives for fisheries and marine mammals around the project areas.
"Collectively these efforts will best inform and engage both communities through the development and life of the project," he said.