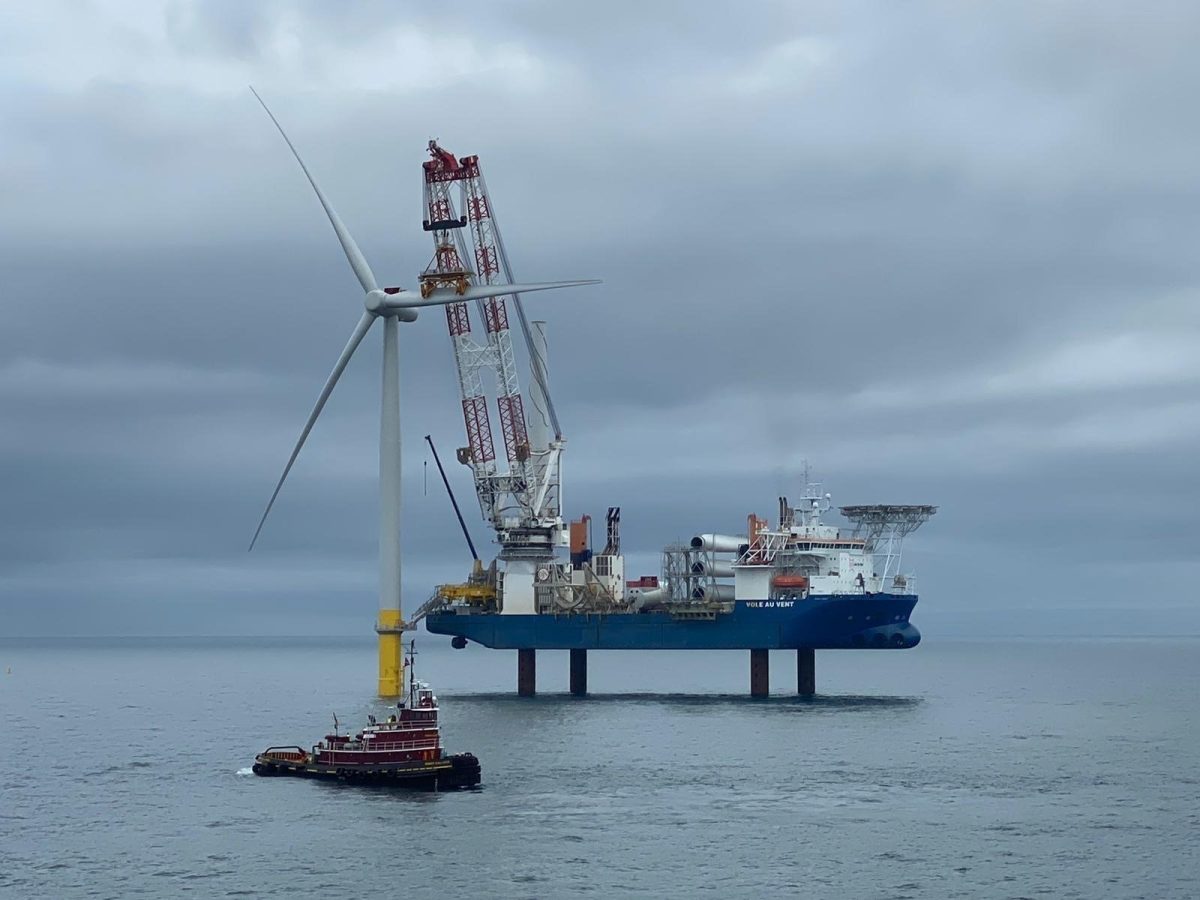 As momentum to develop offshore wind energy builds in North Carolina, researchers, environmental groups and state and federal government and utility leaders are working to address the challenges of this burgeoning industry.
Many of these stakeholders shared their observations and concerns during a daylong symposium, "The Winds of Change: Tracking the Development of US Offshore Wind Energy," March 3 in Durham. Duke University's Nicholas School of the Environment, Nicholas Institute for Energy, Environment and Sustainability, and Center for Energy, Development, and the Global Environment at the Fuqua School of Business hosted the program at the Washington Duke Inn & Golf Club that was also livestreamed.
Gov. Roy Cooper said during his remarks that the state is resolved to decarbonize the power sector. "The need for reliable clean energy that offshore wind can produce has never been greater."
The state is doing its part in the fight against climate change with its goal to reduce carbon emissions in the power sector 70% by 2030 with carbon neutrality by 2050, and have offshore wind energy of 2.8 gigawatts by 2030 and 8 gigawatts by 2040, enough to power 2.3 million homes, he said.
Cooper said his administration is applying "for every dollar of competitive federal grants for infrastructure, economic development and grid improvements that we can get our hands on," and encourages utilities and others to do the same.
"The offshore wind industry and its supply chain represent a potential $100 billion in economic investments across North Carolina, tens of thousands of family sustaining jobs for North Carolinians and clean renewable energy to power hundreds of thousands of North Carolina homes and businesses," he said.
North Carolina is a leader in the transition, said Duke Energy North Carolina Regulatory Affairs and Policy Vice President Venu Ghanta.
The utility serves 8.2 million retail customers in six states, with 3.6 million of those in North Carolina. A utility customer is considered the account, or meter measuring electricity use. The 3.6 million customers actually amount to about 7 million people, he clarified.
"Across our entire system, more than 40% of the electrons we put in a grid are clean energy, even more so in North Carolina," he said, adding the utility is going through "the largest clean energy transition in the industry, and that's because we have a lot of coal to retire. From North Carolina alone that's 9 gigawatts of coal and we have got to replace that." The utility has committed to be completely out of coal by 2035.
On the utility side, they're trying to get the electricity from the turbine to the state's densely populated regions. In states in the Northeast, dense population centers are near the coast and have a fairly well-established transmission grid.
"Density is very different when you get to the Mid-Atlantic and North Carolina," Ghanta said. "That population density is here in the Triangle, Mecklenburg County, the Triad — you've got to bring the electrons to where it's actually needed," he said. "So, there's significant transmission investments that are needed foundationally to really enable offshore wind."
The North Carolina Utilities Commission urged Duke Energy to determine the cost of acquiring, developing and delivering the energy from the Kitty Hawk and the two leases at the border of the Carolinas, he said. Duke Energy expects to submit a study by Sept. 1 on the least expensive way to reach that 70% reduction.
Richmond, Virginia-based Dominion Energy, which serves around 7 million customers in 16 states, began offshore work a decade ago, said Katharine Bond, Dominion Energy vice president for public policy and state affairs.
The company secured a lease about 27 miles off the coast of Virginia Beach for less than $2 million. The utility created two test turbines, which are taller than the Washington Monument, for the Coastal Virginia Offshore Wind commercial project. The 176 planned turbines for the project are expected to be about 800 feet tall and each individual blade is longer than a football field. These will serve about 660,000 customers.
From the pilot project, the company learned how turbines in the U.S. perform and how they complement relatively nearby resources. "In our case, the turbines are performing really well. They complement solar but they also require backup when the winds come and go. So again, very valuable lessons learned," she said.
Bond also noted the challenges of getting the energy to the customer base. "How do we get it to the electric grid so it can serve 660,000 customers? It gets less attention publicly but it's something we are very focused on."
The environmental group, Natural Resources Defense Council, views offshore wind development "as absolutely critical to meeting our national climate goals," said Francine Kershaw, senior scientist for the council.
"It promises a healthier Earth, it promises thousands of well-paying clean energy jobs. So, we need offshore wind, we cannot delay in how quickly we need to deploy it out there on the water. But yet, like any type of ocean industry, offshore wind poses some risks to the environment. Ocean life is struggling to adapt to climate change, while also being stressed by decades of overfishing, habitat destruction, ocean noise pollution, so it's important to launch the new offshore wind industry in a smart way that protects valuable and vulnerable ocean wildlife," she said.
Ways to protect wildlife includes reducing vessel strike risk and other impacts during project development and operations, and conducting environmental monitoring and research throughout "because we're moving forward and in somewhat of an uncertain way," Kershaw said. "It's so important that we have really rigorous monitoring at every stage of the process, and responsible development also means promoting equity during each stage of the process."
There's uncertainty on if and how impacts will happen, but given the vulnerability and legal protection of marine mammals, and particularly North Atlantic right whales, "we need to be proactively managing for this risk even in the face of these uncertainties. And this is a pretty tricky line to walk when you want an industry to advance quickly," said Kershaw.
Organizations have formed to collect and collate existing data to better plan for offshore wind development, such as the Regional Wildlife Science Collaborative for Offshore Wind.
Director Emily Shumchenia said that the collaborative formed in July 2021 to facilitate efficient and coordinated data collection on the environment and wildlife with respect to offshore wind. Federal agencies, all East Coast states and offshore wind developers, and many national and local nongovernmental organizations fund the collaborative.
The focus is on developing an integrated science plan. The draft is expected to be released this summer, using existing data and research. Through this effort, the collaborative plans to help ensure that "offshore wind is being developed in a responsible way and we're understanding any potential impacts," Shumchenia said.
Doug Nowacek, professor in the Nicholas School of the Environment and the Pratt School of Engineering at Duke University, is director of another offshore wind study, Project Wildlife and Offshore Wind, or WOW.
The Department of Energy and Bureau of Ocean Energy Management-funded Project WOW was organized to study potential impacts of offshore energy on marine wildlife from Maine to the Carolinas. Nowacek said during the symposium that they had been working with the collaborative to collect data and determine the species that need attention.
Nowacek said potential threats to marine mammals include some of the surveys used for site assessment that require various sound frequencies. He emphasized that the threats are potential because they don't know what a whale can hear.
"There's no audiogram. You can't put headphones on a baleen whale and ask it to raise its flipper when it hears the sound in one ear or the other," he said.
To buffer noise during construction, the work area could have an air-bubble curtain, depending on the construction conditions and currents. A bubble curtain is a constant stream of air bubbles made by pressurized air that is forced through pipes surrounding the construction platform. Another option is to avoid the times when animals are around.
As for offshore wind development, Nowacek said the primary concern, as he understands it, is a whale becoming entangled in the cables that anchor the floating platforms to the bottom, and a secondary entanglement of ghost gear or other gear getting caught on those cables and then entangling a whale.
"It's something we need to understand. We don't really have a great way of estimating what the chances are about or how the animals will respond if they bump into one of those cables or the net that's on it," he said.
As for seabirds, rising ocean temperatures from global climate change pose one of the greatest threats to these populations, given that resulting changes in prey distributions have caused mass starvation of seabirds, Holly Goyert, senior wildlife biologist for offshore wind with AECOM, an infrastructure consulting firm, and leader of the Atlantic Marine Bird Cooperative working group for marine spatial planning, said.
However, offshore wind energy "has the potential to positively impact seabirds by improving foraging habitat through artificial reef effects and, of course, reducing atmospheric carbon emissions to stabilize the climate. However, seabirds are vulnerable to two main stressors from offshore wind. These are collision and displacement risk," Goyert said.
A collision risk is when seabirds fly within the area of a rotating turbine blade, and that risk can increase during high winds or poor visibility. Displacement risk is when areas originally used for foraging or breeding grounds are disrupted.
While some species are known to avoid turbines, which can reduce collision risk, it can increase displacement from foraging areas and lead to habitat loss. On the flip side, wind turbine foundations may start artificial reefs and that could improve foraging habitat, potentially for other species, but if it increases attraction, it could generate increased collision risk.
Unique to wind energy is the difficulty to quantify bird fatalities from collisions because bodies fall into the water and disappear quickly. Emerging technologies have been tested on onshore wind farms such as using cameras and vibration sensors to detect collisions, but have not been verified for offshore.
To reduce potential adverse effects of offshore wind energy on seabirds, especially threatened and endangered species, "this is where the mitigation hierarchy comes into play," she said. The first step is to not sight projects in high-use areas. If that's unavoidable, the second step is to minimize risk to birds through best management practices or new technology. The third step is to compensate for losses so that the benefits to birds outweigh the costs. For onshore wind, this has been through mitigation banks, restoration projects or habitat acquisition.
"Mitigation planning is very important to establish a net positive impact of wind energy on birds and it's only effective with rigorous pre- and post-construction monitoring data to gauge the need for mitigation and to verify the effectiveness of mitigation measures," she said.