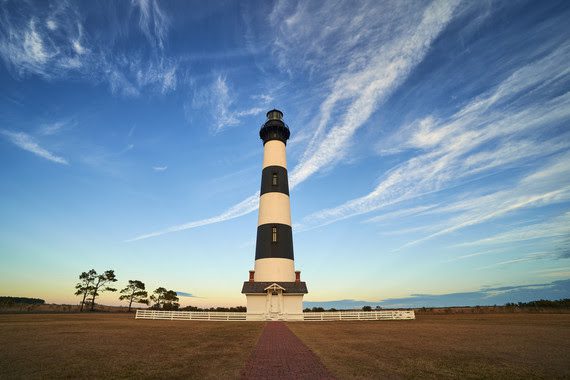 Cape Hatteras National Seashore officials will open Bodie Island Lighthouse for visitors to climb in late April.
Officials said that the Cape Hatteras Lighthouse will most likely not be open because of restoration efforts.
Tickets are to go on sale beginning at 7 a.m. April 26 for that day's climb.
Tickets are available on a first-come, first-served basis and must be purchased from www.recreation.gov on the day of intended climb. The the climbing season will wrap up in October.
Cost to climb is $10 for adults and $5 for those 62 or older, children 11 years of age and under, and for those with a disability. Officials recommend creating a www.recreation.gov account ahead of time.
The Bodie Island Lighthouse is listed on the National Register of Historic Places and is the third lighthouse built to serve the area.
Construction began on the Bodie Island Lighthouse June 13, 1871. The lighthouse stands 156 feet tall and was lit for the first time Oct. 1, 1872, according to the website.
In 1939, the Coast Guard took over operation of the Bodie Island Lighthouse. The following year, the final two keepers were replaced with an electric generator on a timer. During World War II, the Navy used the tower as a lookout for German U-boats.
The Coast Guard in 1953 transferred the 56-plus-acre property to the National Park Service as part of Cape Hatteras National Seashore. The Coast Guard maintained jurisdiction over the lighthouse until July 13, 2000, when it was transferred to the National Park Service.
The tower underwent extensive rehabilitation from 2009 to 2012, officially opening for climbing in 2013, and remains a functioning navigational aid.
Learn more about climbing lighthouses at the park service website.