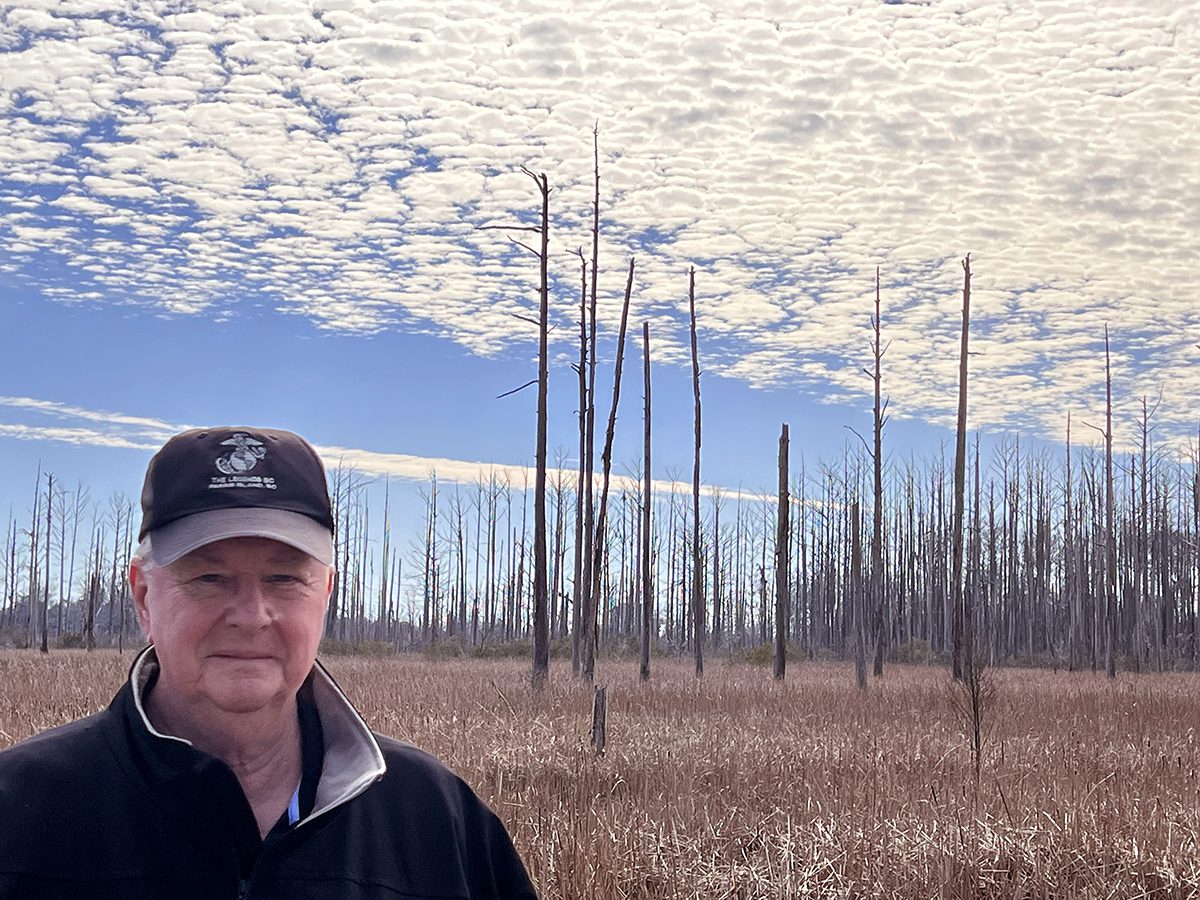 Guest commentary
The Cape Fear River is a historic and important body of water in North Carolina, flowing through the communities of Wilmington, Leland, Belville all the way to Southport and beyond. This river is our primary source of drinking water. For centuries, eons for that matter, it has been home to valuable wetlands and floodplains, diverse wildlife, and fish, and more recently a history steeped in our unique heritage and culture. Unfortunately, due to development and population growth, many of these historically important and scarce resources are rapidly being lost or adversely altered forever.
On my occasional trips to and from Wilmington along the U.S. route 74/76/17 causeway to the Cape Fear Memorial Bridge, I have often wondered what the Ghost Tree stands on Eagles Island would say to us about this history they have seen. These trees were once part of a healthy and flourishing 1,700-year-old cedar forest ecosystem that spread throughout the region … but is now dead or dying.
I wonder what stories could these trees tell us if they could speak? Would they warn us about the loss of our valuable wetlands and floodplains, rapid sea level rise, degraded water quality, and the future impacts of flooding in and around our lowlands? Would they speak on their opposition to the past and future development in our floodplains, the plowing under of our culture and history, or the future damage to our Lower Cape Fear ecosystem?
Somehow I feel that long ago when these trees were healthy they were witness to horrific tragedies of the enslaved West Africans, the Gullah Geechee, who toiled and died in the hot sun to grow Carolina Gold … the rice that helped to make plantation owners wealthy and Wilmington one of the richest seaports along the Atlantic Coast in the 1700s and 1800s. Were these trees witnesses who silently watched those who were enslaved, struggle for their freedom, and be robbed of their right to define their own identity?
For me, these trees serve as an ever-present reminder of our past, as they stand quietly along the banks of our river. They have witnessed hundreds of years of history that have unfolded since long before our area was developed. In our present rush to find economic prosperity, they are also a constant reminder of the dramatic alterations we have caused to our ecosystems. Changes made with the belief that humans could out engineer mother nature.
While it is true that the ghost trees hold a certain enigmatic charm to some of us, it is also true that they are a powerful reminder of the human and environmental cost that the river has borne. They serve as a testament and a bellwether, if you will, not only to the human violence of our past but a forewarning of future natural calamities coming to our shores.
I believe that at the intersection of preserving and protecting our environment and cultural history resides the universal language for all of us to tell our stories; it is the ultimate storyteller on a personal and public level. It truly defines who we are as individuals and as a community. It is the hallowed ground of what defines our society's fundamental values and can serve as the "tree stump" upon which we can sit and tell this story to our children, grandchildren, and generations beyond.
We should be encouraged by the great and tireless work currently underway by many of our citizens and nonprofits, like the Beatty brothers of Navassa, to preserve, protect and celebrate the history and culture of our area. The stories of the enslaved Gullah Geechee are certainly ones of hardship and tragedy and yet it is the message of their resilience and determination that deserves far more than just a passing reference in our history books.
We have much to celebrate here in our area of eastern North Carolina: the dedicated efforts of the Cape Fear River Watch, the Southern Environmental Law Center and a host of dedicated volunteers who keep watch over our environment; the Coastal Land Trust and others restoring Reaves Chapel in Navassa; the annual Rice Festival in Leland; the Gullah Geechee Cultural Heritage Corridor Commission; the Cameron Art Museum; and the Eagles Island Nature Park Task Force to name but just a few … each committed to preserving, protecting, and celebrating our collective history and offering great platforms for all of us to get to know the importance of our connection to the Lower Cape Fear River. I hope that future generations see and act upon the message of the ghost trees. We need to listen and heed their warning.
Finally, let me summarize by sharing a poem that I have been working on for a very long time.
Ghost Trees of the Cape Fear River
As I gaze out o'er the Cape Fear River,
Where ghost trees seem to have eyes.
Enchanted sights from a haunted giver,
Spirits of old come alive.
Hear the whispers through the trees,
Of stories told within their rings.
Silted waters brown meandering,
Within this ancient course it brings.
Rice harvested in the heat of day,
Trees – their stories tell.
Relentless work, no time to play,
Ironic transition from heaven to hell.
Songs of fields, songs from souls,
Fade with twilight, just memories now.
As Cape Fear ghosts roam the shoals,
Like kindred spirits that never bow.
Watered with blood, watered with sweat,
Here is where gold was grown.
With ancient hands cold and wet,
Shadows dim of those unknown,
Darken sky, an evening's chill,
As the veil of dusk descends.
Night brings fear and mystery,
Ghost trees' presence lends.
Murmured messages of the old,
For all the moons they have seen.
Miseries' waters that flooded their souls,
Speaks truth to what has been.
Silhouettes take root along the shore,
Revealing this, a solemn sight.
A languorous vision of ghosts before,
Frail branches of the night.
Listen to the whispers of ghost trees,
For they know this story well.
Through the ebb and flow of time,
They stand as the last farewell.
---
To stimulate discussion and debate, Coastal Review welcomes differing viewpoints on topical coastal issues. See our guidelines for submitting guest columns. Opinions expressed by the authors are not necessarily those of Coastal Review or the North Carolina Coastal Federation.