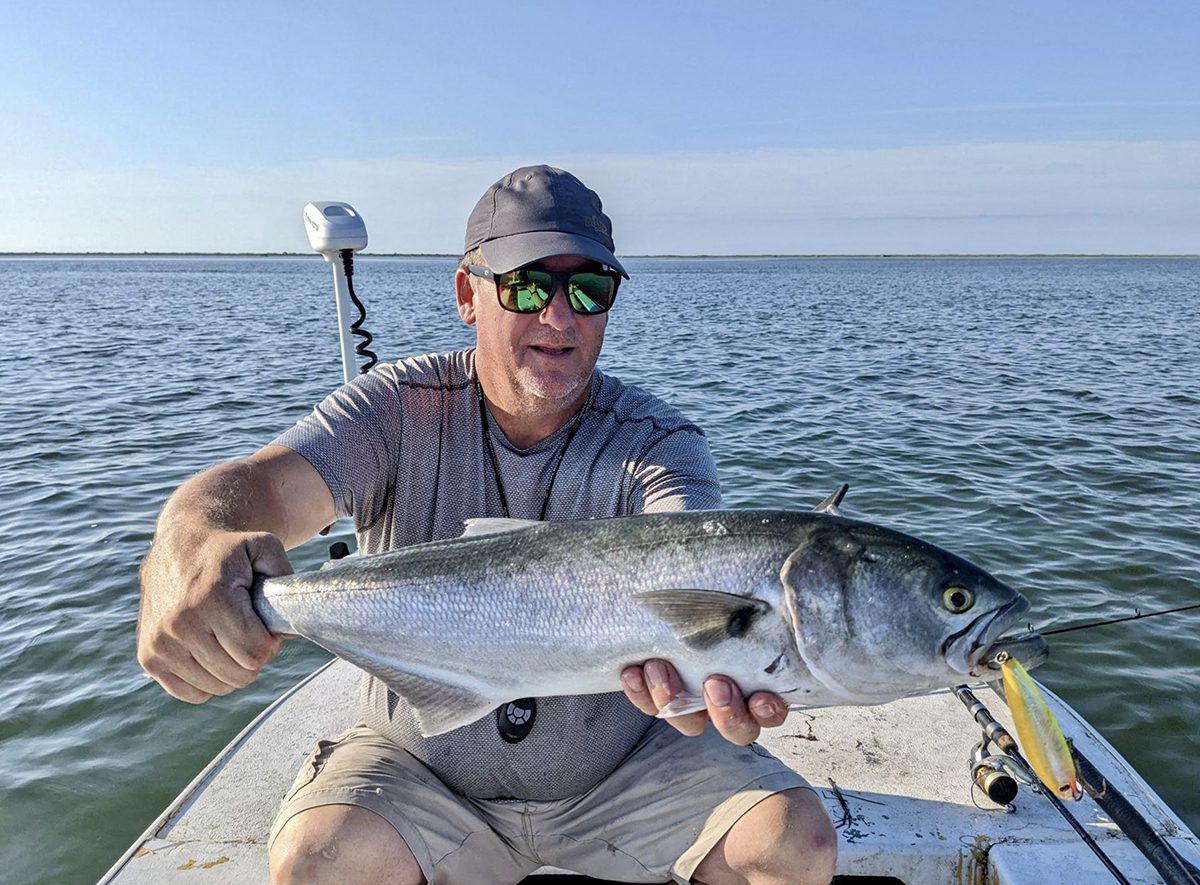 One of the things we get told by old-timers (of which, I must confess, I appear to be now) is, "Find the bait, you're doin' great."
Yes, if you find massive schools of baitfish and there are fish crashing into them in every direction, it's seems to be a good adage to follow. But what about days when there are signs of feeding fish, but it is not so obvious what they're feeding on, and then you're not sure if you have the right lure type to match.
You can meet any inshore fishing situation with a small assortment of lures. I will go out on a limb and say you can catch any fish that swims inshore in any circumstance with three lures — and one extra sub-type that I just really enjoy. If you grab these lures, you will never be caught unprepared.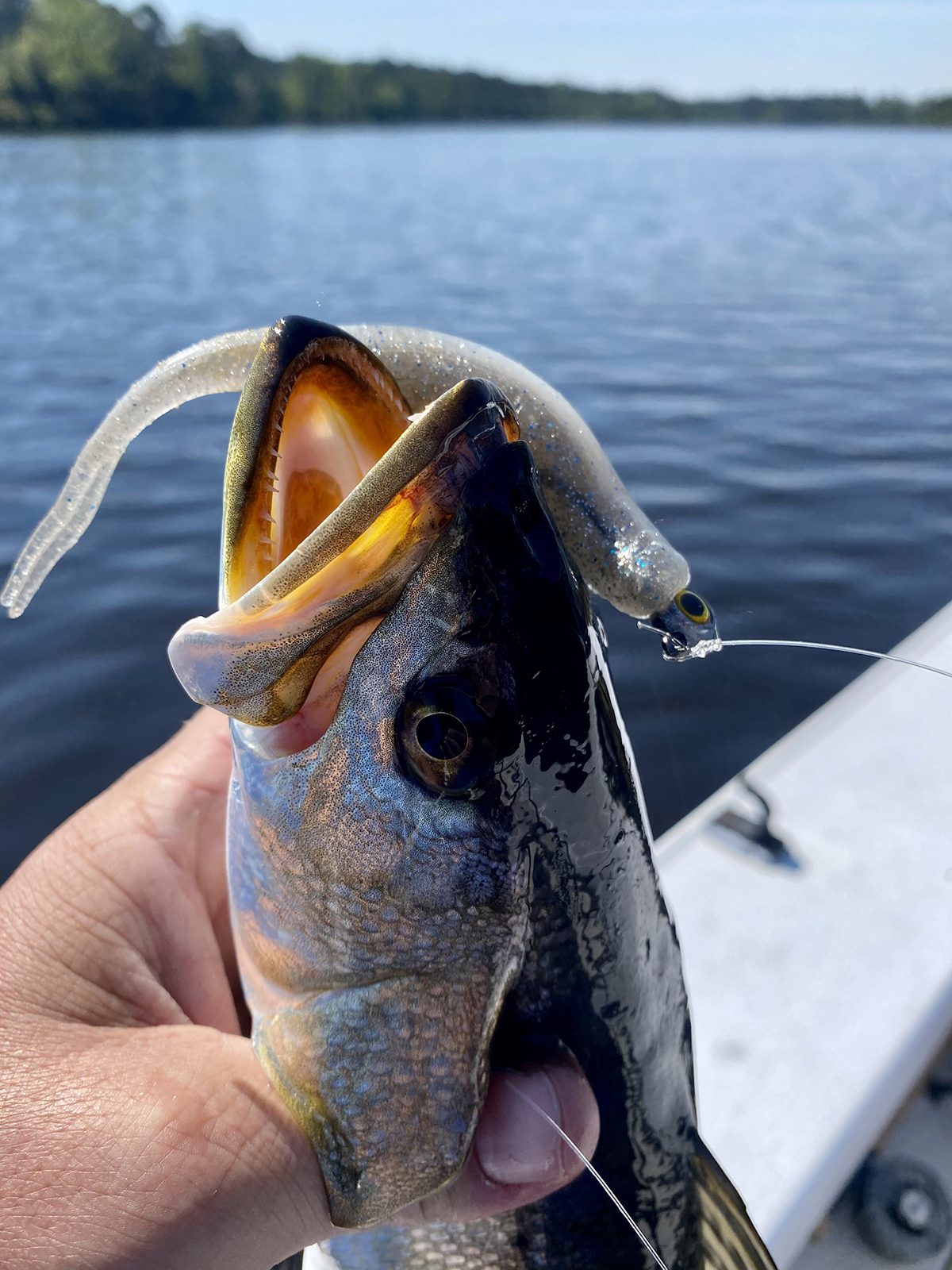 First, and most obvious I think, is a jig. I'd say that a plain white jighead with white bucktail has probably accounted for more fish caught in the history of angling than anything ever invented or yet to be. I'd go a little further and add a soft plastic wiggle tail instead of the bucktail, just to take advantage of some modern technology.
Any of the brands you see will work. Let's stick with white for now but choose any color that will show up in the water you are fishing: Light colors are for clear water, dark colors for stained water, bright colors for muddy.
If you suspect that minnows are being chased and fed upon, retrieve so it stays in the upper part of the water column. Add a little twitch so it appears to be having difficulty swimming. This is the key now. Predators go after prey items that are having a bad day. It might be due to an injury, sickness, or it just might be its time. Whatever. If a minnow is having a tough time, be sure that a predatory fish is going to target it. I've always figured that nothing ever dies of old age in the ocean.
A jig can be hopped along the bottom to simulate shrimp or other crustaceans that move sporadically along the bottom. Shrimp also swim pretty quickly, with a couple quick spurts of energy and then a drop. This movement can easily be simulated with a jig. Finally, if crabs are on the menu, a jig can literally be crawled along the bottom. Add a little hop now and then to attract attention. I caught my first bonefish in this manner many years ago.
Hard plastic swimming plugs account for a big percentage of the fish I catch every year.
Q: "There are literally thousands of them on the market, Capt. Gordon. How do you choose which one to use?"
A: That's an excellent question. If I had to pick just one to fish every day, on the Southeast Atlantic coast, it would be the Mirrolure MR 27 with the pink and chartreuse. It has great action on the twitch, twitch, pause, retrieve. Anything will eat it. I've caught striped bass, speckled trout, red drum, croakers, lizardfish, ladyfish, jacks, pinfish, and probably at least one or two others that I can't think of right now. When a fish sees it doing that weird duck-and-dive motion on the twitch, it is seeing an easy target: a baitfish of some kind, that is having a tough time getting anywhere. It represents calories to gain that will not amount to a large expenditure.
This is what fish do. They can't actually do algebra or calculus, but they are always figuring how much a certain prey item will add to their caloric total for the day without subtracting too much. Combine this with how exposed they will be to predators. If they can get an easy meal without being too exposed, they will focus on that. The MR 27 presents an easy target and a meaty profile that fulfills all those requirements.
The bonus option is a topwater plug. I prefer the 'walk-the-dog" style. My favorite being the Rapala Skitterwalk version. Great for water under 5 feet deep with a grassy bottom or one that has a lot of snags like oyster shells and things. The side-to-side walking motion presents an illusion of an easy target, and the large profile looks like a big meal. Big fish eat these. Sometimes, it's the only thing that works. It just gets their attention.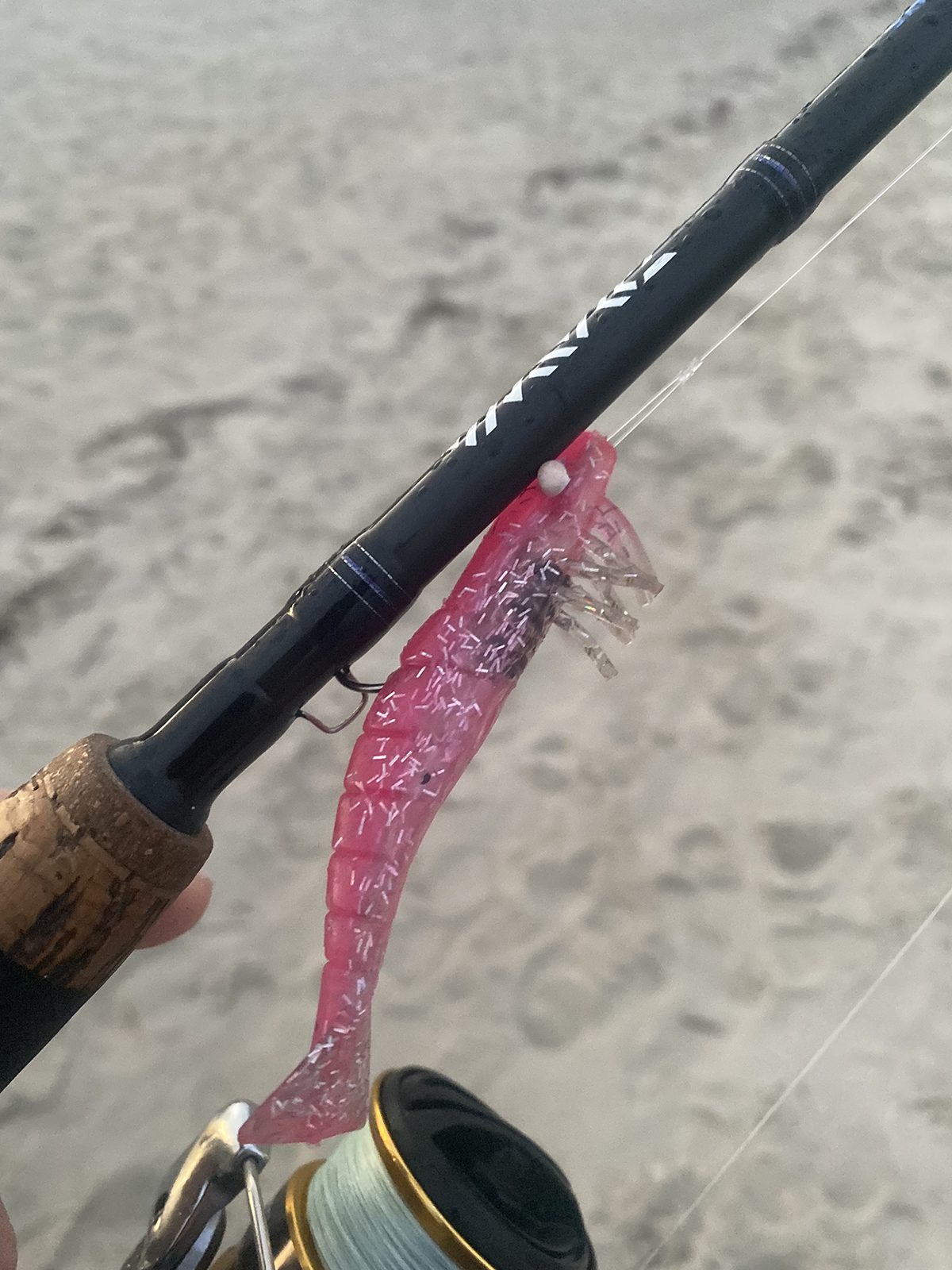 If you know for a fact that fish are targeting shrimp, and sometimes even if they are not, you cannot beat a plastic shrimp imitation. The most well-known and the original being the DOA shrimp. There are other brands. They're all knockoffs of the original. I resisted using these for years. They look like what a kid's toy shrimp would look like, if there was such a thing. These work. Inshore fish of all species and sizes will gulp them down. I really like the sand-colored ones with the green tails and the all pink. For sight fishing in clear water with a light spinning rod, there is simply nothing that works better. Cast into sloughs and channels and let the current sweep it along.
Most popularly, use under a popping cork in creeks, and on flats. The noise gets their attention, the shrimp get whapped. I've even seen guys use them on a Carolina Rig while surf fishing. Trout, redfish, striped bass, bluefish — basically, if there are shrimp in the water and there are gamefish around, the plastic shrimp imitation should be the No. 1 go-to. These things are even my best fish catchers when targeting fish in shallow creeks during cold water periods when a shrimp hasn't been seen in months. They just like shrimp so much, they can't resist.
With a selection of these three lure types — plus the bonus — I feel pretty confident in saying there isn't an angling question that can't be answered. Yes, there are about a million others. I didn't mention spoons, spinnerbaits, metal jigs, and a bunch of others. But the ones I mentioned will match any hatch you see to get started. Add to your selection as time — and your wallet — permits.