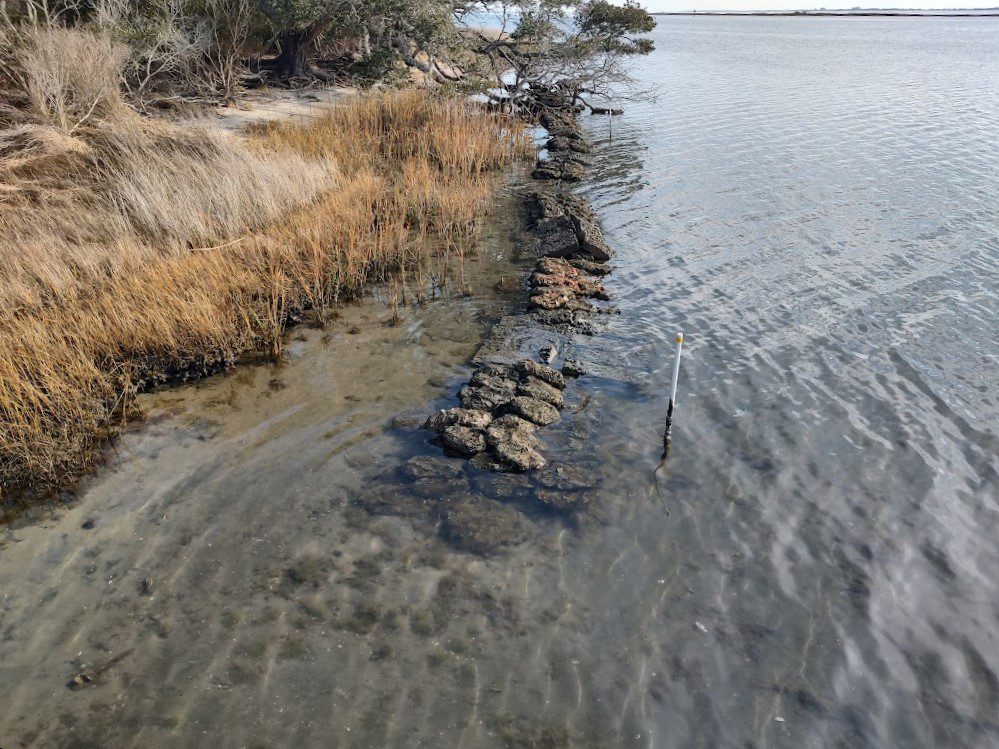 Nature-based solutions, like living shorelines to help slow erosion in estuarine waters and permeable pavement that allows stormwater to seep through the ground and protects water quality, can be spotted in a growing number of North Carolina's coastal communities.
The strategy, which encourages more natural approaches to solve environmental problems that are made worse by climate change, has been adopted on the state and federal levels.
In November 2022, the White House announced its "Nature-Based Solutions Roadmap for the United States," a report to the National Climate Task Force. The report calls for the accelerated use of nature-based solutions across the federal government, including through potential policy, guidance and program changes, and outlines five areas of focus.
Two authors of the report and its accompanying resource guide were joined online Wednesday by representatives from National Oceanic and Atmospheric Administration and the Environmental Protection Agency to discuss the strategy. The webinar was part of the fourth session of the series, "Nature-Based Solutions: Current Issues," hosted by Duke University's National Ecosystem Services Partnership and the Resilience Roadmap Project.
The report includes "an outline of strategic recommendations to put America on a path that will unlock the full potential of nature-based solutions to address climate change, nature loss, and inequity," White House officials said. It's the first time the U.S. has developed a strategy to scale up nature-based solutions, and it's a commitment to invest in the fight against climate change.
"Nature-based solutions, like protecting forests or restoring coastal marshes, are a fundamental pillar of fighting the climate crisis, just like reducing greenhouse gas emissions, deploying renewable energy, and increasing energy efficiency. Natural solutions can reduce emissions, remove carbon from the atmosphere and lock it away, make ecosystems more resilient, and lower climate change risks for people," according to the report.
Why nature-based solutions?
Sarah Mason, senior policy associate at the Nicholas Institute for Energy Environment and Sustainability at Duke University, was moderator for the webinar. She said there's been a growing interest in nature-based solutions coming from both the public and private sectors, along with a strong desire to scale up implementation. The webinar is an effort to inform the growing interest.
Heather Tallis, assistant director for Biodiversity and Conservation Sciences with White House Office of Science and Technology Policy, explained that in the context of the report, nature-based solutions are actions to protect, sustainably manage or restore natural or modified ecosystems to address societal challenges.
"And, very importantly here, simultaneously providing benefits for both people and the environment," she said.
In addition to nature-based solutions being used for their mitigation, risk reduction and adaptation benefits, there's a broader framing and a clear recognition of other social benefits from these solutions, including jobs, water quality, food production, wildlife and biodiversity support, community development, health and many others, Tallis said.
Nature is "absolutely critical" to the economy and lives as well as reaching national goals on several major administration priorities, including climate change, equity and economic prosperity, Tallis said.
One goal already in place is Conserving and Restoring America the Beautiful initiative, one of President Biden's first acts when he took office. The initiative released May 2021 outlines a nationwide conservation goal of 30% of U.S. lands and waters by 2030. Other efforts she noted are the complementary American Conservation Stewardship Atlas that tracks the America the Beautiful's initiative, and the National Nature Assessment by the U.S. Global Change Research Program.
President Joe Biden called for the National Nature Assessment in an executive order signed on Earth Day April 22, 2022, to take stock of U.S. lands, waters, wildlife, biodiversity, ecosystems and the benefits that they provide, Tallis explained. There is a public comment period open through the end of March asking for input on developing this assessment.
In that same executive order, Biden called for a report identifying opportunities for accelerating nature-based solutions across the country. In response, the Office of Science and Technology Policy, Council on Environmental Quality and the White House Office of Domestic Climate Policy co-led a large interagency effort to produce the nature-based solutions roadmap and worked with representatives from 15 agencies and many departments, Tallis said.
"This is really a very broad, all-of-government effort, and this is the first time that there has been a set of strategic recommendations addressing all federal agencies on where the biggest opportunities are to unlock the full potential of nature-based solutions," she said. The main takeaway from the report is that nature-based solutions should be go-to options for climate equity and prosperity. "And we know how to get there now with a strategic roadmap and the steps that are laid out here."
What's in the roadmap?
Lydia Olander, director of nature-based resilience at the White House Council on Environmental Quality, said that with the roadmap, "We wanted to give agencies a strategic path to unlock the full potential of nature-based solutions and to shine a light on the different opportunities to implement nature-based solutions in newer areas, such as hazard reduction and infrastructure that have large federal investments moving forward from the infrastructure and climate bills that recently passed."
The following are the five strategic areas for action identified in the roadmap:
Update policies and guidance related to federal planning, decision-making, cost sharing, risk management processes and benefit-cost analysis to better facilitate nature-based solutions.
Prioritize nature-based solutions and funding decisions for domestic and international projects, increase and ease access to funding, and catalyze private investment.
Expand using nature-based solutions in the design, retrofitting and management of federal facilities, lands and waters, including incorporating nature-based solutions more fully into building standards.
Improve resources and training for a nature-based solutions ready workforce.
Advance research, innovation and knowledge to incentivize continual learning about how and where nature-based solutions work best, and build needed models and tools for implementation.
A resources guide with nature-based solutions was released alongside the report. The guide includes more than 30 different examples of specific projects and programs that use nature-based solutions, and collated information on over 175 different agency resources, data, tools, training and technical assistance that are available from the federal agencies already.
The administration has already taken several actions that will help accelerate deployment of nature-based solutions, Olander said. "First, there's a number of large investments, for example, in forest health and fish passages that have come through recent bills that are currently being implemented."
There are a number of different things we've identified that we think partners can do independently or in partnership with federal agencies to support this work, Olander said.
"First is to review the roadmap for relevance to your own programs and your own projects and create your own roadmap for action. Second is to raise awareness of nature-based solutions and potential funding sources for your local and state officials to permitting officials and communities that you work with," Olander added. "This report lays out the national roadmap for federal action but ultimately, also hopefully, provides entry points for academics, private sector, NGO and other partners in advancing nature-based solutions. We need an all-hands-on deck approach to move at the pace needed."
Federal agency input
The NOAA and EPA representatives who spoke during the webinar both reiterated that the agencies had been investing in and supporting nature-based solutions for some time and the roadmap reinforces the need for continued investment.
Kim Penn, acting manager for the Communities Program with NOAA, said that the roadmap helps to support and justify some of the directions in which the agency was investing.
The roadmap has been what she called a great opportunity to process and to connect more closely across the federal agencies. The roadmap also allows for NOAA to connect with other agencies working on or investing in similar projects. This ensures that the agency knows they're coordinated with other agencies moving forward.
Penn said one of the threads that weaves across much of NOAA's work, and that they believe is a critical component of resilient ecosystems, communities and economies is natural infrastructure. "We believe that nature is essential. We study it, we restore it, we invest in it and have been for decades."
The agency has been investing in interdisciplinary research, which Penn said is "helping to close the knowledge gaps and better understand nature-based solutions, the services they provide such as carbon sequestration, erosion control or critical habitat, and efficacy of those different approaches to reduce coastal hazards, impacts and build community resilience."
The roadmap lines up with and builds on NOAA's current investments in research and education, and directly relates to a lot of the investments that the agency intends to make through federal funding.
Penn said the Bipartisan Infrastructure Law provided nearly $3 billion for NOAA to take action over five years in habitat restoration, coastal resilience and weather forecasting. Of that, almost $1.5 billion will be for natural infrastructure projects that build coastal resilience, restore habitat, create jobs and store carbon. Additionally, There's habitat protection through the coastal zone management programs at $207 million for five years, and National Estuarine Research, $77 million over five years.
The law's appropriations to the National Coastal Resilience Fund under the National Fish and Wildlife Foundation will provide additional support for the most vulnerable and historically disadvantaged communities, she added.
Stephanie Santell, senior climate adviser with the Office of Policy in the Office of the Administrator for the EPA, said the agency and many others have been supporting the use of nature-based solutions to protect and restore critical ecosystems, improve water quality and air quality, address climate patterns, and support overall community wellbeing.
In the EPA's climate adaptation action plan released October of 2021, the agency committed to help advance nature-based solutions. Since the release of the plan, EPA offices have been working together and with other federal partners on actions that can build community resilience and address climate impacts, and that's including through the application of nature-based solutions, Santell said.
"We're integrating climate change considerations throughout EPA's funding and financing programs to encourage projects that increase adaptive capacity and reduce greenhouse gas emissions and also leveraging a variety of those programs to help invest in natural infrastructure such as supporting state's innovative use of their state revolving funds or SRF as they're commonly called, to help communities build resilient water infrastructure and adapt to climate change," she said. "The SRF support a very wide range of eligible uses and projects including for green infrastructure and nature-based solutions that can serve multiple community goals like building green space and nature-deprived communities, energy efficiency, climate adaptation for impact, drought, wildfire, soil health."
She said most of the infrastructure law's water infrastructure funds, about $43 billion, will be distributed to states through SRF capitalization grants.
Across all the agency's efforts, the EPA is focused on building resilience in communities that are going to be disproportionately impacted by or already experiencing impacts from climate change, she said.
Santell added that she felt it was important to acknowledge that the report was also written for the National Climate Taskforce, and "so there will be outcomes right from the report coming out itself."
Regional response
Division of Coastal Management officials said in an email response for a request for comment that nature and nature-based projects take advantage of the various benefits that natural resources already provide along the state's coast, including protection from flooding, storm surge and erosion, while at the same time providing important habitat areas.
"The Division of Coastal Management (DCM) is working to advance these approaches and to build our own capacity to serve communities through the Resilient Coastal Communities Program (RCCP) and other initiatives. DCM's work in these areas mirrors the Nature-Based Solutions (NBS) Roadmap in several ways: we have worked with partners to develop and provide policy guidance on funding and implementing resilience projects, we are investing in community capacity building, raising awareness of nature based solutions and incentivizing their use, and addressing regulatory uncertainties on topics like thin layer placement and wetland restoration," officials said.
"DCM appreciates the federal leadership on coastal resilience and adaptation that is benefitting our state and coastal communities, including both technical assistance like the NBS Roadmap and financial assistance through the Bipartisan Infrastructure Law and the Inflation Reduction Act. The federal programs align very well with State leadership and investments planning and implementation, and we're working very hard to be good stewards of these critical resources."
North Carolina Coastal Federation Deputy Director Lauren Kolodij told Coastal Review she thinks it's promising to see that the roadmap calls for expanding the use of nature-based solutions at the federal level.
She added that efforts have been taking place in the state in recent years to promote nature-based solutions.
"In 2021, the Action Plan for Nature-Based Stormwater Strategies was developed by the North Carolina Coastal Federation with the support of The Pew Charitable Trusts, and input of four expert workgroups focusing on opportunities to advance the use of nature-based stormwater strategies across North Carolina in new development, stormwater retrofits, roadways and working lands," she explained.
More recently, she added, with the July 2022 Executive Order 266, Gov. Roy Cooper is calling for an update to the state's Uniform Floodplain Management Policy. According to the order, the policy is supposed to address considerations for including nature-based infrastructure to reduce flood risk.
The federal endorsement of nature-based solutions will complement these efforts in North Carolina.
"These federal advancements coupled with current actions in North Carolina could position nature-based strategies to become more standard practice. This is great news considering the fact that these strategies are proven and cost-effective tools for resiliency," Kolodij added.