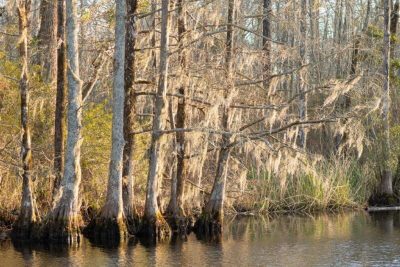 The North Carolina Coastal Land Trust purchased 421.38 acres, made up primarily of mature cypress gum swamp, in Bertie County at the end of 2022.
Called the "Chowan/Perry et al. Tracts," the closing involved the purchase of five adjoining parcels at about $500,000 along the Chowan River from six sets of owners. Coastal Land Trust officials have been working on the project since 2019.
"The Coastal Land Trust is ever thankful for the vision and partnership of 6 adjoining landowners in Bertie County that were willing to come together to sell portions of their beautiful floodplain forest along the Chowan River for conservation," Janice L. Allen, Coastal Land Trust director of land protection, told Coastal Review.
"This type of collaboration with multiple landowners to put pieces of land together for a single sale has never happened before in our 30 year history of land conservation! We are thrilled it all came together to forever conserve such a special place on our coast," she added.
The tract, which has more than 1.7 miles of frontage along the Chowan River, adjoins a 451-acre parcel owned by the state that is managed by the N. C. Wildlife Resources Commission as part of the 32,570-acre Chowan Swamp Game Lands. The property lies within the Colerain/Cow Island Swamp and Slopes Significant Natural Heritage Area and is classified as having high ecological significance, according to the Land Trust.
A North Carolina Land and Water Fund grant, a U. S. Fish and Wildlife Service North American Wetlands Conservation Act grant, a Coastal Wetlands grant, and an Enviva Forest Conservation Fund grant funded the purchase.
This property, together with the 766.48-acre Keel Creek Tract, which the Coastal Land Trust purchased in December 2021, has been transferred to the state to be managed by the North Carolina Wildlife Resources Commission as part of the Chowan Swamp Game Lands, an almost 1,200-acre addition to state game lands.