Part of a history series examining each of North Carolina's 20 coastal counties.
Craven County and Pamlico County may present one of the largest contrasts between neighboring counties in eastern North Carolina.
Craven County is one of the most urban, densely populated counties in the region. It is the home of the sizable city of New Bern and dozens of historic homes, shops and restaurants. Most of the counties surrounding Craven County are much smaller and almost entirely rural. Its eastern neighbor, Pamlico County, is one of the region's newest counties and one of the state's least populated.
Despite its sparse population and short history, Pamlico County is a hidden gem that offers both natural beauty and small-town charm.
Pamlico County was first reached by Europeans in the early 18th century at around the same time that the Swiss settled New Bern. It was originally the eastern section of Craven County. Unlike the prosperous area north and west of New Bern, much of the eastern section of the county was swampy with poor soil and inadequate transportation. The population grew more slowly, with most families focusing on the trade in wood products and naval stores instead of plantation agriculture.
By the early 19th century, the area that later became Pamlico County was beginning to develop its earliest towns. The communities of Oriental and Vandemere attracted their first settlers by this time. The county did not have its first incorporated town until 1857.
Pamlico County's rural setting has led to a proliferation of small communities and interesting place names. Oriental's name has a disputed backstory. Tradition states that the name came from a steamer, the Oriental, which was built in Philadelphia in 1861 and used as a federal transport ship in the first year of the Civil War. The ship ran aground near Bodie Island in 1862.
More than 30 years later, a post office was established on the Neuse River called Smith Creek. The postmaster's wife, Rebecca Midyette, wanted the community to have a more fitting name. She either found the nameplate for the Oriental or saw it in an Outer Banks home. The name stuck.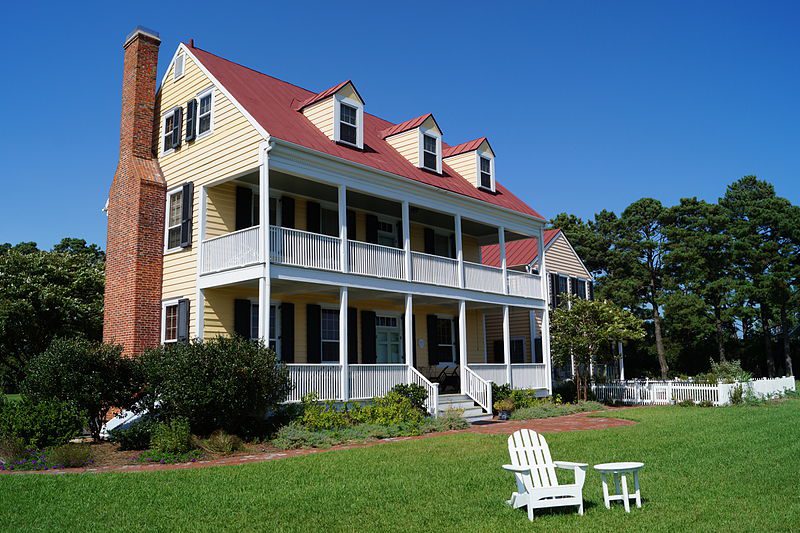 Today the only Pamlico County structure listed on the National Register of Historic Places is China Grove. Likely built in 1803, China Grove was originally the home of Edward Carraway, a naval stores manufacturer who owned an extensive plantation. It is known for its sizable, two-tiered porch and prominent location near the mouth of the Neuse River, according to the house's National Register of Historic Places listing.
Pamlico County was formed in the heated political conflict that characterized much of the Reconstruction era. White supremacists in the North Carolina General Assembly believed that creating a new eastern county with a majority white population would help them win elections in the 1st Congressional District. As a result, the state formed Pamlico County in 1872. According to David Leroy Corbitt, the county was formed from eastern sections of Craven and Beaufort counties.
After formation, Pamlico County's population remained below 10,000 until 1970.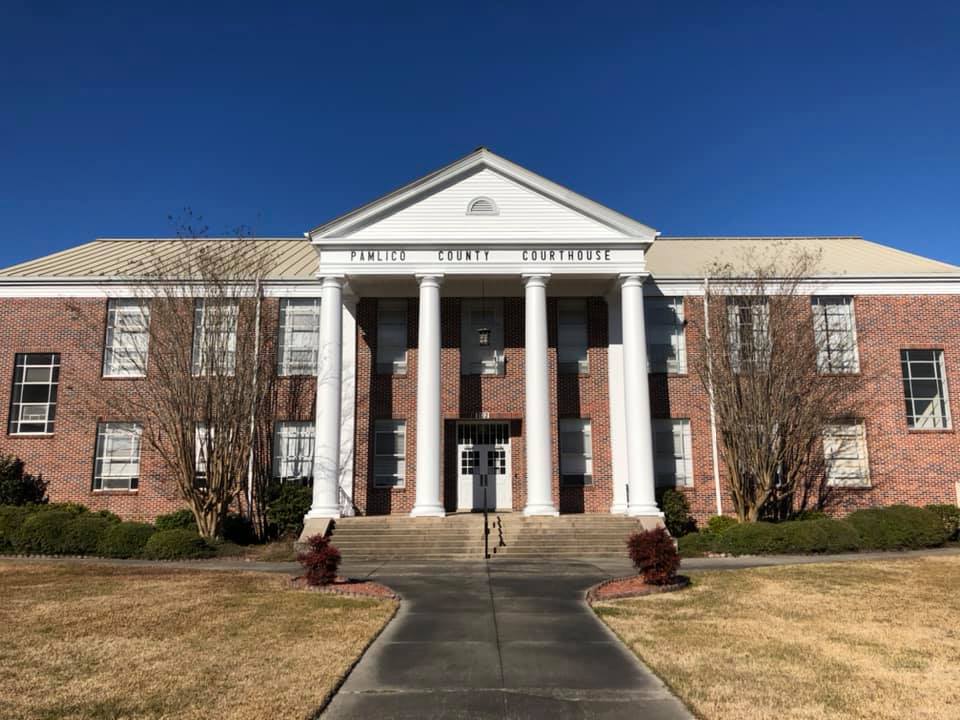 Its county courthouse reflected the area's general privation. According to historian Joe Mobley, for its first five years "the county seat moved from place to place until the county commissioners finally agreed on one site."
That site was Bayboro, where court was held in a rented building until a courthouse was built in 1893. The original courthouse was replaced by the current one built by the federal Works Progress Administration in 1939.
The 20th century brought new opportunities for the county. It grew alongside New Bern and benefitted from the construction of the Pamlico, Oriental & Western Railroad between New Bern and Oriental, completed in 1906. As a result, Pamlico County's population grew by more than 20% between 1900 and 1910. One of the most notable firsts in Pamlico occurred in 1917, when Oriental operated the state's first motorized school bus.
As noted in a highway historical marker essay, "the introduction of a motorized bus to deliver students from outlying areas to the schoolhouse was considered an organizational triumph."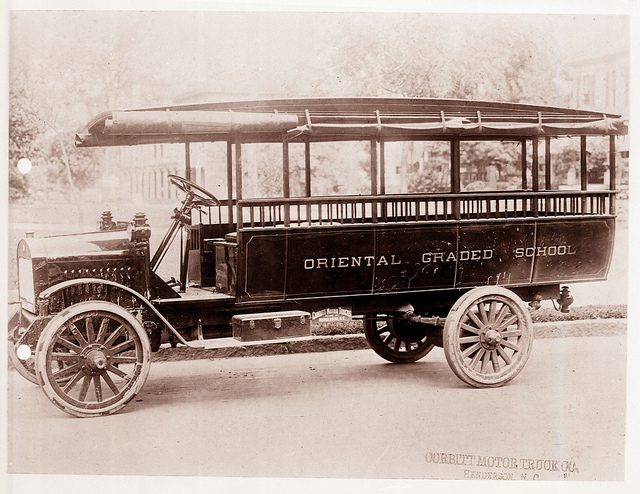 Pamlico County remained a quiet rural area throughout the late 20th century. It gained several industries and had a modest amount of economic success. Oriental began to attract tourists interested in boating and maritime activities. A Neuse River ferry opened between Minnesott Beach and Cherry Branch, facilitating transportation to Marine Corps Air Station Cherry Point and the beaches of Carteret County.
Arguably Pamlico County's most famous native lived in the county during this time. Kevin Williamson grew up in Oriental and was influenced by his experiences there when he created the television show "Dawson's Creek," named after a nearby body of water popular as a recreation spot. Williamson also wrote the horror movie, "Scream," and dozens of other movies and television shows.
Today, Pamlico County is defined by its miles of untouched swampland and water access. There are several tourist attractions such as marinas, Goose Creek Game Land, and the multiple camps and retreats at Minnesott Beach. Oriental is the site of the 2022 Southern Living Home, a house featured in the magazine's October 2022 edition that is available for tours.
With its forests and quaint shops, marinas and restaurants, Pamlico County has become a destination for travelers and homebuyers seeking rural and small-town charm.