The 10th annual STEAM career showcase for students with disabilities is being offered virtually and in-person from 10 a.m. to 2 p.m. Tuesday, Oct. 27, at the North Carolina Museum of Natural Sciences in downtown Raleigh.

The free showcase for the science, technology, engineering, art and math, or STEAM, careers was developed by the museum in partnership with SAS. To register, which is required, visit naturalsciences.org/steam.
The day of programming gives students in grades 6-12 living with with disabilities a chance to meet adults living with disabilities who have thriving careers in STEAM fields.
There will be a keynote speaker, panel discussion and breakout sessions, where participants will have an opportunity to directly engage with the speakers and will gain practical knowledge that they can apply to their interests and future career paths.
American sign language interpretation and live captions will be provided for the entire program and for each breakout room.
Event collaborator Ed Summers is a visually impaired software developer and head of accessibility at GitHub, a subsidiary of Microsoft.
"I'm living proof that a disability can be an asset rather than a liability," he said in a statement. "People with disabilities must be creative and adaptable. Those qualities are exactly what employers need in today's ever-changing business environment."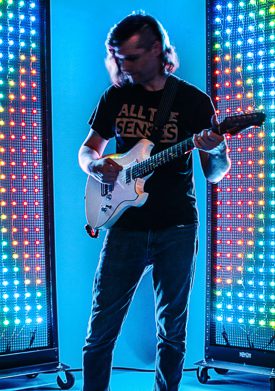 Keynote speaker will be Myles de Bastion, an artistic director and musician who develops technology and art installations that enable sound to be experienced as light and vibration, according to the museum.
His search for ways to bridge his passion for music with his deaf identity led him to found CymaSpace, a nonprofit that facilitates arts and cultural events that are inclusive of the deaf and hard-of-hearing.
His work has appeared on late-night TV and he has built large-scale installations for musical festivals and Grammy-award winning jazz artist Esperanza Spalding.
Recently, he has been focusing on making virtual worlds accessible beyond sound. His work incorporates sign language and artificial intelligence-generated captions as a nonverbal means to craft social virtual reality experiences. 
Attendees will also hear from the following panelists:
Shannon Garner is senior digital analyst on the Ablr team who conducts accessibility testing on websites and trains individuals how to become successful accessibility analysts.
Andi Nowakowski (she/they) is a laboratory scientist at LabCorp in Greenfield, Indiana. They are a service dog handler and live with various invisible disabilities.
Magnus Hedemark (he/him) is a lifelong technology enthusiast and 30-year veteran of tech operations. He is autistic, ADHD and hard of hearing.
Brendon Hildreth (he/him) is co-director of The Accessible Icon Project in North Carolina. He has cerebral palsy and severe hearing loss, and is a big believer in equity, not equality.
This year's showcase is sponsored by SAS, JMP Statistical Discovery, SAVVAS Learning Co., Bressler and Vaught families, LabCorp, and Red Hat.
For additional questions, contact the museum's coordinator of accessibility and inclusion Jessie Rassau at jessie.rassau@naturalsciences.org or 919-707-9976.
The North Carolina Department of Natural and Cultural Resources oversees the North Carolina Museum of Natural Sciences.