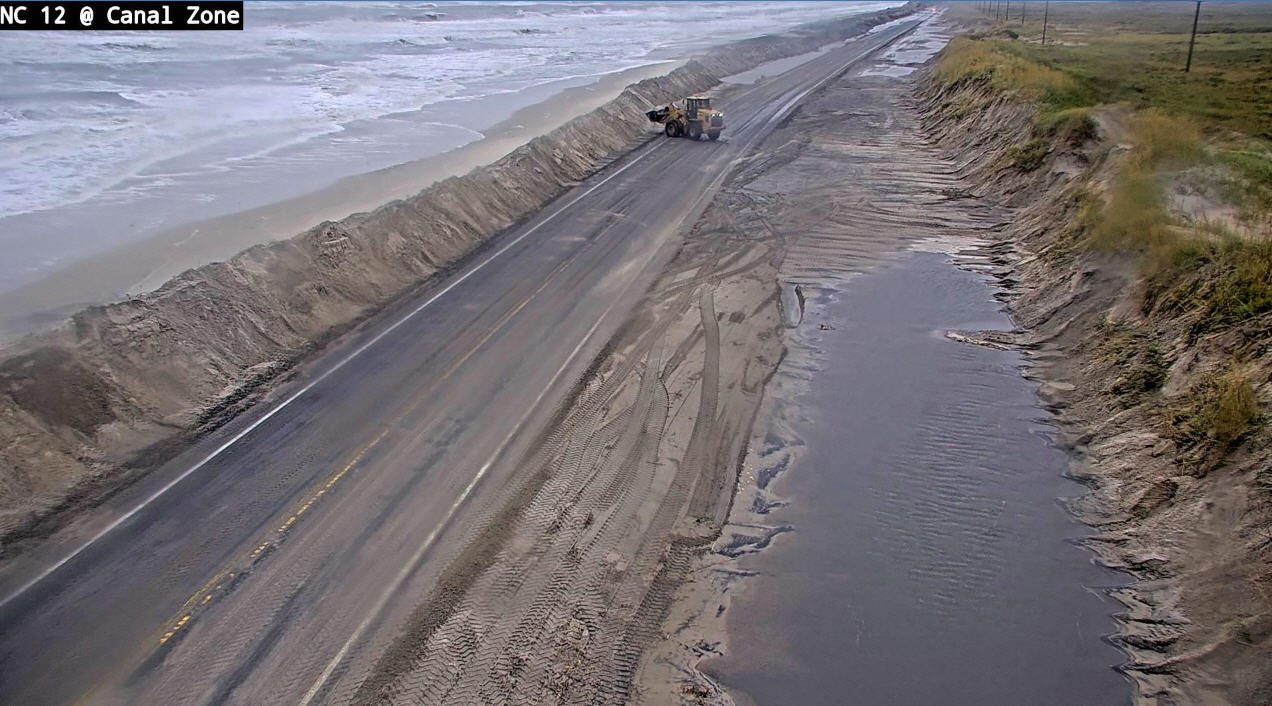 Reprinted from Island Free Press
N.C. Highway 12 remained open between Rodanthe and Oregon Inlet on Tuesday morning, after closing for roughly three hours on Monday afternoon due to ocean overwash, however, sand and water remain on the roadway, per an update from the North Carolina Department of Transportation.
Several secondary roads on Hatteras Island still had deep sand and flooding as well, and travelers were advised to slow down and avoid flooded areas as saltwater can damage vehicles.
Additional overwash and soundside flooding remain possible Tuesday, and a coastal flood warning was in effect until 8:00 p.m. Tuesday, due to the low pressure system off the Mid-Atlantic expected to move away from the coast over the next 24-36 hours.
Minor soundside flooding with inundation of 1-2 feet of very low-lying properties and roadways was expected adjacent to the Pamlico Sound from today into Wednesday, and 2-3 feet of oceanside inundation is expected north of Cape Hatteras, and was likely to impact travel along N.C. 12.
While there was no additional overwash on the highway with Tuesday's 2:30 a.m. high tide, oceanside flooding was most likely around the afternoon's high tide at about 3:30 p.m.
A high surf advisory was also in effect due to large breaking waves of 8-10 feet in the surf zone from Duck to Cape Hatteras. Swimmers should remain out of the water due to the dangerous surf conditions.
Ferry service for all Hatteras and Ocracoke Island ferries remained suspended as of Tuesday morning due to the weather conditions.
For updated information regarding road conditions on N.C. Highway 12, follow the North Carolina Department of Transportation on Facebook at www.facebook/ncdotnc12, on Twitter @NCDOTNC12 or visit drivenc.gov.
For more information on the local forecast, visit www.weather.gov/mhx for weather information, or visit the NWS Newport/Morehead City's Facebook page at https://www.facebook.com/NWSMoreheadCity/.
This story is provided courtesy of Island Free Press, a digital newspaper covering Hatteras and Ocracoke islands. Coastal Review Online is partnering with the Free Press to provide readers with more environmental and lifestyle stories of interest along our coast. You can read other stories about Hatteras and Ocracoke here.