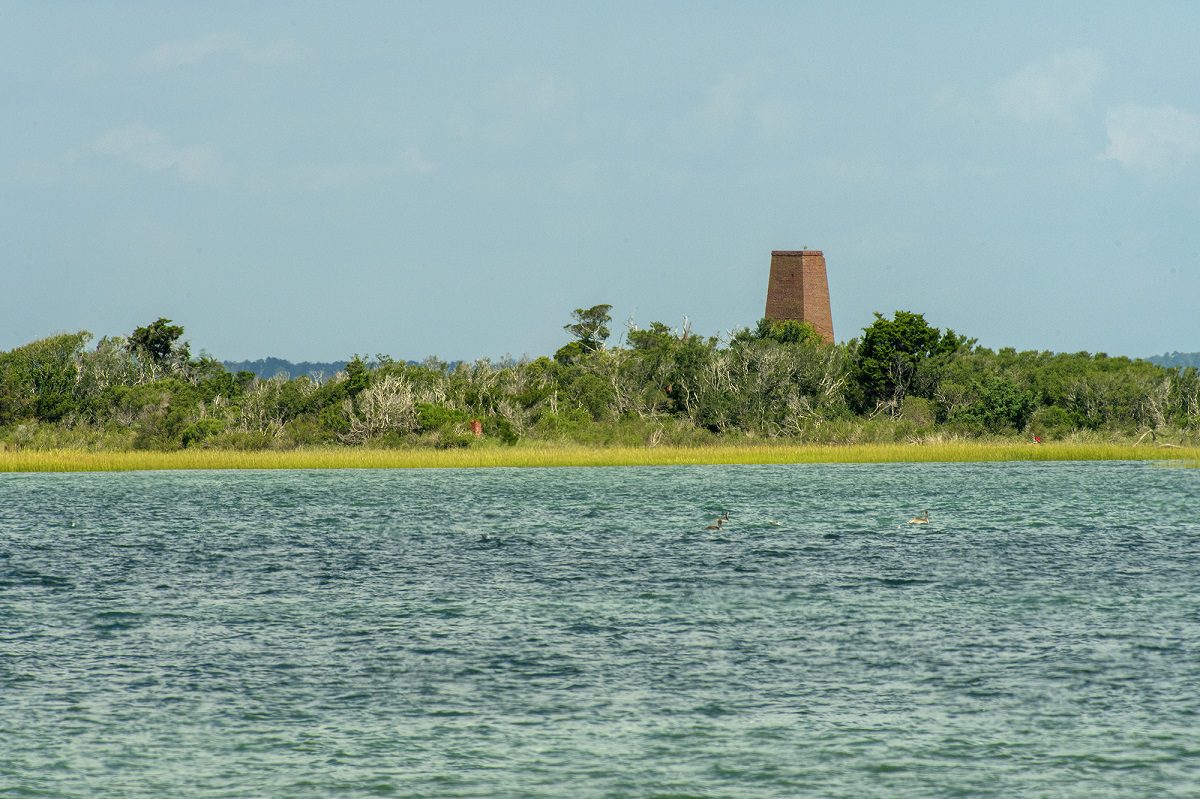 From a birds-eye view, Dr. Llew Phillips was another person in the crowd of gawkers mesmerized by the bright flames lighting up the sky that late September night.
He was 13 years old when he stood among some 200 people gathered that evening on the old bridge that once linked Morehead City to Beaufort. All eyes were trained on a small island at the mouth of the Newport River where a menhaden factory was engulfed in fire.
"It completely burned down probably in the course of, I would say, 12 hours, 24 hours. I don't remember how long," said Phillips, a retired dermatologist.
What he does recall about that evening in 1953 was the trauma of it all.
That was his family's factory. His family's island. A childhood haven where he and his younger brother and sister would play on the swingset built by one of his uncles. It's where they spent carefree summers amongst the oak trees and yaupons that once peppered the northside of the island.
"We had emotional ties to the island. I think I more than the others because I was at the right age to enjoy it," Phillips said.
His affection for the island hasn't changed. Before the COVID-19 pandemic seemingly shuttered the world in early 2020, Phillips traveled across the country from his home in the Seattle area to Morehead City a few times each year.
He's planning a visit in October, his favorite time to visit the coastal town that's left him brimming with memories of playing in the Haystacks, a marsh in the Newport River near Crab Point, catching scallops and clams with his toes on Bogue Sound and pulling eels from seagrass.
"All those sorts of wonderful things. It's beautiful times and feelings that, even though I love where I am now and have been for 50 years on the West Coast, I still miss the inextricable pull of the North Carolina maritime childhood I had. It's just things you don't forget," he said.
This much anticipated trip for him will, of course, include a visit to the island.
That was one of the few stipulations included in the transfer donation deed with the new owner.
A practical decision
Yes, Phillips made the decision to donate his little slice of heaven on earth.
Locally referred to as Phillips Island or Chimney Island, aptly named because an old brick chimney is the sole relic left standing on the island, the land as of June became the property of the University of North Carolina Chapel Hill's Institute of Marine Sciences, or IMS.
Phillips came into full title of the island sometime around the mid- to late 1990s.
This was after the deaths of his grandmother and father, who, along with his father's two brothers, purchased the island on Aug. 1, 1932.
By then, the United States was in its third year of the Great Depression and like so many businesses at the time, the company that owned the menhaden processing plant on the island fell into bankruptcy.
Phillips said he has no idea why his family bought the island. His father was an attorney in Morehead City. One of his uncles was an avid fisherman. The other, a carpenter, also enjoyed fishing.
"I have a feeling it was (my father's) desire to do something other than law and my two uncles who loved fishing," Phillips said.
The uncle who was a carpenter became the factory manager and was in charge of maintenance.
No one knows what started the fire in 1953. The factory was closed for the season. There were no guards on the island.
By the time the Coast Guard and marine patrol arrived, nothing could be done to spare the wooden structures from the flames.
A few years after the fire, Phillips left his hometown and headed for the hill – Chapel Hill. He earned his undergraduate degree there and graduated from its medical school in 1965.
He ventured to places far from Morehead City, but he has not gotten away from the memories, the pull back to his hometown. Not that he's wanted to.
The decision to gift the island, though, was his, a man who doesn't veil that he's a realist.
"Certain parts of your memory are so precious to you when you grow up and things you've done and remembrances of friends and family that you just don't want to get rid of them unless you have to or unless you get to a point where I am now that you realize you're not going to be around forever," he said. "I'm not being morose, but practical. I just turned 82 in May so for me to think that another 40 years of enjoying the island when I go back to Morehead and walking, taking family and friends there, it's rapidly becoming something that is not going to be happening."
Advancing the study of marine science
Phillips' mind was set. He felt strongly that the island needed to be preserved and remain in a natural state.
"At the very end, it came down to what was more important to me and that is making sure that the island stays unmolested, if you would, and free," he said.
Phillips will tell you that giving something like land away is "a monstrous thing."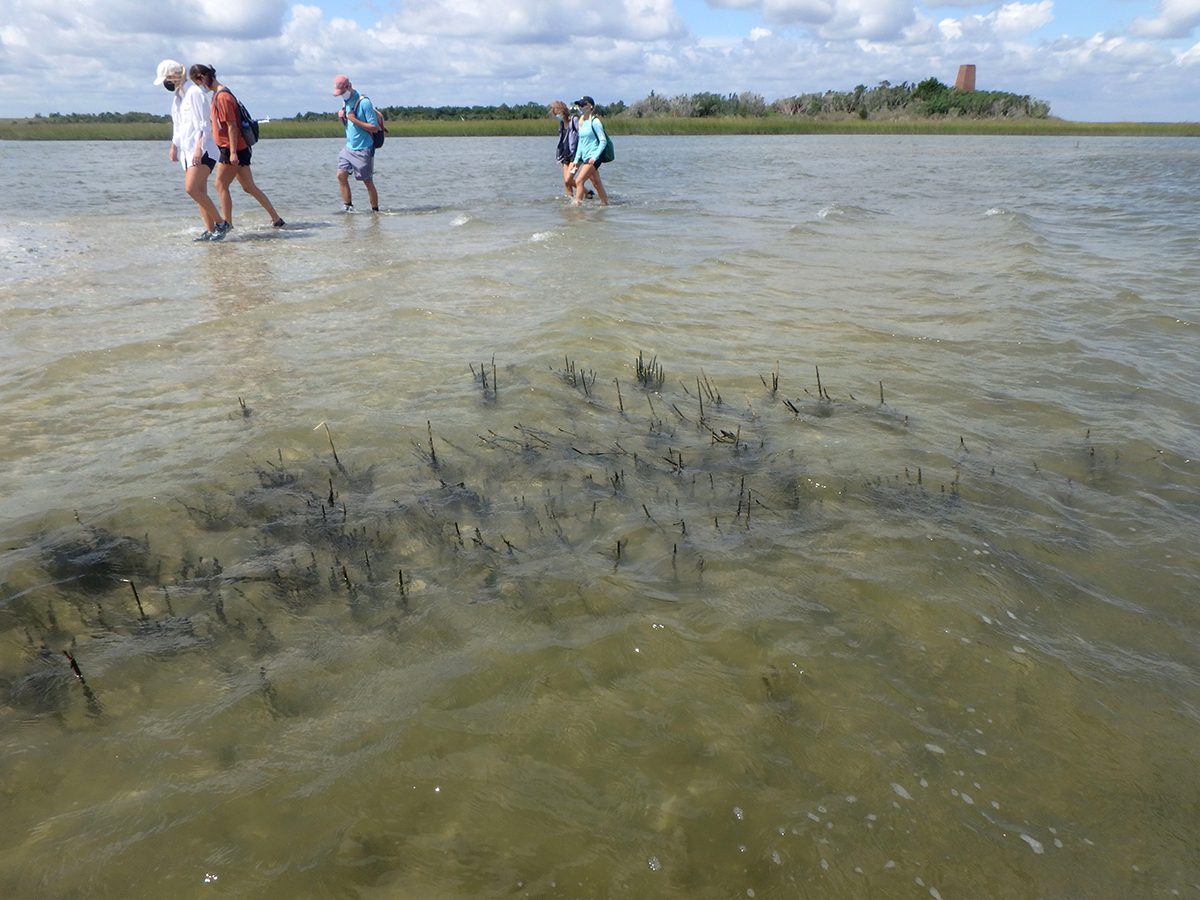 "It's awfully difficult," he said with a chuckle.
The process to turn it over to the institute stretched out for more than a year of committee meetings, paper filings and environmental reviews.
He attributes the grunt work to his brother-in-law Jim Thompson, a Morehead City attorney. Phillips said his longtime realtor David Waller of Gull Isle Realty was instrumental in making the connection with IMS.
"The thing about the island is it's just a beautiful place and it's a place I think a lot can be gained from study from the ecological standpoint. I think it's ever changing," Phillips said.
The oak trees and yaupons on the island's north side are gone. That side of the island is eroding.
The island spans a little more than 17 acres now. Phillips remembers when it was 22 to 23 acres.
"One hundred years from now it could be completely under water," said IMS Director Rick Luettich. "Given the fact that all of eastern North Carolina or much of eastern North Carolina is really subject to those same sorts of natural stressors associated with climate change over the coming decades (the island) offers itself as a bit of a microcosm of that. From my perspective, having it available and having it as something that we can initiate some long-term studies on will help us greatly understand how coastal barrier island, and this isn't exactly a barrier island but it is probably a good proxy for one, how low-lying coastal areas are evolving and changing as we see sea level rise, as we see other signature consequences of climate change."
The island is a few short miles by boat from the institute. Its location makes it a prime spot for long-term field work and perfect spot for educating students in the field.
Luettich said there are no plans to make the island, a popular stop for boaters, off limits to the public any time soon, if ever.
"What I see us doing more of is actually putting out educational material so that it's a little more visible and maybe a bit of explanation as to what people might be seeing as they pull up and moor their boats here on the weekends," he said. "(The island) won't be there forever, but maybe other parts of the North Carolina coast won't be there forever either and so part of what we do is try to understand what those processes look like so we can help citizens and good policy and other decision making that needs to accompany these processes that are going on around us. For me, Phillips Island gives us that opportunity to participate in a meaningful way."