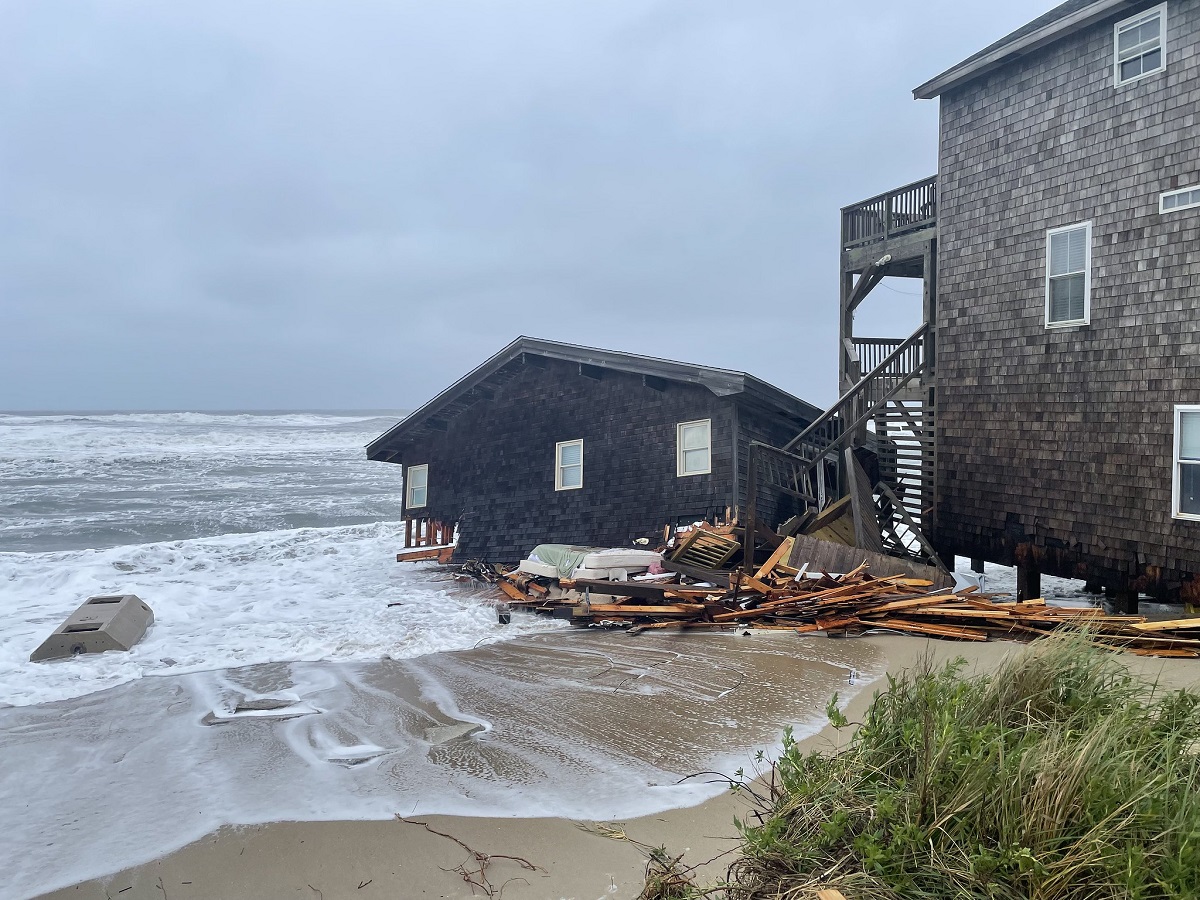 The state's top coastal management official is expected to propose new rules in response to the collapse earlier this year of oceanfront homes on the Outer Banks and other beach houses currently at risk of falling into the ocean.
Proposed rules are expected to be presented to the state Coastal Resources Commission when it meets this month in Wilmington.
The commission and its advisory council meet at 9 a.m. Sept. 14 and 15 at the Holiday Inn, 5032 Market St., in Wilmington. The commission, which is composed of 13 appointed members, sets policy for the Division of Coastal Management.
So far this year, three unoccupied, oceanfront houses in Rodanthe have collapsed onto national seashore property. The destruction required extensive cleanups as debris spread along miles of seashore.
Related: Officials unsurprised as 2 more Rodanthe homes collapse
Presentations by Cape Hatteras National Seashore Superintendent Dave Hallac and Division of Coastal Management Director Braxton Davis are on the agenda for the commission meeting, which is open to the public but not expected to be livestreamed.
Davis is expected to present proposals for the potential rule changes that stem from discussions of a recently created interagency workgroup that includes National Parks Service and Division of Coastal Management officials and the Dare County manager and county attorney.
The changes are expected to focus on septic tank siting and repairs in ocean hazard areas of environmental concern. The approach was discussed by the task force as a "high priority/short-term action," according to a memo from Davis to the commission.
About 750 of roughly 8,777 oceanfront structures were considered to be at risk from oceanfront erosion, with no dunes or vegetation between the structure and ocean, according to the memo, "and this situation is anticipated to worsen with increasing sea level rise and coastal storms."
Davis states in the memo that when structures are imminently threatened by beach erosion, "a complex web of regulatory, legal, insurance, and financial assistance measures create uncertainty for property owners and coastal managers." He said that some cases involve new property owners who make speculative investments in imminently threatened structures "due to the potential profits from continuing rental incomes and insurance payouts."
He states that such structures can pose significant risks to public health and safety, impacts to aquatic species and shorebirds and their habitats and interference with public use of the beach.
"The public harms and costs associated with recent house collapses illustrate the need for a more holistic and proactive approach to addressing erosion-threatened structures," Davis said in the memo.
Other business
The commission is also expected to receive the attorney general's advisory opinion regarding the commission's authority related to shellfish leases. In February, the commission asked for the attorney general's opinion on whether floating structures for shellfish farmers would fall under a Coastal Area Management Act, or CAMA, agricultural exemption, whether the structures would infringe on riparian rights and whether local governments had authority to regulate the structures.
An update on Marine Fisheries Commission's shellfish lease rulemaking is also planned.
The commission is expected to hear a request for variance on an oceanfront setback on Bald Head Island, consider adopting rule amendments on inlet area hazard boundaries, and approving a fiscal analysis to allow electronic payments.
Regarding beach management, the commission is expected to hear about proposed amendments to the minimum growing season for planted vegetation and oceanfront setback determinations, a proposed expanded exemption for beach mats, and an update on the Division of Water Resources Dredged Material Management Plan study.
The Coastal Resources Advisory Council during its meeting at 3 p.m. Sept. 14 is expected to discuss the status of rules for ocean fishing piers and provide an update on that discussion early in the commission's Sept. 15 meeting. The council is a 20-member panel that advises the commission.