Reprinted from the Daily Advance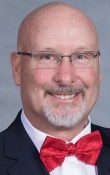 EDENTON — State Rep. Bobby Hanig is headed to the state Senate.
Republican officials from the 11 counties in the 1st Senate District unanimously selected Hanig to replace former state Sen. Bob Steinburg, who resigned last month.
Hanig, R-Currituck, was the only candidate nominated at a meeting attended by 41 GOP officials at the Historic 1767 Chowan County Courthouse Thursday night.
Hanig will be sworn in no later than next Friday. Gov. Roy Cooper has seven days to approve the move and if he doesn't, then Hanig's nomination will automatically take effect. Cooper cannot veto the local GOP's decision.
"It was beyond humbling," Hanig said after the unanimous vote. "The enthusiasm of everybody there just blew me away. After the vote was finalized the ovation and the cheers just blew me away."
Steinburg, R-Chowan, resigned July 31 to become a lobbyist when the General Assembly convenes in January. State law requires former legislators to have a six-month "cooling off" period — be out of office — before beginning lobbying activities.
Hanig will serve until December when the next General Assembly is sworn in. Hanig is currently running for the 3rd Senate District seat and faces Democrat Valerie Jordan in the November election.
The Daily Advance is a newspaper based in Elizabeth City and serving Chowan, Camden, Currituck, Pasquotank and Perquimans counties. Coastal Review is partnering with the Daily Advance to provide readers with more stories of interest about our coast.