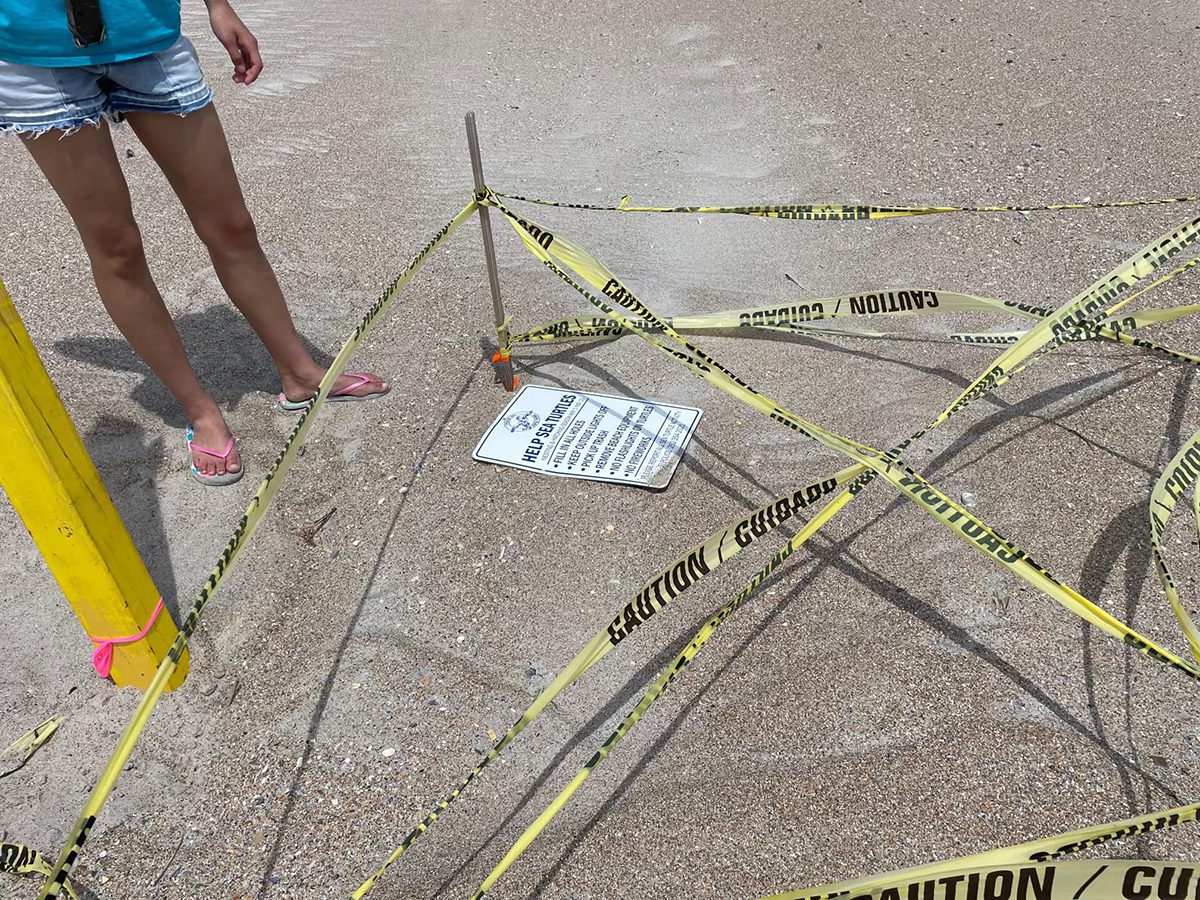 Skeptics blamed the wind.
It was particularly windy during a series of days last month on the Crystal Coast when stakes marking off sea turtle nests were plucked out of the sand and the tape to them torn down.
But the evidence, according to Dale Baquer, Emerald Isle Sea Turtle Patrol program coordinator, proved otherwise.
Four nights in a row at four different nests, a single stake had been pulled from the sand. Tape used to mark off the nesting sites was ripped down. On the two nights that immediately followed, signs at two other nests were plucked up and tossed onto the shore.
"The first night there were actually foot prints and a beer can left there," Baquer said. "That's why I was sure someone had done it."
Be it curiosity, juvenile antics, or flat out malicious intent, sea turtle nests at beaches on North Carolina's coastal islands are subject to human interference each nesting season.
The season, which begins in May and ends in October, falls within the three busiest beach tourism months, heightening the odds of human-to-nest encounters.
"It's inevitable when you have so many visitors coming to North Carolina to visit the beaches here," said Matthew Godfrey, a sea turtle biologist with the North Carolina Wildlife Resources Commission. "We do have turtle nests pretty much everywhere in the state on all islands."
There's no indication of an uptick this season in nest tampering, Godfrey said, but incidents where it's apparent humans are purposefully messing with nests, like those in Emerald Isle, have been reported to his office this year.
Sea turtle nest monitoring is mostly done through volunteer-based programs. Monitoring includes identifying nest locations, marking them off, and tracking when eggs at each nest hatch.
Sea turtle monitoring programs are largely volunteer-based on all but one of the state's coastal islands where turtles nest.
Federally owned Browns Island of the coast of Camp Lejeune is strictly off-limits to people because of unexploded ordnance on the property and live-firing training exercises conducted in the area.
The only option for tracking the numbers of nests on the island are through aerial surveys.
Godfrey said monitoring efforts generally work well protecting turtle eggs during incubation. Eggs typically take anywhere from 50 to 80 days to hatch.
But without a set of eyes on each nest 24 hours a day, seven days a week, it's practically impossible to prevent even the occasional human disturbance.
"Sometimes it's unclear why people interfere or mess with the areas that have been marked off, whether they rip down the tape or pull up the stakes," Godfrey said. "It could be just curiosity. Sometimes people accidentally walk into them at night. There's definitely some accidental or curiosity-based incidents, not malicious. In general, people are pretty respectful."
Over a decade ago, there were a few instances where eggs were removed from nests.
Sea turtles are federally protected. Anyone caught disturbing them or their nests face the possibility of hefty fines and possible jail time.
Last year, a group of teenagers were caught after tampering with a series of nest areas on Emerald Isle's shore where they yanked stakes from the sand.
Baquer said the teens were turned over to local police. The outcome of that case was not released to the public because the teenagers were minors.
"People breaking our stakes and pulling the tape down doesn't seem harmful, but the thing is we set up the stakes and measure where the eggs are and use (the stakes) as a reference point as to how to find our eggs," she said.
When it became evident someone — it's unknown whether more than one person was involved — was tampering with nests there last month, Baquer took to social media, asking for the community's help.
"After I put that post out it stopped," she said. "I think my post says it all. It doesn't seem like a big deal, but it could be a very costly game for them. Sea turtles are protected and there is up to a $50,000 fine and a year in jail. None of our eggs were harmed, but you can still get yourself in trouble tampering with sea turtle nests. Not everybody has to be a sea turtle lover, but just do no harm."
That said, a majority of people who live in and visit Emerald Isle respect the nests and turtles, Baquer said.
"They come to our excavations. We talk to them and let them know what the rules are. Usually they're really good at helping us," she said.
So far this season, more than 1,900 nests have been documented on North Carolina beaches.
Thirty nests had been documented on Emerald Isle this season. That's not a record, but it is a larger-than-average number, Baquer said. Roughly 10 nests there have hatched.
Farther south at Oak Island in Brunswick County, more than half of the 136 nests hatched.
Suzan Bell, co-coordinator of the Oak Island Sea Turtle Protection Program, declined to go into details about nests there that were vandalized, saying the issue appears to have been resolved since getting the word out on social media.
"I think we addressed it and we've only had a couple of issues this season, it's not been an uptick for us," she said.
This year's nests are the second highest number on record.
"We are one of the top numbers in the state," Bell said. "There are so many more people on the beach. It is critical for us to have folks follow the rules."